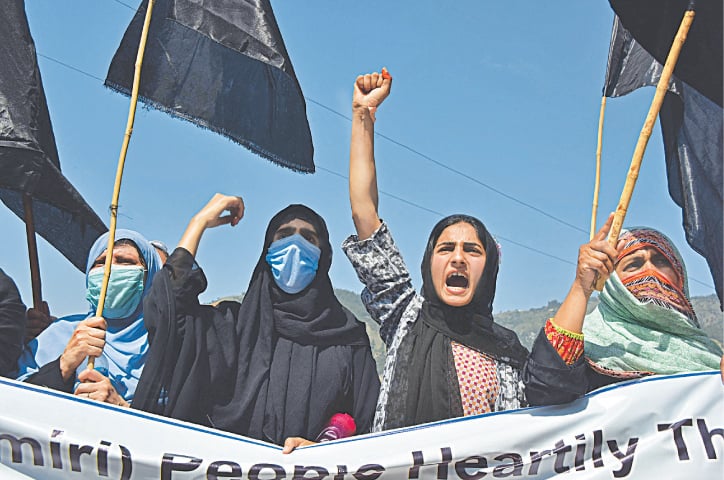 • Pakistan rejects India's attempt to convince world occupied territory is its undisputed part
• China, Turkiye, Saudi Arabia stay away from event
• Rallies condemn Delhi's controversial move
MUZAFFARABAD / SRINAGAR: In sheer violation of international laws and United Nations Security Council resolutions, a G20 meeting got under way in India-held Kashmir on Monday with at least three member countries boycotting it while several western states preferring to send their India-based diplomats instead of allowing del­egates from their respe­ctive capitals to the event in the disputed region.
G20 member China, which is locked in a military standoff with India along their mostly un-demarcated border in the Ladakh region, refused to attend the tourism working group meeting, and no government delegations are expected from Turkiye or Saudi Arabia.
Beijing also stayed away from earlier G20 mee­tings in Ladakh and in Arunachal Pradesh, which it says are part of Tibet.
Last week, the UN special rapporteur on minority issues, Fernand de Varennes, said New Delhi was seeking to use the G20 meeting to "portray an international seal of approval" on a situation that "should be decried and condemned".
India rejected the rapporteur's comments and Pakistan denounced Ind­ian "arrogance" for violating international law by holding the huddle in the disputed territory where, according to the UN resolutions, a plebiscite must be held giving the Kashmiri people the right to self-determination.
In Muzaffarabad, Foreign Minister Bilawal Bhutto-Zardari said that holding a G20 meeting in occupied Srinagar was a sheer violation of the UN resolutions on Kashmir.
Addressing a special session of the AJK Legislative Assembly, he said India was deviously trying to convince the world that occupied Jammu and Kashmir was its undisputed part.
"But history remembers that it was India that took the Jammu and Kashmir dispute to the Security Council as a dispute yet to be resolved. There, the disputed status of Jammu and Kashmir was internationally recognised, and it was decided that the final disposition of the state shall be made through a free and impartial plebiscite under the UN auspices," he recalled.
By holding a G20 meeting in the disputed territory under tight security, India wants to show "normalcy and peace" are returning to the region after New Delhi revoked its limited autonomy in 2019 and took direct control, imposing an extended lockdown. Since then Indian authorities have criminalised dissent, curbed media freedoms and limited public protests in a drastic curtailment of civil liberties.
Both China and Pakistan have condemned holding the event in the disputed territory.
Since the lockdown, the decade-old uprising has largely been crushed — although young Kashmiri men continue to take up arms against Indian occupation — and the annual death toll, once in the thousands, has been on a downward trend, with 253 fatalities last year.
Police said last week that security had been beefed up to avoid any chance of attack during the three-day event, and on Monday soldiers and armoured vehicles were deployed at multiple locations in Srinagar, capital of India-held Kashmir.
Hundreds have been detained in police stations and thousands, including shopkeepers, have rece­ived calls from officials warning against any "signs of protest or trouble", a senior official told AFP on condition of anonymity.
Attempt to hoodwink assailed
Foreign Minister Bhutto-Zardari lambasted India for likening the legitimate struggle for right to self-determination of Kashmiri people with terrorism to hoodwink the international community, but said the diatribe against Kashmiris and Pakistan would never help New Delhi evade the long overdue just solution to the festering issue in accordance with the UNSC resolutions and aspirations of the Kashmiris.
"India is trying to use the terrorism bogeyman to mask the indigenous Kashmiri struggle for the legitimate right to self-determination. It uses the same bogey to blame Pakistan and justify its brutal repression of the Kashmiri people, in what is a complete travesty of justice," he said, in his address to a special session of the AJK Legislative Assembly.
"There is a clear distinction between terrorism and a people's genuine quest for freedom. Terrorism cannot be and should not be used as an excuse to deny the Kashmiri people their fundamental rights and their fundamental freedoms," he added.
Mr Bhutto-Zardari's address coincided with the G20 meeting in occupied Srinagar.
People in AJK expressed their disapproval of the event by staging rallies and demonstrations and observing symbolic strikes.
The foreign minister emphasised that the Kashmir dispute was the unfinished agenda of the partition of the Sub-continent, when the rights and aspirations of the Kashmiri people were trampled upon by machinations and intrigue.
He regretted that the Kashmiri people had been denied their inalienable right despite the lapse of more than seven decades.
"Today, I ask the world if a country can be allowed to renege on its solemn commitments to the United Nations, break its own promises and blatantly violate international law just because they want to?"
Taking strong exception to India's August 5, 2019, move, he said it had opened a new chapter of oppression to accomplish Delhi's nefarious plan to convert Kashmiris into a dispossessed and disempowered minority in their own land.
"Pakistan rejects these unilateral and illegal steps outright. How can the world be a silent bystander when a large country usurps the rights guaranteed by the Security Council, and instead uses brute force to suppress those rights?" he asked. "India is misusing its position as chair of the G20," he said.
While paying tribute to the valiant Kashmiri people, he reassured them of Pakistan's unstinted moral, diplomatic and political support till they achieved their legitimate rights.
Men, women attend rallies
Earlier, hundreds of men, women and schoolchildren paraded through the streets in different parts of the liberated territory to condemn the holding of G20 huddle in Srinagar.
A big rally was held in Muzaffarabad under the aegis of an organisation of post-1989 migrants from occupied Kashmir, with its participants carrying black flags and banners inscribed with slogans against the G20 meeting.
One banner was full of praise for China for its categorical boycott of the Srinagar meeting.
Sixty-year-old Malka Jan, who had migrated to AJK in 1992, said she was yearning for a just settlement of Kashmir issue so that she could return to her native area.
"Instead of participating in meetings under the aegis of oppressor India, world powers should take concrete steps to establish peace and justice in our motherland by granting us our right to self-determination," she said.
Published in Dawn, May 23rd, 2023