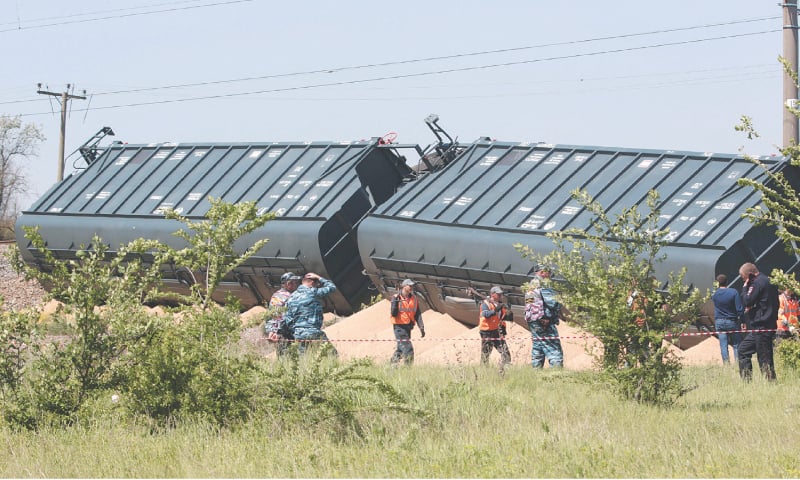 BAKHMUT: The Ukrainian military and Russia's Wagner private army both reported further Russian retreats on the outskirts of Bakhmut on Thursday, as Kyiv pressed on with its biggest advance for six months ahead of a planned counteroffensive.
Ukrainian troops near the front line said Russia was bombarding access roads to slow the Ukrainian assault. "Now, for the most part, as we have started to advance, they are shelling all the routes to front positions, so our armoured vehicles can't deliver more infantry, ammunition and other things," said Petro Podaru, commander of a Ukrainian artillery unit.
Ukraine's military, which has been cautious so far in reporting gains in the area, said troops had advanced in places by more than a mile. Its forces had been on the defensive for half a year, weathering a huge winter and spring offensive by Moscow that saw only slow gains.
"Despite the fact that our units do not have an advantage in equipment ... and personnel, they have continued to advance on the flanks, and covered a distance of 150 to 1,700 metres," military spokesperson Serhiy Cherevatyi said in televised comments.
Kyiv says it shot down 29 of 30 missiles in overnight Moscow attacks
Wagner boss Yevgeny Prigozhin says his forces inside Bakhmut itself are still advancing, on the cusp of pushing Ukrainian troops out of their last foothold in the built-up area on the city's Western outskirts.
But he accuses commanders of Russia's regular forces of abandoning vital ground on the flanks north and south of the city, raising the risk of troops inside being encircled.
"Unfortunately, units of the Russian Defence Ministry have withdrawn up to 1,880 feet to the north of Bakhmut, exposing our flanks," Prigozhin said in his latest voice message on Thursday.
"I am appealing to the top leadership of the Ministry of Defence — publicly — because my letters are not being read," Prigozhin said, addressing Defence Minister Sergei Shoigu and Chief of the General Staff Valery Gerasimov.
"Please do not give up the flanks." The Russian defence ministry has acknowledged some withdrawals from positions near Bakhmut over the past week but denies Prigozhin's assertions that flanks are crumbling, or that it has withheld ammunition from Wagner.
'Interference'
In the latest on Thursday, air raid sirens sounded across most of the country overnight, black smoke filled the sky over Kyiv and one person was reported killed in the southern city of Odesa. Ukraine said it had shot down 29 of 30 incoming missiles. Moscow claimed to have hit its military targets.
Russia has also been experiencing attacks and explosions both in Ukrainian territory it controls and in Russian territory near the border. Officials in Russian-occupied Crimea reported a freight train had been derailed overnight by "interference". Kyiv never confirms any role in incidents there.
On Wednesday, Moscow agreed to a two-month extension of a deal safeguarding exports of Ukrainian grain from Black Sea ports despite the war.
Published in Dawn, May 19th, 2023