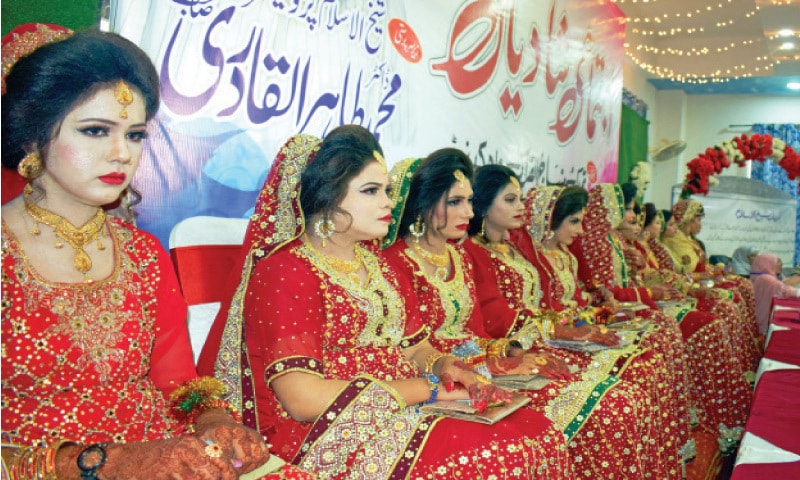 TAXILA: As many as 13 couples tied the knot as per their religious rituals at a mass marriage ceremony organised by Minhaj Welfare Foundation (MWF) at a marriage hall near Wah on Sunday.
Besides office-bearers of the foundation, administration officials, workers from political and welfare associations, relatives of the couples and members of civil society participated in the ceremony. According to the organisers, so far over 100 couples have gotten married at ceremonies organised by the foundation and this was the 10th event.
The marriage processions were extended a warm welcome upon arrival. The grooms and their entourage were welcomed by a musical band and a shower of flower petals during the ceremony.
The venue was decorated very tastefully to reflect the festivity of the occasion. The couples were given dowry and more than 2,000 guests including parents of the couples, their relatives and friends were served lunch.
Saifur Rehman Attari, patron of the mass marriage committee, said that registrations for the wedding ceremony were completed around six months ago.
There is no discrimination regarding caste or religion when selecting girls. Our priority is to choose those who have been orphaned and so on, he said, adding that apart from wedding gifts, the couples were also given a dowry and stuff for everyday use worth Rs300,000. While announcing to continue this noble cause, he appealed to wealthy people to arrange such mass wedding ceremonies for people who cannot afford the expenses of marriages.
Mr Rehman said the marriage ceremony was being organised in Taxila for the 10th consecutive year, adding with the financial assistance of philanthropists, so far marriage ceremonies of around 100 couples belonging to Taxila and Wah had been arranged. He said 50 guests of each couple including their relatives and friends were served lunch.
"The holding of mass wedding ceremonies in the era of materialism is not less than a miracle for the poor," he said, adding that conducting these ceremonies is a good omen as it provides solace to the destitute.
Addressing the ceremony, Pakistan Awami Tehreek South Punjab President Qazi Shafeeq said that the trust was helping parents get their sons and daughters married and appealed to people to arrange mass wedding ceremonies for those who could not afford the expenses of their children's marriages. He said that Dr Tahir-ul-Qadri's religious, welfare and educational services were worth emulation.
Chief guest Engineer Rafique Najam in his address said that the foundation has been holding mass marriage ceremonies at the central, provincial and divisional level every year to help poor parents discharge the responsibility of marrying off their daughters.
He said so far 3,000 couples across the country had solemnised their marriages through arrangements made by the MWF. The newly-wed couples thanked the foundation for their help and said such weddings should be organised in other areas as well to help poor people.
Published in Dawn, November 28th, 2022