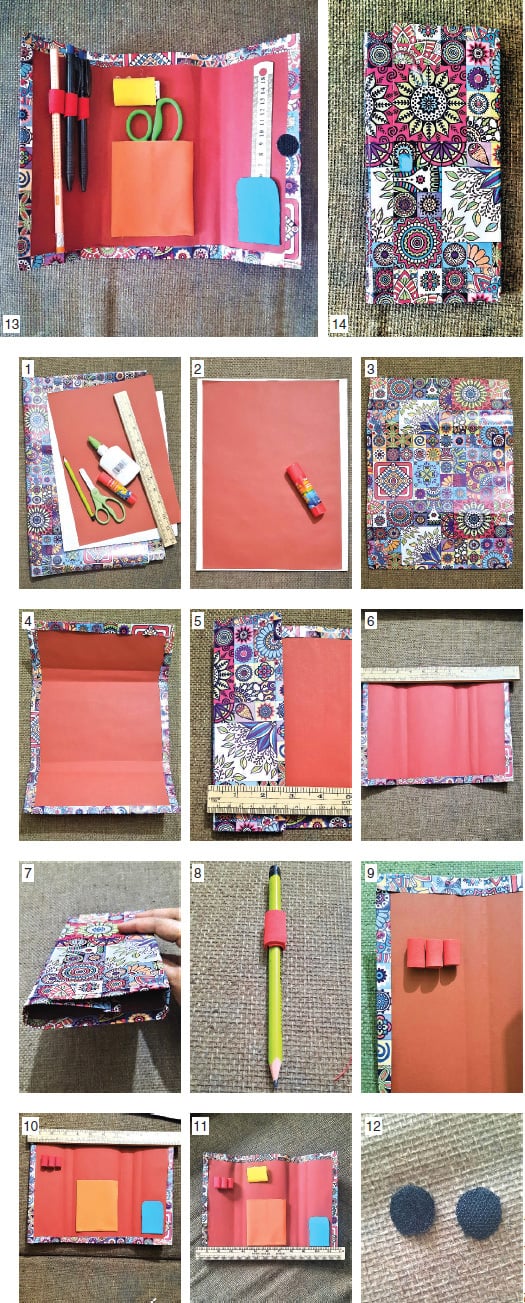 As the new academic year is about to begin, I hope most of you have laced up yourself and have bought all the essential school-related items that you will be needing in the upcoming days. Therefore, in the next couple of Wonder crafts sections, we will be making crafts that will be useful to you in your new academic year.
Today, we are making an essential stationery case, which can be used almost every day at school or even when having a group study session.
Things you need:
Hardboard sheet (you can use any empty cereal box)
Patterned paper
One solid-coloured paper of your choice
Glue stick or white glue
Hot glue
Pieces of foam sheets
One inch of Velcro
Ruler
Directions:
Take the hardboard sheet or flatten a cereal box and cut it, keeping 12-inch height and 8-inch width and paste the coloured-paper on one side, as in picture 2.

Paste the patterned paper on the other side of the hardboard sheet, picture 3. (The patterned paper will be the outside and the coloured one will be the inside of the case.)

Keep the patterned paper large enough so that it overlaps on the coloured-side as it gives a fancy look to the inside of the case, picture 4.

Fold and make a crease on one side of the case at 2.5 inches width, then at 1.5 cm, this gives the case the necessary width to keep the stationery items, picture 5.

Now repeat the same step with the same measurements by folding the case to the inside from the left, this way you will notice the creases are made on both sides and the basic structure of the case is formed, picture 6.

Fold the case inside from both sides from the creases, now all you have to do is to make the pockets to keep the stationery items, picture 7.

Take a piece of 1.5-inch from foam sheet and roll it around the pencil to get its size, take it out and secure the ends with the hot glue; make at least three such rings, picture 8.

Paste them at the top right side of the case, picture 9.

I have cut out a piece of foam to make a large pocket (4-inch long and 3-inch wide) for the middle part of the case to put the scissors, you can keep compass or a protector according to your need, picture 10.

Make small pockets to put the ruler and rubber, or anything that you use daily and paste them on the top middle and left side of the case, picture 11.

The essential stationery case is ready, just paste a dot of Velcro or cut small circles from Velcro piece and paste them in the middle of the case, one on the inside of the upper flap and the other in the middle of the patterned flap where the top flap rests; picture 12.
The writer can be contacted at ithecraftman@gmail.com
Published in Dawn, Young World, July 23rd, 2022