KARACHI: Panic selling ensued on the shares market as soon as the government announced on Friday it'll subject large-scale businesses to a 10 per cent "super tax" for bridging its fiscal gap.
The benchmark index plummeted 2,161 points immediately as investors rushed to liquidate their investments in anticipation of lower corporate earnings and the subsequent fall in share prices.
According to Ahsan Mehanti of Arif Habib Corporation, a falling rupee and the likely interest rate hike also played the role of a catalyst in the bearish close.
The KSE-100 index settled at 41,051.79 points, down 1,665.18 points or 3.9pc from a day ago. The benchmark recorded its 11th worst single-day decline ever, according to data compiled by Ismail Iqbal Securities.
The trading volume increased 21.4pc to 424.2 million shares while the traded value went up 26.3pc to $61.7m on a day-on-day basis.
The government will collect the new tax on corporate earnings for 2021-22 from companies that have annual profits of more than Rs300m each and belong to 13 sectors. These sectors are sugar, cement, steel, textile, tobacco, fertiliser, banking, oil and gas, beverage, automobile, airline, chemical and LNG terminal. Many of these sectors are index heavyweights, which means their constituents have a disproportionately high representation in the main benchmark of the bourse.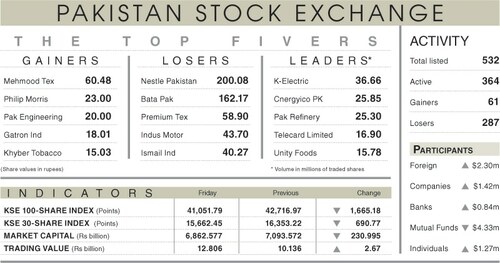 "Although this move will affect companies' profits for the current year, we believe the valuations are still attractive. After this measure, the market is trading at a price-to-earnings multiple of 4-5. We think the currency and macro stability after the IMF (programme resumption) will provide the much-needed support to the local bourse," said Topline Securities in a note to its clients.
The effective tax rate for companies belonging to these specific sectors and meeting the profit threshold will increase from 29pc to 39pc for tax year 2022. It'll be a one-off tax and won't apply to tax year 2023, the brokerage added.
It's important to note that the effective tax rate on companies belonging to the rest of the sectors will go up from 29pc to 33pc for tax year 2022. That's because the government has already announced a 4pc tax on top of the regular corporate tax rate of 29pc.
Stocks contributing significantly to the traded volume included K-Electric Ltd (36.66m shares), Cnergyico PK Ltd (25.85m shares), Pakistan Refinery Ltd (25.3m shares), Telecard Ltd (16.9m shares) and Unity Foods Ltd (15.78m shares).
Sectors that took away the highest number of points from the benchmark index included commercial banking (404.9 points), oil and gas exploration (220.06 points), fertiliser (204.99 points), cement (192.73 points) and power generation and distribution (108.22 points).
Shares contributing most negatively to the index included United Bank Ltd (95.6 points), the Hub Power Company Ltd (94.23 points), Engro Corporation Ltd (80.44 points), MCB Bank Ltd (78.47 points) and Lucky Cement Ltd (73.26 points).
Stocks that contributed most positively to the index included EFU General Insurance Ltd (11.64 points), Murree Brewery Company Ltd (0.94 points), Atlas Honda Ltd (0.71 points), K-Electric Ltd (0.69 points) and ICI Pakistan Ltd (0.03 points).
Foreign investors were net buyers as they purchased shares worth $2.31m.
Published in Dawn, June 25th, 2022