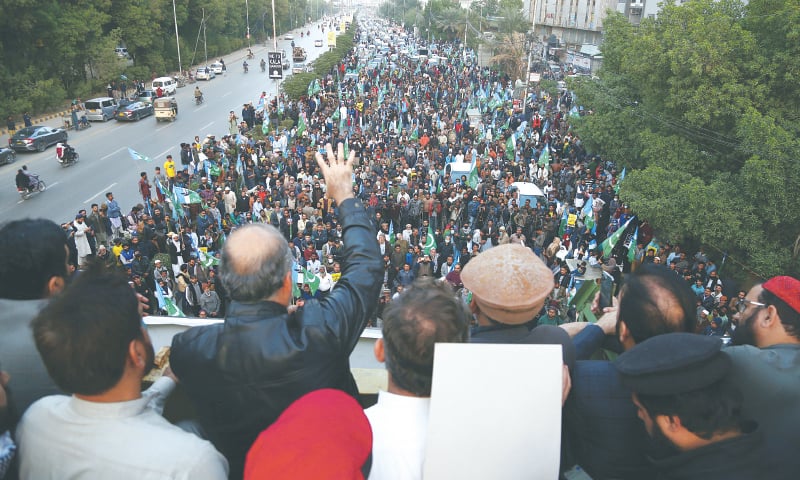 KARACHI: Workers and supporters of the Jamaat-i-Islami on Sunday marched on Sharea Faisal to demand the withdrawal of what they called "black" law that had made the local government organisations in Sindh powerless.
A large number of participants, including women and children, took part in the march on the call of their party's city chief Hafiz Naeemur Rehman government in Sindh.
People in their cars, motorcycles, buses reached Sharea Faisal in the form of small rallies from different parts of the city to march towards the Sindh Assembly building, where the party had been staging a sit-in for the past over two weeks.
The JI leaders delivered speeches during stopovers amid the protest march.
The party also staged a symbolic sit-in at the Metropol Hotel stop. Later in the evening, the march joined the main sit-in outside the Sindh Assembly, where a significant number of JI workers were already present.
At Metropol Hotel, retired Major General Saad Khattak, who launched his own political party earlier in the day, addressed the participants of the sit-in and appreciated the JI for its movement. He assured the JI leadership of complete and unconditional support.
Addressing the protesters, JI Karachi chief Hafiz Naeem said that resources of Karachi were in the clutches of those who accumulated authority and the government on the basis of their power and corruption.
He said that 6.5 million children in Sindh were out of schools despite the fact that Rs277 billion was reported to have spent on education by the Sindh government.
He said that the Sindh government reported to have spent Rs 173bn on the health sector but in fact majority of the budget fell prey to corruption.
He highlighted that in such a situation, the PPP government wanted to take over all institutions as well as local government organisations.
He added that as far as competency of the PPP government was concerned, it failed to complete a mere 2.5-km-long Orange Line bus rapid tansit project in Orangi Town during the past six years.
Talking about his next course of action, he tasked the party workers to hold 2,000 corner meetings in the metropolis during the coming week.
He said that the JI launched the rights movement for prosperity of Karachi. He added that the withdrawal of the "black law" would be first step in the movement for rights of Karachi.
Published in Dawn, January 17th, 2022