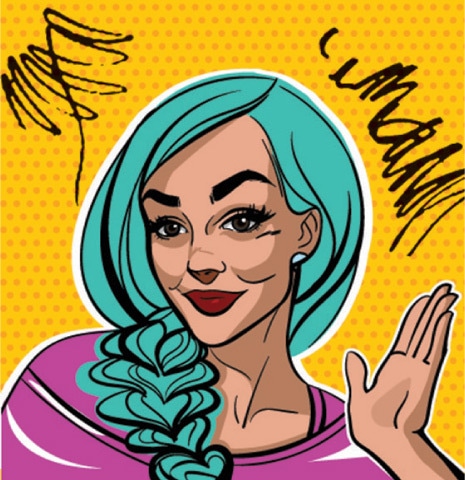 Dear Auntie Agni,
My dad is a government school teacher and a good friend and colleague of his died. My dad went there to condole and got my elder brother engaged to their daughter. Her mother was reluctant about the match, because she wanted someone rich.
She made us wait a year and kept demanding expensive gifts. At last they were married. The day my sister-in-law came to our house, she started making demands like painting the house, getting a new ceiling and flooring. She also made us shift her furniture in and out multiple times.
She demanded expensive electronics, despite knowing that her husband only earns 20,000 rupees per month. She always demands fast food. It has been over two years. She is materialistic and not willing to share anything. She has her own refrigerator and had a new water tank installed. She doesn't value anything and has already wasted all our savings. She fights and shouts despite knowing that we are a humble family and says she won't stop unless my dad dies of a heart attack.
My brother doesn't eat our mother's food anymore and my dad is on the verge of divorcing my 65-year-old mother because my sister-in-law has poisoned their minds. She says she wanted huge mansions and foreign tours, and is taking revenge from us. She has collected phone numbers of our schools and offices and plans to blackmail us by calling them.
Yesterday she started shouting that she wants a divorce and my grandfather ended up in hospital.
So Upset
Dear So Upset,
Lesson number one for all readers: Do not marry anyone out of sympathy and don't arrange rishtas (proposals) just because you are feeling emotional.
There are (at least) two sides to every story and I would like to know your sister-in-law's point of view also, mainly because it is hard to understand why her family agreed to let her marry your brother when they knew your family's financial situation. Did she marry your brother out of desperation and now feels regret?
Since your brother is now married, it is best if the rest of you (especially you) back off and let the couple live their lives. Reduce your level of expectations from your brother and your sister-in-law, and request the rest of the family to do the same. If he prefers to eat what his wife cooks, let it go. I know it is easier said than done. However, doing this will be your first step towards peace in the home.
The rest of the family needs to put up some healthy boundaries. That you went around spending your savings on your sister-in-law's whimsical demands tells me that your boundaries are low and you all got too busy trying to please her. It is not your job to 'fix' everything. If she wants it fixed, she can use her own or her husband's money. If they want to move out, don't stop it. Just do not interfere in their lives in any way, unless it actively harms you.
If you respect the couple's boundaries and things still flare up, then your sister-in-law is at fault. Unfortunately, some people are drama queens and want to ruin relationships between the husband and his family. This puts the husband in a position where he has to choose between the wife and the mother and stems from insecurity.
Screaming and asking for divorce is just another way to manipulate the situation. For your family's and your brother's sanity, just refuse to play the game with your sis-in-law. Play safe when speaking to her. Say nothing if you can't say anything nice. Limit your time with her and encourage others to do the same. If your brother wants to move out, encourage them to leave and stop spending the family's money to fulfill this woman's whims.
Peace of mind for everyone is more important than trying to 'save' your brother.
Disclaimer: If you or someone you know is in crisis and/or feeling suicidal, please go to your nearest emergency room and seek medical help immediately.
Auntie will not reply privately to any query. Please send concise queries to: auntieagni@gmail.com
Published in Dawn, EOS, September 26th, 2021