KARACHI: The market consolidated at the current levels in choppy trading as participants took unusually large positions on both sides. The KSE-100 index gained 72 points, or 0.15 per cent, and closed at 47,270.
During trading, the stocks moved between intraday high and low by 172 and 30 points. Foreign investors dumped equities of the heavy sum of $8.05 million, taking the three-day outflow to $13.31m since Sept 8 when the MSCI announced the downgrade of Pakistan to Frontier Market from the Emerging Market.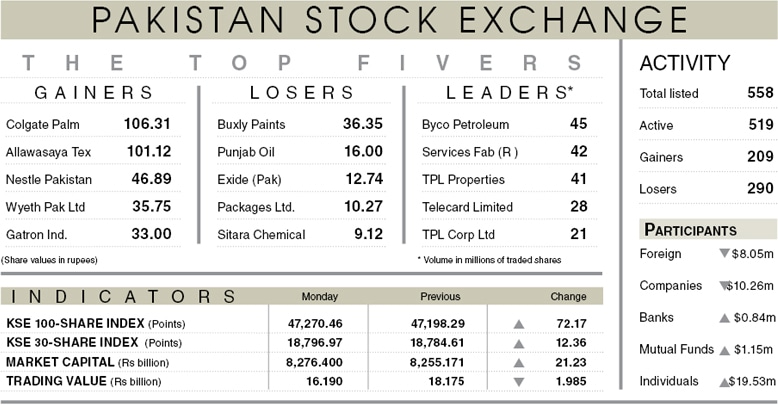 Among local participants, companies and brokers joined to book profit with aggregate selling of stock worth $14m. Individuals mopped up all the liquidity as long-term buyers accumulated shares of $19.5m that enabled the index to keep its head above water.
Market people said that the expectations of a hike in interest rates in the upcoming monetary policy scheduled for Sept 20 coupled with expectations of a higher CPI due to a 13.7pc week-on-week increase in SPI kept the market gains in check.
Analysts anticipate incr­ease of 20-25bps increase in policy rate, given the higher vulnerabilities in the current account, stubborn CPI inflation and the start of the negotiations with IMF for the sixth tranche by the end of current month.
The investors' darling technology sector saw heavy profit-taking in all major stocks. Cements continued its descent as international prices of coal touched record high. The cyclical steel followed suit. Refineries could not garner investor interest as the enthusiasm over reports of ready to be announced approval of the Pakistan Oil Refinery 2021 lost charm.
On the flip side, banks, exploration & production, pharmaceuticals and power sectors witnessed buying activity at dips which supported the Index. Stocks that contributed positively to the index included UBL (66 points), HBL (33 points), AGP (20 points), COLG (18 points) and Hubco (18 points).
TRG, Meezan Bank, BAHL and Lucky Cement dragged the index lower by 113 points.
The trading volume dro­pped 8pc over the previous session to 395.8mn shares. Byco Petroleum top­ped the volume leaders list with trading in 44.9m shares. The trading value also declined by 11pc to Rs16.2bn.
Published in Dawn, September 14th, 2021