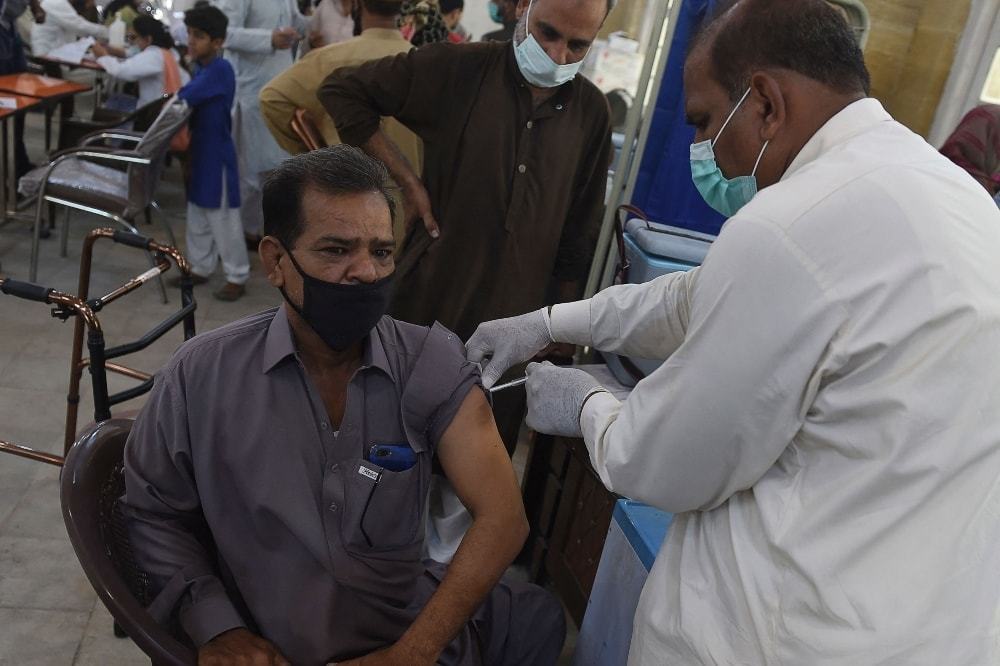 PESHAWAR: The health department is starting door-to-door Covid-19 vaccination campaign in four districts of the province on Wednesday.
The inoculation drive is being launched on the recommendation of National Command and Operation Centre (NCOC) in Abbottabad, Mansehra, Peshawar and Mardan on July 28 to cover at least 40 per cent target population by middle of August.
Officials told this scribe that those districts had been selected on the basis of more population and infectivity. They said that those districts were hubs of commercial activities and visited by more people.
"Vaccination is these districts is very important to interrupt the virus. At a later stage, we can replicate the door-to-door immunisation effort in their districts. Within the coming two days, health department is taking on board the district administration, union council, revenue staff and police to ensure good outcome of the exercise," said officials.
At least 40pc population of Abbottabad, Mansehra, Peshawar and Mardan will be covered by mid August
They said that macro-plan was being devised. The campaign would be run by Lady Health Workers and technicians of e expanded programme on immunisation (EPI). They would visit villages and select hujra (male guest house) where men would be invited to get inoculated against the virus whereas the female population would receive jabs in their homes.
Officials said that health department had already started a similar drive in Mardan, focused on awareness, motivation and registration of people for vaccination.
"However, NCOC advised us in the last zoom meeting to devise a regular macro-plan on the pattern of Punjab where the campaign has been planned in four districts. After these districts, it would be extended to Charsadda, Kohat, Nowshera and Dera Ismail Khan," they said.
Officials said that eliciting community's support for the drive was of immense significance to ensure that people received doses at their doorsteps as part of the plan to return to normal life. They said that their workers would also prevail upon the people during the vaccination drive to adhere to precautions such as social distancing, hand hygiene and wearing masks.
Meanwhile, people would continue to get jabs in the 739 fixed centres, 43 mobile vans and 40 mass inoculation centres in the province.
So far, three million people have been administered Covid-19 vaccine. It is 16 per cent of the 19 million target population above 18 years. NCOC has advised all provinces to ensure immunisation of at least 40 per cent residents of the populous districts to stop transmission of the virus.
On Saturday, health officials said they held a meeting with the district health officers and asked them to take measures to create demand for Covid-19 vaccination in their respective areas. "We have also advised the DHOs and relevant departments at the district level to send us their recommendations regarding enhancement of vaccination," said officials.
Positivity for coronavirus swabs was recorded 14.1 per cent in Peshawar, 12.1 per cent in Nowshera, 5.6 per cent in Abbottabad, 5.3 per cent in Swabi and 4.2 per cent in Mardan.
Khyber Pakhtunkhwa has so far reported 141,627 cases and 4,417 deaths since the onset of the pandemic. Case fatality rate in the province is 3.1 per cent. A total of 411 confirmed cases are currently hospitalised and 164 of them are on low flow oxygen, 228 on high flow and 19 are on ventilator.
Of the infected people, 95 per cent patients have recovered and have been discharged from the hospitals.
Published in Dawn, July 26th, 2021