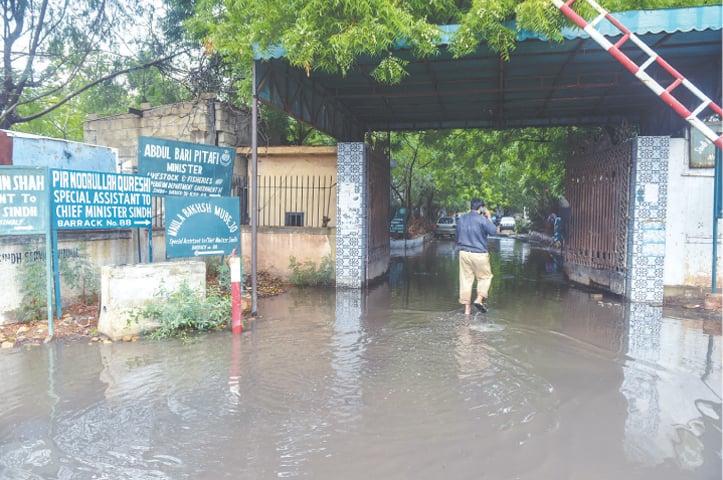 KARACHI: While a few areas of Karachi received rain early on Wednesday morning, light showers in several other areas in the evening turned the city's prevailing hot and humid weather pleasant.
The Met department has forecast hot and humid weather with chances of rain-thunderstorms at evening/night in Karachi for Thursday with maximum temperature ranging between 36 degrees Celsius and 38 degrees Celsius.
On Wednesday, the maximum temperature in the city was 39.7 degrees Celsius.
The Met department recorded 2mm rain each in Gulshan-i-Hadeed, PAF Masroor Base and Jinnah terminal. It recorded 1.6mm rain at Karachi University/Met complex, 0.7mm in the old Airport area, 1.1mm at PAF Base Faisal while North Karachi and Saadi Town had traces of rainfall.
Met dept says moderate to heavy rainfall likely in Karachi and other districts of Sindh till Saturday
Due to rain in areas in district South including I.I. Chundrigar Road water accumulated on major arteries causing inconvenience to motorists and commuters.
"Monsoon currents continue to penetrate into eastern Sindh. Under its influence rain/wind/thunderstorms with a few moderate to heavy falls at times are likely to occur in all districts of lower Sindh till Friday and central and upper parts of Sindh till Saturday," stated a Met advisory.
The persistent rain/showers might create waterlogging in the low-lying areas of Karachi, Hyderabad, Badin, Thatta, Sukkur, Larkana, Dadu and Nawabshah districts during the period, it added.
Murad sets up rain emergency centre
Chief Minister Syed Murad Ali Shah on Wednesday ordered cancellation of leaves of all the employees of district administration, police, local government and other essential staff and directed the chief secretary to set up a rain-emergency cell at his office for necessary coordination.
He took these decisions while presiding over a monsoon preparatory meeting here at CM House.
Karachi Commissioner Naveed Shaikh, Administrator Laeeq Ahmed, KWSB chief Asadullah Khan briefed the chief minister about the measures taken by their organisations to cope with the ongoing monsoon situation.
The chief minister was told that 43 nullahs of the Karachi Metropolitan Corporation and 514 of district municipal corporations had been cleaned so that rainwater could flow down to the sea smoothly.
"All the choking points of the city have been identified and cleared. Three major nullahs — Mehmoodabad, Gujjar and Korangi — have been cleared, except a few locations where work is in progress," the CM was told.
Mr Shah directed the heads of local bodies and district administration to keep visiting their respective areas so that proper work for draining rainwater could be ensured.
He directed the finance department to release necessary funds to the local governments and other institutions concerned so that they could meet rain emergency expenditures.
Rehabilitation Minister Faraz Dero informed the chief minister that the Provincial Emergency Operations Centre (PEOC) had been operational round the clock to monitor the situation across Sindh.
Published in Dawn, July 15th, 2021