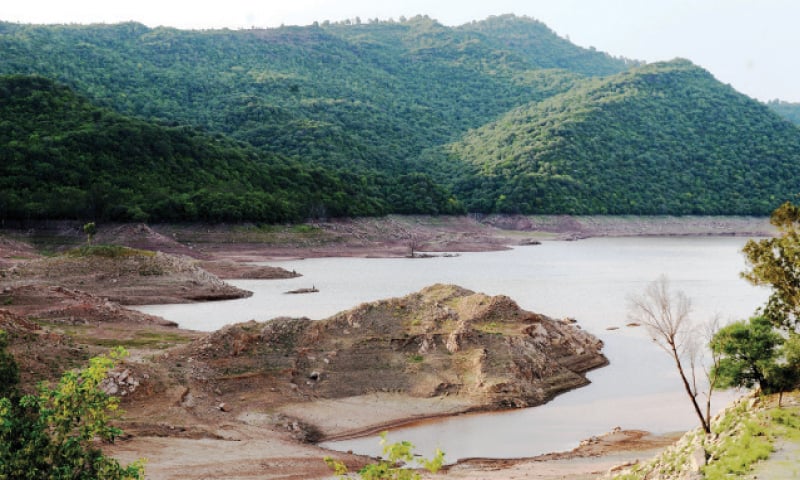 ISLAMABAD: Water level in Simly Dam is constantly decreasing due to less rain in catchment areas of the dam.
Currently, the water level in the dam is 2,247 feet against the capacity of 2,315 feet, sources said.
They said during the same period last year, the dam was full to its capacity.
When contacted, deputy director general Water Management Sardar Khan Zimri said: "Yes, water level has decreased due to less rain, but there is no need to panic. We have sufficient stock of water which can cater to the need of the residents for one month. The next spell of rain, which is expected next week, the level of water will see significant increase," he said.
Islamabad's actual need is around 220mgd, but it provides 70mgd from different sources.
The Simly Dam is the main source of water supply to residents of Islamabad, which used to be around 25 to 28 million gallons daily (mgd) when dam was full to its capacity, but at present it is providing 22mgd.
Other water sources include Khanpur Dam, which supplies 10mgd water to Islamabad, Rawal Dam 4mgd and the rest of the water needs are being fulfilled by tubewells.
During the last two decades no serious step has been taken to add water to the system and to explore new options, except for focusing on Ghazi Brotha Project, which is designed to provide 100mgd each to Rawalpindi and Islamabad, but that project, the sources said, required over Rs100 billion.
For fiscal year 2021-22, the government has earmarked funds for land acquisition for laying pipelines.
Recently, the civic authority got 2mgd water restored from Rawal Dam after two decades.
The civic agency treats raw water from the dam at Rawal Water Treatment Plant near Pakistan Sports Complex.
During his recent visit to the plant, the deputy director general and director water supply briefed the CDA Chairman Amer Ali Ahmed about the plant and the water situation.
Published in Dawn, July 10th, 2021