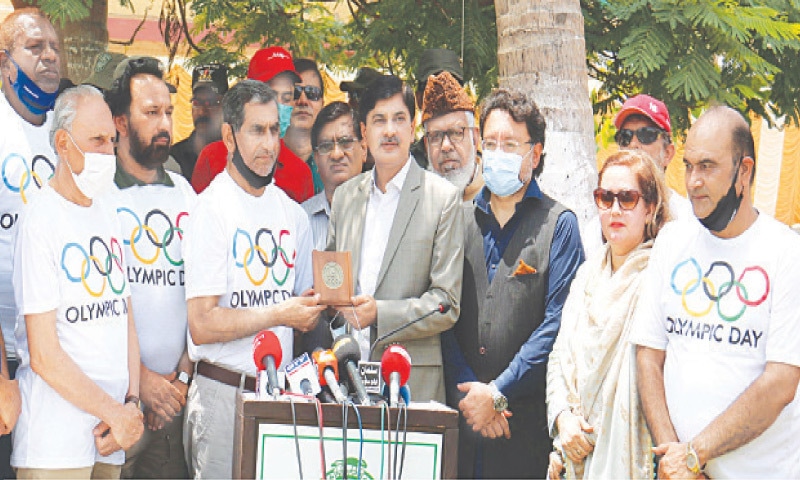 KARACHI: The Pakistan Olympic Association (POA), Karachi Metropolitan Corpor­ation (KMC) and the Karachi Sports Foundation (KSF) jointly held an Olympic Day event at the KMC Sports Complex to celebrate the International Olympic Day recently.
Administrator Karachi Laeeq Ahmed, speaking on the occasion, said that Olympic Games is an ancient multi-sports tradition and it commenced in Greece. "The purpose to celebrate International Olympic Day is to highlight the importance of sports and health-based activities. This year's Olympic theme is also health and staying active," he said.
The Administrator Karachi congratulated POA and KSF for conducting Olympic Day events and further said that the reason so many provincial and federal sports associations' representatives are present here is that "we want to see sports flourish in our city."
He further said that after a long time, KMC Sports Complex will be fully functional especially for Olympic sports, so that the athletes could train and prepare themselves for the mega event. Secretary-General Pakistan Olympic Association Khalid Mahmood, Grand Master Ashraf Tai, Governor Rotary International Prof. Dr. Farhan Essa Abdullah, Senior Director Coordination KMC Khalid Khan, Olympic Day focal person Tehmina Asif, SOA Secretary Ahmed Ali Rajput, Chairman KSF Asif Azeem, President Syed Waseem Hashmi and other sports personalities were present on the occasion.
PO's Khalid Mahmood said that Pakistan's holding the Olympic Day celebrations in Pakistan's biggest city Karachi is a matter of pride for all present. "Karachi has loads of talen. In the future as well we will collaborate with KMC to organise several sports events.
Dr. Farhan Essa stated that Essa Laboratories will always be in the forefront to support sports and sportspersons in the country" These activities such as International Olympic Day will send a positive image of our country to the world," he said.
Later POA Secretary General Khalid Mahmood presented POA's memento to Administrator Karachi Laeeq Ahmed.
Published in Dawn, July 4th, 2021