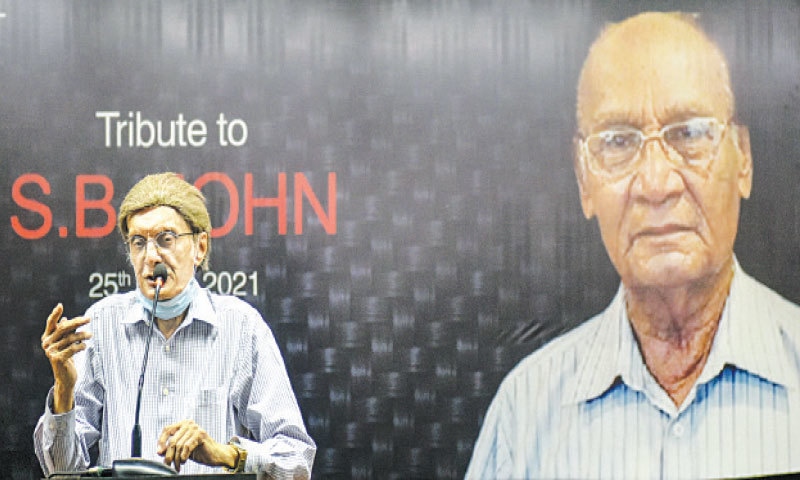 KARACHI: Friends, colleagues and members of the family of singer par excellence S.B. John, who passed away on June 5, gathered at the Arts Council of Pakistan Karachi on Friday evening to pay tribute to him.
Tanveer Afridi hosted the programme. He said with the passing of Mr John the artist community is left with no one to tell them about their past. He was the last of his generation. Anyone could have asked him about anything from the days gone by. Artists such as him become great after putting in a lot of hard work and practice (riyaz). The popularity of his one song 'Tu jo nahin hai to kuchh bhi nahin' equals other artists' whole careers. His four sons are also musicians of good quality.
Imran Javed said Mr John was a great artist. In his very first meeting with the late vocalist he got to sing his [above-mentioned] famous song in front of him and he appreciated the young singer's effort. He added Mr John was fond of him and claimed that no one has sung the song 'Tu jo nahin' on stage more than he [Javed] has.
Sultan Arshad said he first saw Mr John at Radio Pakistan when the speaker was in college. His song had already become hugely popular. He got to meet the late artist frequently after his [Arshad's] return from Bombay [now Mumbai] where he'd been posted to perform his professional duties. The marked feature of Mr John's personality was that whoever met him thought that he was his best friend.
'The popularity of his one song 'Tu jo nahin hai to kuchh bhi nahin' equals other artists' whole careers'
Mr Arshad said that while in Karachi, Mr John sang songs for 11 films, but people don't remember songs from the other 10 films. He also sang ghazals and a good number of songs from Radio Pakistan.
Mahboob Ashraf said he'd known Mr John from Radio Pakistan days. His team was the one that first recorded the famous song that everyone talks about. "He used to call me beta [son]."
Kamaluddin Ahmed, make-up artist, said all artists used to come to him [when they'd be recording at PTV]. But Mr John was the one who always met and greeted him with affection. There was sweetness (mithaas) to his personality.
Amjad Shah said the singer was a world renowned legendary artist. He told the audience, which largely comprised of members of the music industry, that Indian film-maker Mahesh Bhatt's mother used to listen to 'Tu jo nahin' every morning. Mr John wasn't just famous as a playback singer; he also knew ragas and raginis.
Z.H. Fahim said the vocalist acquired acclaim at the international level.
S.B. John's son Glenn said it was a matter of pride for him that he got a chance to talk about his father. Mr John wasn't just a father; he was a friend and a teacher as well. Today when he walks through the corridors of Radio Pakistan or PTV, he hears his father's voice coming from their walls.
Faisal Latif, Asjad Bukhari and Zaheer Khan, among others, also spoke.
Published in Dawn, June 27th, 2021