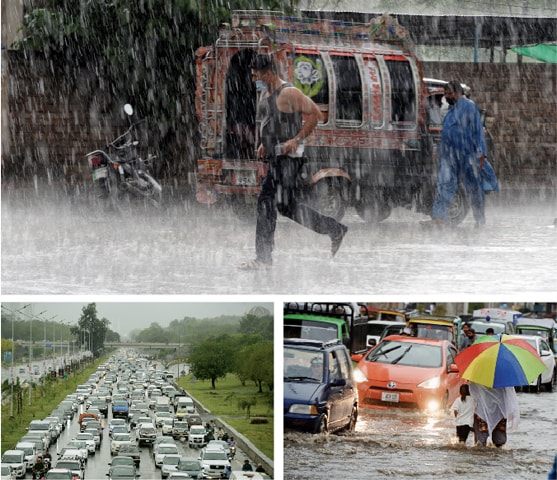 RAWALPINDI: Heavy rain lashed the twin cities of Rawalpindi and Islamabad on Wednesday afternoon, flooding low-lying areas in the garrison city.
The rain, however, brought the temperature down to 31°C in the federal capital and adjoining garrison town.
The Meteorological Department recorded 11 mm rain at Airport, 4mm at Saidpur and 1mm at Zero Point and Golra in Islamabad while 8mm in Rawalpindi.
It forecast more rain and cool winds sweeping northern parts of the country during next 24 hours.
According to Met Office official, seasonal low lies over northwest of Balochistan and its adjoining areas. Moist currents from Arabian Sea are penetrating in lower and central parts of the country.
"Dust-thundershower is expected in south Punjab, northeast Balochistan and Sindh. Isolated heavy falls and hailstorm are also likely during the period. Dust-thundershower is also expected in few districts of Gilgit-Baltistan and Kashmir. Hot and dry weather is expected in elsewhere in the country," he said.
The rain started in the afternoon and continued till the evening. However, a few hours rain exposed the improper drainage system of the city. The sewer system in downtown and the area adjacent to Leh Nullah choked and the water accumulated in the streets of low-lying areas.
"The rain is blessing as the people were suffering from hot weather for last week. It will end the water shortage in the area," said Muhamamd Safdar, a resident of Iqbal Road.
When contacted, Water and Sanitation Agency Managing Director Raja Shaukat Mehmood said that water accumulated on some roads but we managed to clear within an hour. He said that water level
in Leh Nullah flowed at low level. He said that had heavy rain lashed Islamabad, the water level would have increased in Leh Nullah.
He expressed the hope that more rains in twin cities of Rawalpindi would bring an end to the water shortage.
Traffic in the city remained disrupted after the downpour keeping traffic wardens alert as they tried to help motorists and reduce traffic congestion.
The worst traffic jam was witnessed at Soan Bridge where hundreds of motorists were stuck in the traffic mess. Rainwater was accumulated at the bridge.
Bilal, a motorist, said that he had no other option but to return back to his house in Rawat as he did not want to be stuck in traffic for hours. He said he was going to Chaklala to see his grandfather but due to the traffic jam, he is going back home. Some motorists were also seen taking wrong turns while blaring emergency sirens from ambulances signalled motorists to clear the way but to no avail.
A similar situation was witnessed near Ayub Park. The newly carpeted road was submerged in rainwater and long queues of vehicles were seen. In Rawalpindi, the chief traffic officer announced emergency measures and directed the all sector in-charge to remain vigilant during onset of rains.
He also directed officials to provide assistance to motorists who were stuck in traffic jams due to accumulation of rainwater on roads and to keep themselves alert in low-lying areas along with fork-lifters.
Published in Dawn, June 17th, 2021