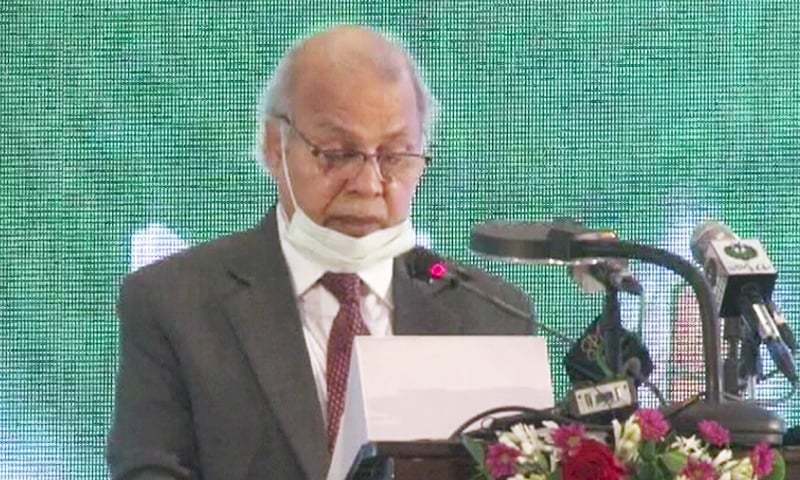 GILGIT: Chief Justice of Pakistan Justice Gulzar Ahmed has said the people of Gilgit-Baltistan enjoy equal rights as enshrined in the country's constitution.
He stated this while addressing a ceremony after laying the foundation stone of a judicial complex in Jutial Gilgit on Friday evening.
Justice Ahmed said the day was not far when proper provincial status would be awarded to the region.
GB Chief Court Chief Judge Justice Malik Haq Nawaz, Justice Ali Baig, lower court judges, Chief Minister Khalid Khurshid, GB Bar Council Vice-Chairman Malik Shafqat Ali, President Supreme Court of Appeal Bar Association Mohammad Hussain Shehzad and others were present.
Justice Gulzar Ahmed said: "It is matter of immense pleasure for me to be here among GB people. I am really spellbound and stunned by the region's natural beauty."
He said GB had glorious history, rich cultural heritage, natural beauty with hospitality and generosity of its people making it the most unique territory in Pakistan.
The CJP said the people of GB had fought against the Dogra regime for their war of independence, and after liberation they had exceeded to Pakistan.
He said the GB people were entitled to equal protection of their fundamental rights as available to the people of Pakistan in other territories.
"For this purpose the Supreme Court of Pakistan will ensure due compliance of its judgments in the Al-Jehad Trust case as well the Civil Aviation Authority case," Justice Ahmed said.
He said the Supreme Court had the jurisdiction to ensure enforcement of fundamental rights of the GB people.
He said details about provision of rights to the GB people had been sought from the federal government.
Published in Dawn, May 23rd, 2021