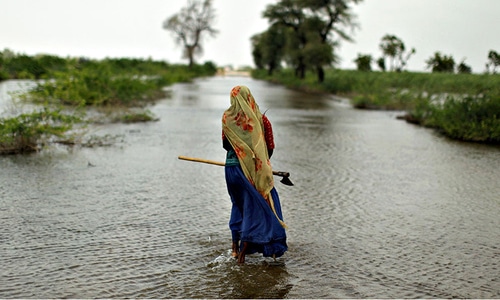 ISLAMABAD: Warning of an increase of up to 2.5 degrees Celsius in temperature over the next two decades, the Asian Development Bank (ADB) and World Bank (WB) have estimated that Pakistan is facing up to $3.8 billion in annual economic loss due to climate change.
A joint study titled "Climate Risk Country Profile" for Pakistan released by the two international lending agencies on Tuesday put Pakistan among the top risk-prune countries in terms of increase in average temperatures and resultant economic and social losses.
"Pakistan faces increases in average temperatures significantly above the global average with a potential rise of 1.3°C-4.9°C by the 2090s over the 1986-2005 baseline," the study said, noting that Pakistan faced "some of the highest disaster risk levels in the world, ranked 18 out of 191 countries by the 2020 Inform Risk Index". The global average by 2080-99 is estimated at about 3.7°C under the highest emission estimates.
Study warns country may face up to 2.5°C increase in temperature by 2050
The report projected an average increase of 1.4°C-2.6°C in daily maximum temperature during the period between 2040 and 2059 and could go up to 5.3°C during the 2080-99 period under various scenarios. It noted that rises in the annual maximum and minimum temperature are projected to be stronger than the rise in average temperature, likely amplifying the pressure on human health, livelihoods and ecosystems.
Moreover, changes to Pakistan's rainfall and runoff regimes, and hence its water resources, are highly uncertain, but an increase in the incidence of drought conditions is likely. The frequency and intensity of extreme climate events are projected to rise, increasing disaster risk, particularly for vulnerable poor and minority groups.
The report also projected an increase in the number of people affected by flooding, with a likely increase of around five million people exposed to extreme river floods by 2035-44, and a potential increase of around one million annually exposed to coastal flooding by 2070-2100. Projections also "suggest yield declines in many key food and cash crops, including cotton, wheat, sugarcane, maize, and rice", while temperature increases are likely to place strain on urban dwellers and outdoor labourers, with increased risk of heat-related sickness and death likely under all emissions pathways.
This could also lead to high and persistent levels of undernourishment and deprivation and hence an urgent need for further research and delivery of effective adaptation and disaster risk reduction measures.
The study found that cities in Pakistan's northern regions will be strongly impacted. Under higher emissions pathways, the number of days per year with temperatures over 35°C may rise from around 120 to over 150 by the middle of the 21st century. These changes will place extreme pressure on urban environments, and the energy systems which support them.
The study said that "changes should be seen in the context of the increasing impact of the urban heat island effect, driven by urbanisation, and identified in cities such as Lahore and Peshawar", as the requirement for cooling went up and simultaneously the strain on the nation's energy system also increased.
Cooling nuclear plants
The report pointed out particular challenges related to cooling nuclear and thermal power plants which might reduce their efficiency. The energy system is also vulnerable to the effects of extreme climate events, which are expected to intensify under climate change.
At 18 among 191 on risk index, the report said risk ranking was driven particularly by the nation's exposure to earthquakes and the risks of internal conflict. However, Pakistan also has high exposure to flooding (ranked jointly 8th), including riverine, flash, and coastal, as well as some exposure to tropical cyclones and their associated hazards (ranked jointly 40th) and drought (ranked jointly 43rd). Disaster risk in Pakistan is also driven by its social vulnerability. Its vulnerability ranking (37th) is driven by its high rates of multidimensional poverty. Pakistan scores slightly better in terms of its coping capacity (ranked 59th).
The report said Pakistan regularly experienced some of the highest maximum temperatures in the world, with an average monthly maximum of around 27°C and average June maximum of 36°C. The current median annual probability of a heat wave occurring in any given location in Pakistan is around three per cent. A large proportion of the population is exposed to this risk, as demonstrated by estimates that over 65,000 people were hospitalised with heatstroke during the 2015 heatwave in Pakistan.
Many regions of Pakistan experience temperatures of 38°C and above on an annual basis, when weather patterns converge to deliver prolonged periods of heatwave serious human health impacts can result. Pakistan experienced 126 heatwaves between 1997 and 2015, around seven per year, with an increasing trend.
Published in Dawn, May 19th, 2021
Now you can follow Dawn Business on Twitter, LinkedIn, Instagram and Facebook for insights on business, finance and tech from Pakistan and across the world.