Strange yellow penguin discovered
Belgian photographer Yves Adams was on an expedition to the Antarctic peninsula when he captured an unusually yellow coloured penguin.
His team contacted Hein van Grouw, curator at the UK Natural History Museum's Department of Life Sciences, who said the penguin could be an "ino-bird" or a "similar mutation".
A king penguin is usually black and white, with small tinges of yellow at their neck, giving them their signature tuxedo look. But, in this case, this hint of yellow "went much further under the black than you can see," van Grouw wrote. The cause of its melanin deficiency was probably a "malfunction in genetic coding".
---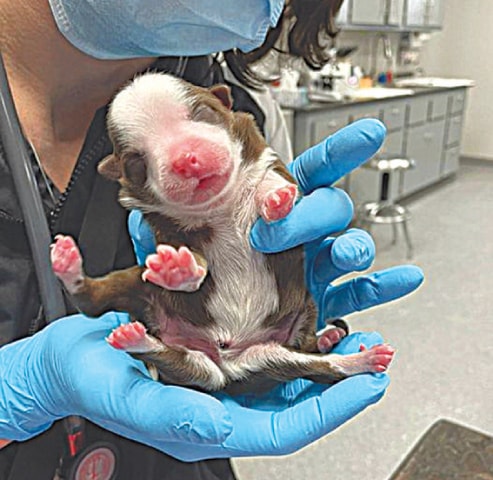 Puppy born with six legs
A puppy, believed to be the first ever to be born alive with six legs, is beating the odds by surviving and thriving. The Neel Veterinary Hospital in Oklahoma City said the puppy, named Skipper, was born with a single head and chest cavity, but she has six legs, two tails, two pelvic regions, two lower urinary tracts and two reproductive systems.
Despite some signs of spinal bifida, her organs "appear to be in great shape."
"All of her legs move and respond to stimulus just like a normal puppy. It's possible she may need physical therapy and assistance with mobility as she gets older," the hospital said in a Facebook post.
---
Robots at reception
Staff at Hotel Sky in Johannesburg's wealthy Sandton district adhere to strict Covid-19 protocols, wearing masks and physically distancing themselves from guests as much as possible; all, that is, except Lexi, Micah and Ariel.
The three concierges couldn't breathe germs on you even if they wanted to: they're robots. Recently launched, it is the first in Africa to use automated attendants. They can deliver room service, provide travel information and can drag up to 300kg of luggage.
If the hotel receives a guest with Covid-19 symptoms, the robots could be deployed instead of people as a precaution.
---
Minecraft gardening consultant needed
A British website that reviews garden sheds posted a job listing for an unusual $70-per-hour position: Minecraft gardening consultant.
The consultants employed by its Minecraft Gardening Service will lend their video gaming and garden design skills to Minecraft players seeking a little help landscaping in the virtual world of the game.
Consultants will be able to lend their expertise for achieving gardening excellence while sticking to the player's Minecoin budget (in-game currency)," the company said.
The website said it is seeking candidates with a working knowledge of Minecraft and a "creative flair. A passion for gardening/the outdoors must also be demonstrated," the job posting states.
Published in Dawn, Young World, March 27th, 2021