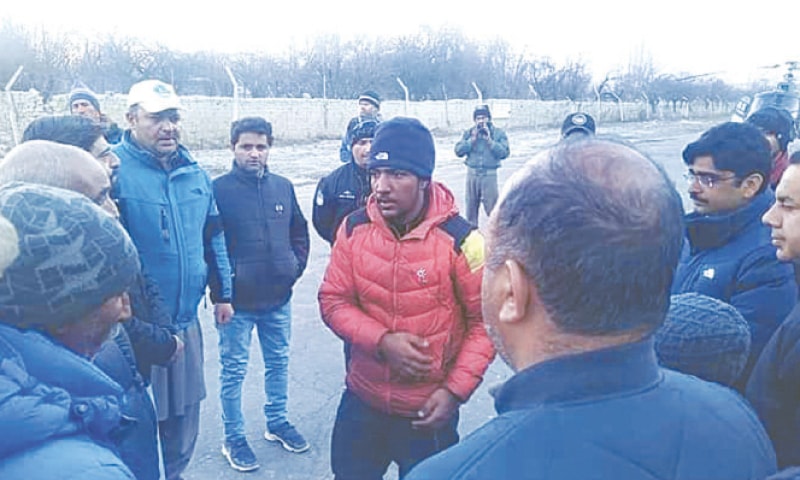 GILGIT: A rescue team could not locate missing mountaineers — Muhammad Ali Sadpara from Pakistan, John Snorri from Iceland and MP Mohr from Chile — on Sunday, who have not been contacted since midnight between Thursday and Friday when they began their push to K2 summit from their camp 3.
Sajid Ali Sadpara, the son of Muhammad Ali Sadpara, who was part of the expedition and also participated in a rescue mission, announced with heavy heart that survival of the three at above 8,000-metre altitude was not possible.
The search operation resumed on Sunday to locate the missing climbers. Through a social media post, SST expedition team leader Chhang Dawa Sherpa said: "Today, 1st flight by Army in the morning with Elia Saikaly made it up to 7000m and second flight in the afternoon by 2 helicopters (along with Sajid Sadpara and I) made a search (with an aerial reconnaissance) for an hour up to its maximum limit: 7,800m to locate missing climbers Ali, John Snorri, and Juan Pablo Mohr in K2.
"The search team went through the Abruzzi and other routes, we had less weather visibility above C 4, unfortunately, no trace at all, the wind above 6,400m is still 40KM," Mr Sherpa said.
Canadian filmmaker Elia Saikaly, who is at the base camp for the last two weeks to make a documentary on Ali Sadpara and his son about their accomplishments, was part of the search team.
Mr Saikaly has taken pictures of the area searched and the pictures are being analysed.
After a rescue operation, Sajid Sadpara arrived in his hometown Skardu on Saturday evening where he spoke at a press conference. He said: "I think search operation should continue for the bodies of the climbers as chances of their survival are limited."
Mr Sajid said that the K2 winter expedition had started on Dec 5 last year. "From Dec 12, we were trying to summit K2 in winter and this was our second attempt. We started K2 summit push on Feb 5 at 12am. I, my father, Mr Snorri and Mr Mohr were on the bottleneck while other climbers had descended."
Mr Sajid said: "I was without bottled oxygen at the altitude of 8,200 metres. Then I realised my health can deteriorate due to lack of oxygen. My father told me to use an oxygen bottle which he carried for another climber. Then oxygen regulator leaked and I decided to descend to camp 3.
"Last time I saw the climbers at the bottleneck. I started return from the bottleneck at around 12pm and arrived at camp 3 at 5pm. I informed the base camp through satellite communication that I have returned to camp 3 and my father and other members of the team are going to summit K2. I could not communicate with the climbers because their communication devices were not functioning."
Mr Sajid said that he was waiting at camp 3 for the climbers and making arrangements of water and other things for them. "I kept camp light on at night so that they may come to the camp noticing the light," he said.
"On Saturday morning, I informed the base camp manager that the climbers had not returned so far.
The manager told me descend from camp 3 as weather condition was not good and I must have been tired. He said they would launch a rescue mission for the climbers."
Mr Sajid said: "My father and two other climbers were crossing the bottleneck, the most technical part of K2, at 11am on Friday, I am sure they went missing while descending from the summit."
He thanked the Pakistan Army, civil administration, rescue team, climbers and well-wishers for their support and sympathy in this situation.
The 44-year-old porter turned climber Muhammad Ali Sadpara has previously climbed the five 8,000-metre-high peaks in Pakistan -- K2 (8,611m), Gasherbrum-I (8,080m), Gasherbrum-II (8,034m), Nanga Parbat (8,126m) and Broad Peak (8,051m).
He is the first Pakistani to have climbed Nanga Parbat in winter. He has also climbed 8,516-metre Lhotse peak, located on the border between Tibet region of China and Nepal, and 8,485-metre Makalu peak and 8,156-metre Manaslu in Nepal, without bottled oxygen last year.
At the age of 20, Sajid Sadpara is the youngest K2 summiteer this year.
He has undertaken a unique adventure. He struggled to climb K2 in winter without bottled oxygen, spent 20 hours at camp 3, descended alone and took part in the search operation.
Meanwhile, Foreign Minister Shah Mahmood Qureshi said that aerial search was under way to locate the three mountaineers.
"Not only the celebrated Pakistani mountaineer Ali Sadpara is missing, but two foreign climbers are also missing… We are praying for their safe recovery," Mr Qureshi said while talking to journalists in Multan.
AP adds: According to a statement issued by the foreign ministry, Iceland's Foreign Minister Gudlaugur Thr Thrdarson spoke to his Pakistani counterpart Shah Mahmood Qureshi by telephone. Mr Qureshi assured him that Pakistan would spare no effort in the search for the missing mountaineers.
Shakeel Ahmed in Multan also contributed to this report
Published in Dawn, February 8th, 2021