Q. I have a grapefruit tree which is six years old and has been fruiting for three years. This year it produced 25 big grapefruits but they are dry instead of juicy. Would proper manure solve the problem or is the tree in itself the problem? Will it always produce such poor quality fruit?
A. The two most common reasons for lack of juice in citrus are: 1) the fruit has been left on the tree too long. It should be picked as soon as it is ripe when, all being well, it should be bursting with juice; and 2) inadequate watering when fruit is developing. Give the tree roots a really good soaking once — twice if temperatures are exceptionally high — a week to maintain moisture levels in the developing fruit. Feeding the tree with liquid manure/compost tea, every couple of weeks or so throughout the growing season, will be most beneficial for the general health and well being of the tree.
Q. My plants have grown to a great height but do not fruit. Where am I going wrong? I have a Moringa tree, for example. Its height surpasses a two-storey building, but it doesn't flower or fruit. The pomegranate is way over eight feet tall but hasn't flowered or fruited either, and the papaya only develops tiny fruits which drop off way before they ripen. I live in Clifton, Karachi.
A. It sounds like your trees, other than the papaya which has a different problem, are not getting the amount of direct sunlight they need and, at a guess, I would say that they are probably fairly surrounded by buildings/high walls which are blocking light access for a large part of the day. This is causing the trees to use all of their energy to grow upwards towards the only area of sky they can 'see'. They are using so much energy in doing this that they have none left for producing flowers and fruit. Fruit bearing trees, as a general rule, need at least six, preferably eight to 10 hours, of direct sunlight each day if they are to thrive and produce. The same hours of sunlight are needed by papaya too but, this aside, the reason for your papaya shedding its fruit is that you have a female plant and need a male for cross pollination.
All your gardening queries answered here
Q. I am struggling with papaya in Toba Tek Singh. Despite using drip irrigation, most of the plants have died and the fruit on the remaining ones is not of decent quality. Could you advise what I should do to safeguard the remaining papaya trees and to improve their fruit?
A. Soil and water salinity in your area tends to be far too high for successful papaya cultivation. High salinity ultimately results in the death of papaya trees and, if they do manage to bear any fruit, quality will be very poor indeed. You may be better off replacing the papayas with pomegranates, guavas, falsa, ber, jamun or date palms.
Q. I want to plant some olive trees in my garden in Kasur tehsil, Pattoki. I believe that olives trees begin to fruit after a wait of five years. I need to know, in advance, if olive trees will bear a good crop of fruit in my location, as I do not want to plant them and then spend five years of waiting to find out.
A. If you select the correct variety/ species for your localised soil conditions, and continually provide the care and water necessary, olives certainly have the potential to do well in your area. I suggest that you contact your local Department of Agriculture and ask them for variety recommendations and also for your nearest source of good quality saplings.
Q. What are the Urdu names for sage, thyme, oregano and peppermint?
A. Sage — Salvia officinalis is sepakass in Urdu. Thyme — Thymus vulgaris — jungli podina or kushboodar patiyon ka poda. Oregano — Origanum vulgare — sperkay in Pashtu but sorry I do not know the Urdu name. Peppermint — Mentha x piperit — is safaid podina.
Q. Can I grow lemon trees at my home in Larkana?
A. Yes you can, as long as the soil is not suffering from high levels of salinity.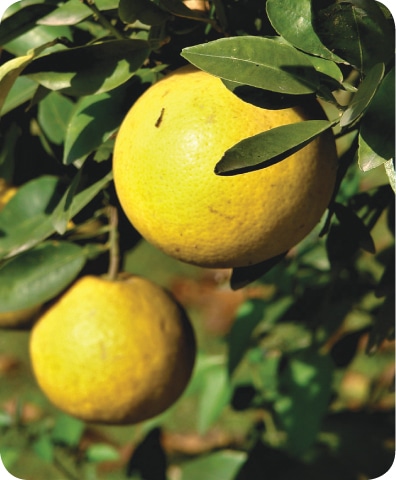 Q. We have had two coconut trees in our Clifton garden for the last 15 years. The trees were laden with fruits every six months or so since they reached fruiting stage. But, for the last year, we have noticed that the quantity of fruits is decreasing. We used to get 75-80 coconuts from the two trees but now it is only 30-35. Please explain what we should do to remedy the situation.
A. A reduction in available groundwater could be the problem. A mature coconut palm needs a minimum of 40 litres of water per day throughout the hot season and ensuring that they get this is essential for good crop production. Maintaining thick mulch four to six inches thick — for three to four feet all around but not in direct contact with the tree trunk — throughout the hot weather helps conserve soil moisture, suppresses weeds and slowly feeds the tree roots over a long period of time. An ideal mulch for coconut trees is a mix of their own fallen/dried out fronds chopped into very small pieces or burnt to form pure ash, old, well-rotted, manure/organic compost and some bhoosa [sawdust] at a ratio of 35 percent chopped leaves/ash, 35 percent manure/organic compost and 30 percent bhoosa.
Published in Dawn, EOS, January 10th, 2021