From the US elections to the war between Armenia and Azerbaijan, Dawn.com recaps major events from the outgoing year.
Chaotic. Unpredictable. Unprecedented. For most people, sentiments about the outgoing year fit somewhere among these words. A roller-coaster ride that threatened to devastate daily life and for the large part, succeeded in doing so.
Much of it had to do with the coronavirus pandemic that raged across the world. But there were other events, caused not by Mother Nature but by systemic flaws in governance and social justice, that gripped our attention.
For people in the US and India, it was a year of clashes and moments of national reflection as protests broke out against racial inequality in the former, leading to a renewed Black Lives Matter movement, and demonstrations continued against laws regarded as "discriminatory", erupting in Delhi's worst communal violence in decades.
For other countries, the year was about changing the status quo, such as in Thailand where a younger generation took to the streets demanding reform.
Tensions along borders were high with Chinese and Indian soldiers facing off against each other in the remote mountainous region of Ladakh, and Armenia and Azerbaijan entering into a war with the former ceding part of the disputed Nagorno-Karabakh territory.
And the coronavirus — which caused disruptions across the world — made words like social distancing and pandemic part of everyday language.
However, the year also saw renewed attempts at peace and formation of new relationships between countries. Important accords were signed, most notably the US-Taliban agreement and the normalisation of ties between some Arab states and Israel.
Here, Dawn.com takes a look at some of the events that dominated the headlines in 2020:
US and Iran — a tumultuous relationship
A few days into the new year, a United States strike on Baghdad's international airport killed Iran's top military commander Qassem Soleimani, in a dramatic escalation of tension between the two countries.
The US military said President Donald Trump had ordered Soleimani's "killing", after a pro-Iran mob laid siege to the US embassy. Trump said Soleimani should have been killed long before.
Iranian Supreme Leader Ayatollah Ali Khamenei vowed to exact "severe revenge" for Soleimani's death.
Read: 'World more dangerous': Reactions pour in as Iran's top general killed in US air strike
Subsequently, Iran retaliated with a rocket attack on an Iraqi airbase where US forces were stationed. Hours later, Iranian forces, on high alert, mistakenly shot down a Ukrainian passenger airliner taking off from Tehran.
Tensions did not dissipate much as the year progressed. In September, the US unilaterally proclaimed that the United Nations' sanctions against Iran were back in force, a month after the global body rejected a US resolution to extend an Iranian arms embargo. The move prompted Rouhani to accuse the US of "savagery", and say that Iranians should direct their anger at the White House.
However, after Joe Biden's victory in the US elections, President Rouhani's government made signs of apparent overtures, with the foreign ministry spokesperson saying the "crimes" committed by the US against Iran do not prevent "carefully considered" exchanges from taking place.
Iran's foreign minister also urged Biden to abandon Washington's "rogue" behaviour and lift the crippling sanctions.
For his part, Biden has signalled that he will return the US to the 2015 nuclear deal, which offered Tehran relief from international sanctions in exchange for guarantees, verified by the UN, that its nuclear programme has no military aims.
Social distancing, pandemic, lockdown — a year defined by coronavirus
While the world was ushering in a new decade, a mysterious outbreak was gathering pace in China's Wuhan — a city of 11 million people. Initially believed to be "viral pneumonia", Covid-19 as it came to be named, had spread to three countries by Jan 2020 and later to the rest of the world, affecting people living in the remotest parts of the globe.
More than 75 million people have been infected by the novel coronavirus and at least 1.6m have lost their lives. It was perhaps the biggest health crisis to affect the world, drawing comparisons to the deadly Spanish Flu, and completely transforming how humans lived, worked, and interacted with each other.
Countries that had brought the virus "under control" saw new outbreaks in second or third waves, leading to renewed restrictions and efforts to invent an effective vaccine.
By the end of the year, several companies had published results of vaccine trials, including AstraZeneca, Sinopharm, Pfizer/BioNTech and immunisation campaigns started in multiple countries — US, Canada, and the UK. China and Russia also started vaccinating their residents with indigenously developed vaccines.
Read: How Covid-19 upended life as we knew it in a matter of weeks
Also read: How the novel coronavirus has evolved
Delhi sees worst communal violence in decades
Unrest had been simmering in India's capital Delhi since last year over contentious citizenship laws — the Citizenship Amendment Act and the National Register of Citizens — but they took a deadly turn on the eve of US President Donald Trump's visit to the country.
At least 50 people were killed in the ensuing riots which erupted on Feb 26, the majority of whom were Muslims, and a number mosques were vandalised. Hindu-owned shops were also damaged and at least 15 Hindus were killed.
Ground report: How the riots unfolded in Delhi's Chand Bagh
The international press blamed Indian Prime Minister Narendra Modi for the violence and the New York Times carried a report later in the year, saying that evidence suggested New Delhi police "concertedly moved against Muslims" and "actively helped Hindu mobs" during the riots.
'Got your azaadi?': Investigation into Delhi violence sparks concerns about bias against Muslims
US-Taliban agreement — end of a decades-old war?
The United States and the Taliban had been engaged in talks throughout 2019 but it was only in March of this year that they signed a landmark agreement which many saw as an opportunity to end the decades-old war in Afghanistan.
Washington's chief negotiator Zalmay Khalilzad and Taliban political chief Mullah Abdul Ghani Baradar inked the accord in the Qatari capital Doha as US Secretary of State Mike Pompeo witnessed the signing ceremony. Under the agreement, the US would withdraw all its troops from Afghanistan within 14 months while the Taliban committed to severing ties with jihadist groups and combatting terrorism.
Following a delay of several months because of disputes over prisoners' release, talks between the Afghan government and the Taliban formally began in Qatar in September with the latter reaffirming their commitment to the agreement with the US.
However, the talks were stalled again by disagreements over which interpretation of Islam would be used to frame laws in a post-conflict Afghanistan and increased violence, leading to fears that America's decision to withdraw troops came too soon.
Read: Where is the Afghan peace process headed?
Earlier this month, both parties announced a preliminary deal that lays the grounds for further negotiations and a comprehensive ceasefire. The talks were also put on hold till Jan 5, 2021.
India, China and a high altitude clash
Tensions between India and China, both nuclear-armed states, took a dangerous turn in June after a fight in the high altitude region of Ladakh resulted in 20 Indian soldiers being killed — the deadliest clash in decades between the two neighbours who share a lengthy border.
Military leaders from both countries held several meetings to try and reduce tensions but they remained high with both China and India accusing each other of provocations and crossing the disputed border into the other's territory.
Read: China vs India — Geopolitics of a clash
The tension along the border led to Indian citizens boycotting Chinese products. Videos on social media showed Indians deliberately damaging their made-in-China electronics in a show of anger. The Indian government also banned scores of Chinese apps, saying they threaten the "sovereignty and integrity of India".
Indian and Chinese officials have met at least eight times since May but there seems to have been little to no breakthrough in resolving the standoff.
Black Lives Matter
In May, an African American man, George Floyd, was killed in police custody. A video made by a bystander showed a white police officer kneeling on his neck while he pleaded with him, saying "I can't breathe". Floyd's death ignited months of protests across the United States and his last words became a rallying cry for racial justice.
It catapulted the Black Lives Matter movement into the mainstream as hundreds of thousands of Americans took to the streets to demand police reform. In some states, the protests turned violent with rioters looting stores and setting fire to cars and properties. Police responded with tear gas and rubber bullets and curfews were enforced but they failed to quell the violence.
Read: America's original sin: Floyd death prompts historical soul-searching
During the protest, people also pulled down Confederate monuments in the US — seen as symbols of America's racial oppression in the past — later followed by statues of colonial masters, imperialists and slave traders. The toppling of statues of controversial historical and political figures was not limited to the US alone as multiple monuments were taken down in England, France, and New Zealand as well as other countries.
The protests continued later in the year in a largely peaceful manner.
A changing Middle East — normalisation of ties with Israel
In what was arguably one of the most surprising political developments this year, the United Arab Emirates and Israel reached a "historic peace agreement" in August, which was brokered by the United States, deciding to normalise relations. The UAE was the third Arab state to normalise relations after Jordan and Egypt.
Both the UAE and Israel have since taken measures to develop a bilateral relationship, including reaching a visa-exemption agreement and discussing a double tax treaty to encourage investment. UAE and Israeli companies also signed a 'strategic commercial agreement' for coronavirus research.
The deal was swiftly condemned by Turkey and Iran with the Iranian president terming it a "betrayal" of the Islamic world by the UAE. However, it proved to be a precursor as more Arab states, including Bahrain, Sudan and Morocco also announced agreements to normalise ties with Israel. While Oman "welcomed" Bahrain's decision, it did not comment on whether it was also considering the same.
The moves led to speculation whether other Arab states, especially Saudi Arabia would follow. In November, Israeli media reported that Prime Minister Benjamin Netanyahu had met with Saudi Crown Prince Mohammed Bin Salman in Saudi Arabia which the kingdom denied.
'Disputed territory': War between Armenia and Azerbaijan
September 2020 saw clashes break out between Armenia and Azerbaijan over the territory of Nagorno-Karabakh — an Armenian-dominated enclave that has been disputed since the post-Soviet 1990s war — with both sides accusing the other of initiating the hostilities.
Several attempts at arriving at a ceasefire amidst the deadliest clashes since 2016 failed. The war lasted six weeks, leaving thousands dead in its wake and displacing many more.
Finally, Armenia, Azerbaijan and Russia signed an agreement in November under which nearly 2,000 Russian peacekeepers would be deployed and Armenia would concede three territories under its control.
Later that month, Azerbaijan troops entered the first district handed over by Armenia as residents of the territory set their homes on fire before handing the land over.
'Mental checks': Erdogan blasts Macron over policies
Religious tensions came to the limelight in France again this year after a teacher was beheaded for showing sketches of Prophet Muhammad (PBUH) in class. Following the incident, French President Emmanuel Macron vowed to "not give up" the sketches and unveiled a plan to combat 'radical Islam' in the country.
His comments caused global outrage and mass protests in Muslim countries. Hundreds of thousands of people took to the streets in Pakistan, Afghanistan, Bangladesh, Lebanon and Gaza, calling for a boycott of French products. Muslim leaders including Prime Minister Imran Khan, Malaysia's Mahathir Mohamad and Turkish President Recep Tayyip Erdogan all denounced Macron's comments.
Erdogan lashed out at Macron, saying he should get "mental checks" for "treating millions of members from different faith groups this way". Relations between the two leaders were also soured by disagreements over a Greek-Turkish dispute in the Mediterranean and the clash between Armenia and Azerbaijan. Things further escalated when Charlie Hebdo published a caricature of Erdogan which Turkey termed a "disgusting effort to spread its cultural racism and hatred".
Macron later sought to calm tensions with Muslims, saying in an interview that he understood why the sketches could be "shocking" but that "violence could never be justified". A month later, Erdogan said Macron was "trouble for France" and expressed the hope that the country would "get rid of Macron trouble as soon as possible".
In December, the French cabinet approved the draft laws for combatting "radical Islam", which Erdogan said were an "open provocation".
America bids adieu to Trump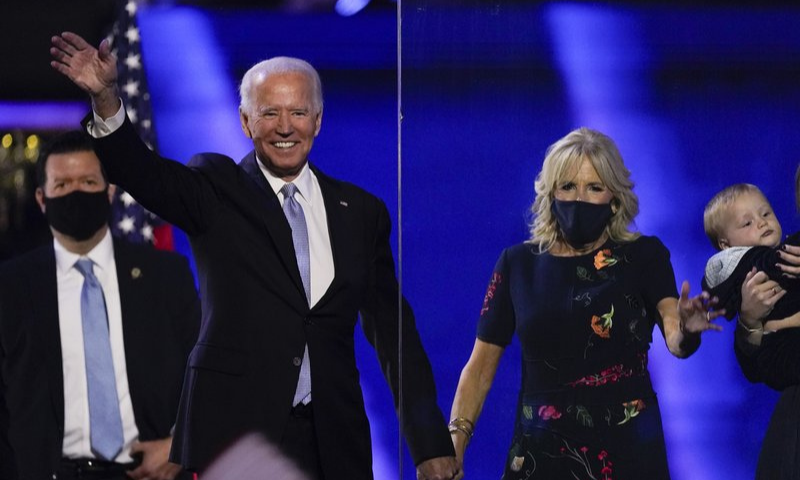 After a gruelling months-long election campaign, former vice president Democrat Joe Biden was declared the next President of the United States on Nov 8 — five days after the election day.
Read: The next US president — Joe Biden
Republican President Donald Trump refused to concede, alleging election theft and claiming that Biden had "falsely posed" as the winner. Ever since, Republicans have filed multiple motions and lawsuits to try and prevent Biden from coming to power, which were rejected by the courts.
For his part, Biden, in his first address as president-elect promoted unity, saying to the millions of people who voted for Trump: "Let's give each other a chance."
Even after US election officials said there was no evidence of election theft or compromised ballots, Trump refused to concede and protests again broke out in the US with Republicans and Democrats clashing and several stabbings reported. One Republican leader also suggested that pro-Trump states secede.
On Dec 15, the US Electoral College, in state-by-state voting, confirmed Biden's victory. He will enter the White House on Jan 20, Inauguration Day.
'Down with the dictatorship': Youth-led protests in Thailand
As the coronavirus pandemic ravaged Thailand's economy and fomented political unrest, thousands of students took to the streets — later joined by people from all ages and sectors of society — against former army chief Prayuth Chan-ocha's government in July. Among their demands was Chan-ocha's resignation, a re-write of the 2017 constitution, an end to harsh royal defamation laws and wide-ranging reforms to the monarchy.
As the protests grew, police used tear gas and water cannons, injuring several protesters. Others were also charged under the royal defamation law and faced up to 15 years in prison but the protesters continued undeterred.
In December, one of the protest leaders, lawyer Arnon Nampa, said that the protesters were taking a break and would return after the New Year holidays with more intensity and in larger numbers.
Farmers' protest — India and beyond
Farmers in India have been protesting for months after Narendra Modi's Bharatiya Janata Party (BJP) government passed laws that would lead to the government not buying grains at guaranteed prices and enabling the farmers to negotiate directly with companies.
The farmers argued that the new laws would make them more vulnerable to exploitation — the majority of them have shareholdings smaller than five acres — as poor farmers would find it hard to negotiate with large buyers.
The protests, which initially started in Punjab and Haryana but then moved closer to Delhi, have also attracted international support because of the Sikh diaspora in countries such as the United Kingdom, Australia, Canada and the United States.
Read: India's winter of discontent — Farmers rise up against Modi
Also read: Why are Indian farmers protesting, and what can Modi do?
Six rounds of talks have been held between the government and the farmers, with the agriculture minister saying that the current system in which the government sets prices would continue. In addition, the government was "ready to consider" any additional objections of the farmers, he said.
The protests have intensified in recent days with farmers going on hunger strikes and vowing to launch a tractor trolley march to New Delhi.
---
Compiled by Urooj Imran. Header illustration by Mushba Said.