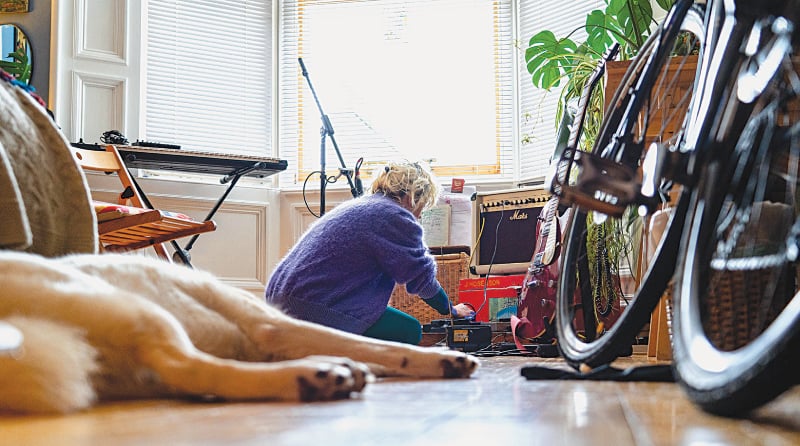 You think you're in a lockdown.
Are you in a lockdown?
We are too.
At least we know how it ends.
It must end before the sun comes up
Are you wearing a mask?
We are waiting for when we'll be forced to wear a mask.
So that you don't see our faces
So that you don't see who you are killing
Not really looking forward to it
You're looking out for loved ones
We are looking for our lawyer.
Sarmad Khoosat's crisp voice booms through my headphones, enunciating every syllable clearly, as if to really hammer in the gravity of these words. I had logged in to view, to listen, to experience, The Justice Project's latest creative experiment: an online live puppet theatre show called Before The Sun Comes Up. Before sunrise is traditionally when an execution of prisoners condemned to death takes place.
And these are stories about those condemned to death. This collaborative effort was conceived by Ryan Van Winkle. The music is by Hailey Beavis and Emma Brierly is the puppeteer, giving us a hint of nostalgia, albeit merged with modern technology, through her work. The four stories which make up the project, penned by Mohammad Hanif, are inspired by real life cases and characters, and it's not hard to figure out whom they are really about.
I was initially a bit sceptical, yet intrigued, at the idea of an online live theatre show. How can something you're streaming through a screen be compared to the experience one gets from being in a theatre, of a play unfolding in front of you in full flesh and blood, so to speak?
I had been granted access to the rehearsals before the show went live on October 10, on a zoom link accessed through Dawn.com and The Justice Project's social media platforms.
There were four screens on display. One with the card showing the title of the story. The other three are where the puppets and their background show up as the narration progresses. It's like watching different scenes of the same moment play out together but, instead of editing it into one frame, they have their 'own' place and co-exist separately.
An experimental project combines storytelling, puppetry and music over the internet to bring home the human impact of the death penalty
At any given time, at most two screens show some movement. That was a wise move — any more and it would've been very distracting.
Each story had a theme. The first one, The Ready-Made Killer, is about intent. The second, The Prisoner Who Did Something is about respect. The Man Who Had One Job is about work while The Lucky Woman is about forgiveness.
But what makes them especially interesting is the perspective. Written in the first person, the stories get inside the head of the inmates… and end up getting inside your head as well. The atmosphere — with Sarmad's quietly expressive voice, Hailey's restrained, perfectly minimalist background music and Emma's curious puppets — and in the physical absence of other people around you, create a sort of intimacy between the characters and the audience. You are alone with them.
And so ever so quietly, with such intimacy, these stories get under your skin.
The way these stories are told, by connecting us with the humanity of those condemned, shines a stark light on how the criminal justice system fails to protect the rights of those that are most the most powerless and vulnerable. How class and power structures in our society enable those with vested interests to use others as pawns in their own personal, fatally dangerous games.
And repeatedly, through Mohammad Hanif's wizardry with words, it shows that we, the un-condemned, are not so different from those that are. That bloodlust exists in all of us.
"They say 'hang pictures not people.' But you don't know these softies. They love hangings. Hangings bring people closer. It's a collective hug." These are the words spoken by a prisoner condemned for murdering a 'softie' who challenged cultural norms and cut her hair like a boy… and for "painting walls with hearts and flowers — with permission of course."
"They don't want you to know what I did. They don't want you to know what they did," says the prisoner condemned, through a closed-door trial, for 'disrespecting' [a euphemism used for the crime of blasphemy]. She was condemned for 'disrespecting' for eight years. The one powerful man that came forward to help her was killed. "I was scared to ask about my crime because that seemed like another crime," she says, an indication of both her confusion and fear.
The crew behind the project had just started working on it when the coronavirus lockdowns came into place. They immediately had to shift gears and reorient their approach. "I just remember that we started out doing this before anyone knew what Zoom was," says Mohammad Hanif, sounding amusingly disgruntled by having to adapt to this remote way of working and collaborating.
For Sarmad Khoosat, adapting to performing remotely has been an interesting adjustment, one he struggled with at first, but figured his way through quickly. "I've been making these little slips and fumbles…" says Sarmad in the middle of one of the rehearsals. "As a performer that makes it real for you, it gives me the same anxiety as theatre," he laughs.
A little secret that was inadvertently revealed during one of the rehearsals was that Sarmad can't actually see the performance unfolding online — his entire screen is dominated by his script. He confessed that it made him feel a little isolated.
But then how are he and the crew able to coordinate their parts? "There's one person who is taking leads and other people are following that," says Emma Brierly, the puppeteer.
"Hailey and I are supporting the narrative," she adds, referring to Hailey Beavis who is doing the music. "[But] that's Hailey for me. I'm following her!" interjects Sarmad. "It's a house of cards!" laughs Ryan Van Winkle.
When on stage, Sarmad gets to perform 'off' the other actors and crew members, the visual cues and even the audience's presence feeds into the performance, but now he is alone, in a room with a microphone. How is this different from recording in a studio? "I'm still aware," he says. "It's very strange. It's the headphones. I started trying using these two rehearsals ago because I'm generally not a fan of headphones. Then there is [the live] music and somehow, I'm not in the surrounding I'm in anymore…"
Once he found his groove in this new form of theatre, Sarmad discovered there was an upside to this. "Not being on camera is helping," he says. "For me, I'm not approaching this reading as a very performative piece. For just the flow, just the emotional graph into it, it helps me knowing I'm not on camera."
"I think we're alone together," says Ryan. "It's been nice. It feels like a live performance." It was.
Listening to the stories, in the intimacy of your home, headphones isolating you from the outside world into this one, it's surprising how quietly and easy it is to slip into the stories themselves, the zone, that suspension of disbelief.
In a physical theatre, you're in a state of hyper-awareness, subconsciously taking in new information about how your surroundings have changed. That's a part of the high, the whole experience. But here, you're in an environment so intimately familiar to you that your brain doesn't need to process it, it's not new information. You're also (presumably) in a safe place. You're in your most relaxed state. It's easy to let go and let the stories take over and for the performance to build a theatre of the mind.
Especially a performance as carefully curated as this one. It went on at 6pm PST, each story an average of 10 minutes or so long, and a replay was available until 6am the next day — just before the sun comes up.
Published in Dawn, ICON, October 11th, 2020