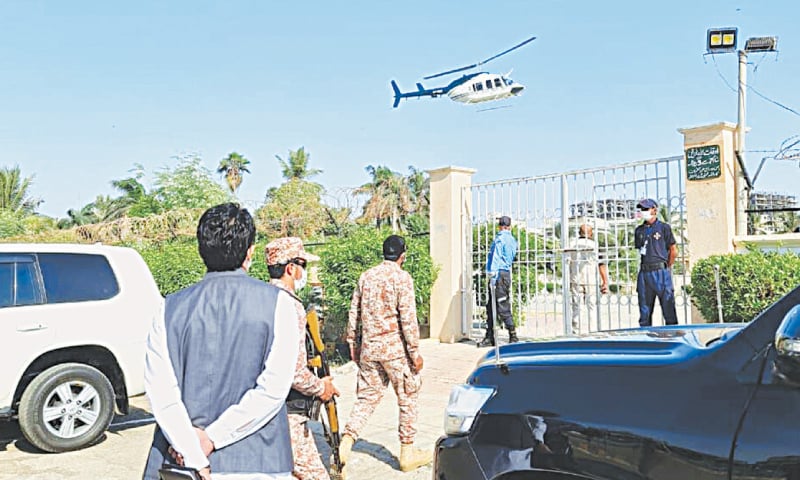 KARACHI: Every second counts when seriously unwell patients or the critically injured need to reach hospital in time. The heavy traffic on our roads, not to mention the state of our roads, often results in terrible tragedy. But things are going to change soon as patients termed critical will soon be reaching the Jinnah Postgraduate Medical Centre (JPMC) via an air ambulance.
The new development has been a dream of JPMC's Executive Director Dr Seemin Jamali.
"It was over 20 years ago when the helipad at JPMC was functional. But by the time I got here, it was no longer in use and there was wild plantation growing all around it," she told Dawn. "Of course, we very much wanted to revive activity there and our administration people were asked to write letters to the relevant authorities and people who could make this happen."
Air ambulances can now transport the injured from remote areas to the health facility
And Dr Jamali got her wish over the weekend. She was informed on Saturday that someone wanted to use the hospital's helipad. "Well, it was the chief minister of Sindh who then took off from here in a helicopter on Sunday and also landed back here in the same helo," she said, adding that of course while serving as a landing spot for air ambulances the helipad may also be used for dignitaries.
"It is a time-saving means of commuting, especially during emergencies when the roads tend to get blocked too. During emergencies even ambulances that are there to carry away the injured have to be told to not block the way for other ambulances to pass," she pointed out.
"The first hour after a mishap is the most critical time for saving lives. They must get medical help as quickly as possible and helicopters can do that. They will save lives," she said.
Navy to use helipad for emergencies
The day following the CM's using the JPMC helipad, Dr Jamali received correspondence from the Pakistan Navy, who also wanted to use the helipad for their medical emergencies and other missions.
Of course, the hospital had no issues with that. Dr Jamali wrote back to them the same day showing her willingness and welcoming them while also letting the Sindh government and its health department know about it as in going ahead with the endeavour, they will be looking for their permission and guidance too.
"The Sindh government has always been extra kind in its help to us. They let us have whatever facility or equipment is needed for the good of the patients," she said.
"The Navy," Dr Jamali informed, "will soon be carrying out practice drills at the helipad during both daytime and after dark with other emergency vehicles including ambulances and fire tenders. And if things go smoothly, soon we will have patients being flown in from far-flung areas such as Sindh's interior and Balochistan as well," she said.
But in order for that to happen they would be needing private air ambulance services.
"It is an expensive way to commute but it is not more expensive than life. We are a poor hospital that wants to make a difference and where there is a will, there is a way," she smiled, adding that besides having patients come in through other ambulance services they will also have the armed forces' helicopters in case of a mass emergency, disaster or calamity in which the injured need to be quickly evacuated and brought over to a medical facility such as the JPMC.
The hospital also has the clearance and support of the Civil Aviation Authority in this new endeavour.
Published in Dawn, October 7th, 2020