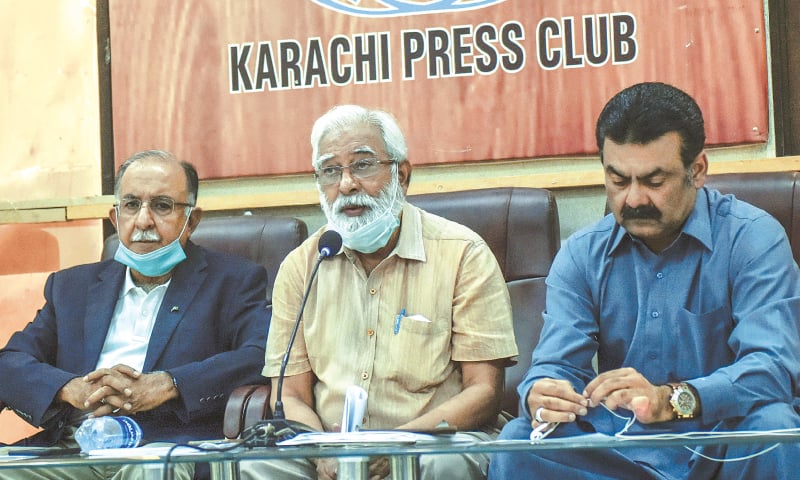 KARACHI: The non-serious and lacklustre approach of the government towards making the public safety and police complaints commission effective prompted three of its members to address a press conference at the Karachi Press Club on Wednesday.
Senior trade unionist Karamat Ali, one of the members of the commission, explained in depth their frustration and concerns regarding the workings of the commission.
"It is not working the way it should be," he said. "For starters, it was agreed from the start for this commission, which acts like a watchdog over the police, to hold monthly meetings. It has been over one year since the commission was formed on Sept 11, 2019. We should have had 12 meetings by now but we have only been able to meet five times. Our sixth meeting, which was supposed to be held on Aug 21, too, was postponed," he said.
'No formal, functioning office'
It was explained also that each district of Sindh was to have a commission so that the people there wouldn't have to come to Karachi to approach it. But that also could not happen. What's more, they still don't have a formal, functional office in Karachi. Besides, the rules of business for the commission, which they had submitted in July are yet to return. "So we have an organisation here which is running without the rules of business," pointed out Mr Ali.
'It is not working the way it should be'
"Recently, on Sept 15, when we asked to [requisition] a meeting of the commission, it should have been called within 24 hours. But here we are still waiting for a reply to our request. There are so many things about the police, including police high-handedness during the Covid-19 lockdown that should have been taken up by the commission but we couldn't do anything about them because we are not organised ourselves," he added.
"Sometimes it is the chief secretary, sometimes the inspector general, home secretary, finance secretary, advisor law or someone or the other who can't make it due to which the meeting is called off. But they can depute someone else in their place if they can't make it. They are not members after all and the meetings can still be held without them. They are only required to come in anyway if the agenda of the meeting involves them," he pointed out.
"It is concerning to us that the public safety and police complaints commission is still not effective. It is in public interest that it becomes effective," he said.
It was also explained that the home minister shall be the chairperson of the commission. The IGP and heads of prosecution service, prison and probation departments too shall attend meetings of the commission as non-voting members, when invited. The commission may invite any expert for consultations on specific issues.
'Taxpayers' money being wasted'
Civil society member Nazim Haji, another member of the commission, said that as a responsible citizen, he also wanted to see their office function and their rules of business approved. "Both are important," he said.
"They have spent Rs15 million on office renovation and they are paying the office staff some 35 lakhs [3.5m] in salaries but the work being done there equals to zero. It is the taxpayers' money, your money, that is being wasted like this," he said.
"In our five meetings so far, the chief minister was not present. But it is fine because there is provision that the CM or home minister don't have to attend," he said.
"It was decided from the start that we would meet on the seventh of every month and in case there is a holiday on the seventh, then to meet the next day. But it couldn't happen," he said.
MPA Ali Aziz, another member, said that the government did not seem serious about the commission. "It seems like another dummy commission to me," he said.
Published in Dawn, September 24th, 2020