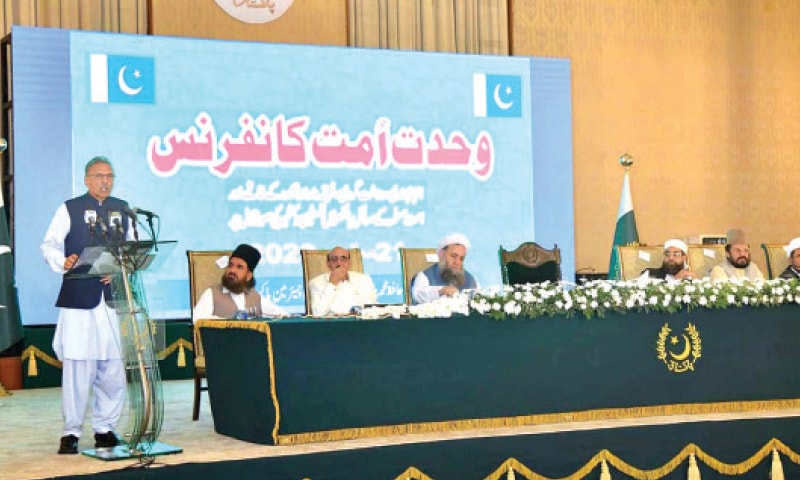 ISLAMABAD: Religious leaders from various Islamic sects said they would disassociate from those in their ranks who make derogatory comments about religious figures, or fan hatred and sectarianism in the country.
They made the decision at the Wahdat-i-Ummat Conference held at the Presidency, chaired by President Dr Arif Alvi.
"We should keep check not to take ideological differences to the level of confrontations and bilateral anarchy," Dr Alvi said.
The conference was organised by the Pakistan Ulema Council (PUC) to counter extremist rhetoric in recent days. Clerics who participated said they were not connected to banned organisations and elements fanning sectarianism and religious violence in the country.
Addressing the conference, Dr Alvi said no one should make derogatory comments and remarks about religious figures.
Say will disassociate from those making derogatory comments about religious figures, fanning hatred and sectarianism in country
He said people with different religious beliefs and sects live in Pakistan.
He added that this Muharram, there were some unpleasant incidents by individuals with the objective to cause anarchy and chaos, and the government has ensured prompt action against them.
"I assure you all that proper legal action will be taken against all these elements who bid to fan religious anarchy in the country and these conspiring elements will not be allowed to make chaos and religious anarchy in the country and interfaith harmony and brotherhood will be ensured," he said.
Dr Alvi also spoke about Kashmir and Palestine, saying world peace was connected to peace and stability in these regions.
We hope that the Organisation of Islamic Cooperation headed by the Kingdom of Saudi Arabia will play a more effective and proactive role on the issues of Palestine and Kashmir, he said.
Dr Alvi also praised the joint declaration issued by the conference, saying it was a positive note for the unity of Muslims and the eradication of extremism, terrorism and sectarian violence in Pakistan.
The conference was attended by around 200 religious leaders and scholars from various sects, as well as envoys of Arab and European countries and government ministers.
Speakers at the conference demanded that the government handle derogatory comments about religious figures according to the National Action Plan and take action against elements fanning sectarianism, violence and hatred through social media.
Key points of the declaration included that terrorism, extremism, sectarian violence and killings in the name of religion were against Islam and Shariah.
It said that the leaders of religious sects and schools of thought should unanimously disassociate themselves from those involved in sectarian violence, terrorism and extremism.
Scholars, orators and clerics will not make derogatory remarks about religious figures in public sermons and no sect should support or endorse any person who does so, it added.
The declaration said that no Muslim sect should be declared 'infidel' and no non-Muslim or Muslim should be declared 'worthy of killing'.
It said the people of Pakistan and the believers of all religions and sects will live according to the rights defined in the Constitution.
Non-Muslims live in Pakistan with the Muslim majority population, and it is the government's responsibility to ensure that the holy sites and places of worship of religious minorities are protected, it said.
It also demanded that the government implement the National Action Plan without discrimination and that legislation and consultations should be ensured as a priority on the unanimously approved draft of the Paigham-i-Pakistan project.
The declaration also said that action should be taken against those issuing irresponsible religious decrees — known as fatwas — that are against the teachings of Quran and Sunnah.
Published in Dawn, September 22nd, 2020