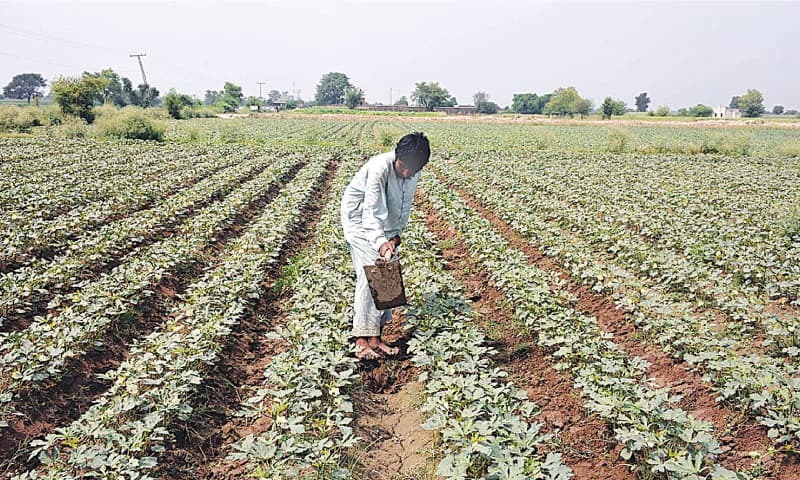 ISLAMABAD: National Food Security Minister Syed Fakhar Imam said on Tuesday a package of Rs30 billion would be announced for farmers on August 14.
While reviewing the desert locust situation in the country, the minister said that prior to its official announcement, the package would be approved by the Economic Coordination Committee of the cabinet.
He said in a statement that the provinces would also announce packages for farmers on the Independence Day.
Mr Imam said the attacks by desert locusts were estimated to cause a loss of Rs600bn to the national economy. The challenge of desert locust was being tackled with the support of all provinces and a national action plan was already underway to tackle the threat, he added.
Says locust attack may cause a loss of about Rs600bn to the economy
The minister said that the National Locust Control Centre, along with the National Disaster Manage­ment Authority and district administrations, was making efforts to control the locusts. About 8,000 troops were deployed in the anti-locust operation, he added.
In the meantime, as the risk of swarm migration from Horn of Africa to India and Pakistan has increased, the Food and Agriculture Organisation (FAO) of the United Nations has warned the two countries to take preparatory actions.
The new report, made available on Tuesday, says desert locust swarms in northern Somalia suggest that migration from northeast Somalia across the Indian Ocean to the summer breeding areas along both sides of the Indo-Pakistan border could be imminent.
Summer breeding has commenced along both sides of the Indo-Pakistan border, where numerous swarms are present mainly in Rajasthan, India. Hatching and band formation will increase during this month in Rajasthan and northern Gujarat as well as adjacent areas of Tharparkar, Nara and Cholistan deserts in Pakistan.
A few residual populations remain in the spring breeding areas of southeast Iran and southwest Pakistan.
Quoting latest reports, Mr Imam said that the locusts were present in all the 33 districts of Balochistan while new swarms would enter Pakistan from Iran and Afghanistan in two weeks.
Speaking at the Institute of Policy Reforms on the issue of improving the performance of the agriculture sector, the minister said that time had come to encourage qualitative practices in agriculture as farmers were not being rewarded properly.
"Our agriculture relies on imported seeds, and it is high time, we bring about improvement in seed technology in a big way. Pakistan has outdated seed technology, resulting in low yields, and for that reason, the country imports oilseeds and pulses.
"On the other hand our genetic engineering has also failed to bring about any major change in agricultural production. The local seed industry has at the same time not contributed much to agricultural production till now," he said.
Published in Dawn, July 15th, 2020