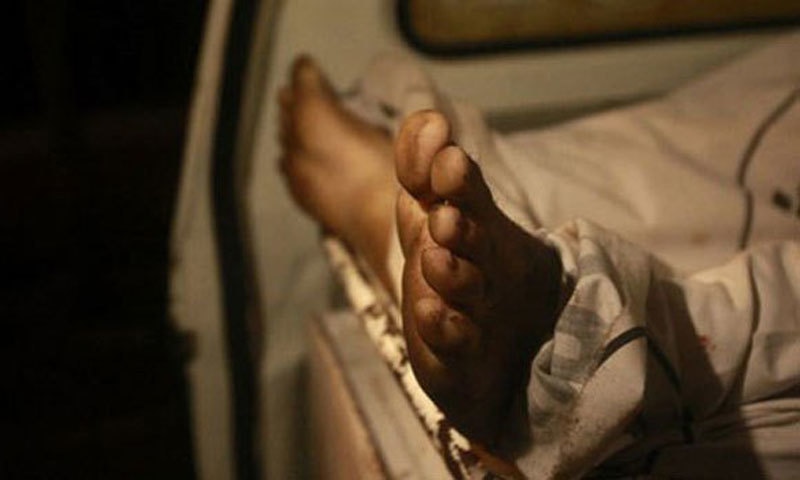 HYDERABAD: The second laboratory test report of a resident of Hussainabad — who died on April 3 as coronavirus patient — from a known private laboratory turned out to be negative for the virus. It perhaps points to defective sample technique of technicians in the hospital or where they are collected.
His fatality marked the first death of coronavirus patient in Hyderabad.
The 54-year-old patient was brought to the Liaquat University Hospital (LUH) emergency ward and then shifted to intensive care unit (ICU). Before being diagnosed with coronavirus, his sample was collected in the LUH's general ICU by a woman doctor from the medicine department.
Hospital sources said the man was paralysed and suffering from multiple ailments. He was shifted to the LUH from a private hospital where he had been under treatment of a neuro-physician for about one year after paralysis, they added.
After his sample — analysed in the diagnostic and research laboratory (DRL) of Liaquat University of Medical and Health Sciences (LUMHS) — confirmed him to be infected with coronavirus, he was shifted to LUH's isolation ward immediately.
"The female doctor who had examined him almost fainted for fear of being infected. She was very much depressed and frightened. Other doctors had started thinking to leave their duties in the ICU forthwith," said a doctor from the university. After his shifting to the isolation ward, he died there on April 3 evening. "But before that another sample of same patient was obtained by the same technician for a laboratory test that was sent to a famous private laboratory," said a hospital source.
Given the fear prevalent in the hospital, everyone, including paramedics and doctors, were genuinely worried about their safety while performing their duties in isolation or other related wards in the absence of personal protective equipment (PPE).
The second test report received the next day turned out to be negative and it was shared by his traumatised family members on social media and with reporters.
Nobody is willing to give an official view about the two different reports — positive and negative — of the same patient. His family's grievance was that they were denied a decent burial for their loved one by the administration and police. Even the SHO of the Hussainabad police station was suspended by the SSP of Hyderabad for his failure to control over a dozen people who gathered in the graveyard.
"In fact it is great injustice if the patient was not a Covid-19 victim and his family was denied a decent burial," said an official. He said the body was perhaps handed over to police and some lower level administration officials who managed the funeral.
According to victim's cousin, Irfan Baig, the patient who was hypertensive and diabetic had indeed developed high fever. "We have not been able to get hard copy of the two reports but obtained their soft copies through social media. The test reports of deceased's wife, a son, three daughters and another relative turned out to be negative," he said and added that they would approach the LUH administration over the two reports and discuss the case in detail. "Only a few male members were present in the graveyard, but his wife, daughters couldn't see him. We are not sure whether he was given ghusl or not," said Irfan.
The hospital Medical Superintendent (MS) Dr Mazhar Kalhoro, to a question, only mentioned that "Yes, there are two different reports of the patient whose sample was obtained by the same technician." He said that doctors were indeed frightened of performing in the LUH isolation ward because everyone knew that they were "front-line soldiers in the ongoing battle against coronavirus". He, however, did not explain reasons as to how two different reports were generated from two different laboratories if the same collection was not defective.
Some university and hospital doctors shared their views in a background conversation on Monday. "The patient had all strong symptoms like high-grade fever, shortness of breath and cough. His own doctor had recommended him to the LUH as a highly suspected patient of coronavirus," said a doctor.
A LUMHS official claimed that there was no logic to go for the second test in less than 24 hours of the first test when the patient with multiple ailments and strong symptoms of coronavirus was already admitted in the isolation ward. "Even if the second report was necessary, it should have been done after five days for a repeat check as per protocol," he said. "Different studies showed even if PCR is negative and patient is highly suspected case of Covid-19 disease, it doesn't exclude the disease," he added. As per studies, he said, CT scan was superior than other tests.
One laboratory official mentioned that there was strong possibility of obtaining the sample with a flawed technique. "And this defective sample probably was the result of fear," he said and pointed out that a correct sample with swab was to be obtained from posterior nasopharyngeal wall of the patient through viral transport medium (VTM). "If this sample is not proper, it means it is collected from the initial part of the nostrils; it is quite likely that result may strongly vary," he added.
Prior to this report, the result of the MS of Kohsar Hospital Latifabad had also varied as DRL's report detected the virus while in a private laboratory it remained undetected. But the test of the same sample of swab was repeated and both reports remained same — negative.
Published in Dawn, April 7th, 2020