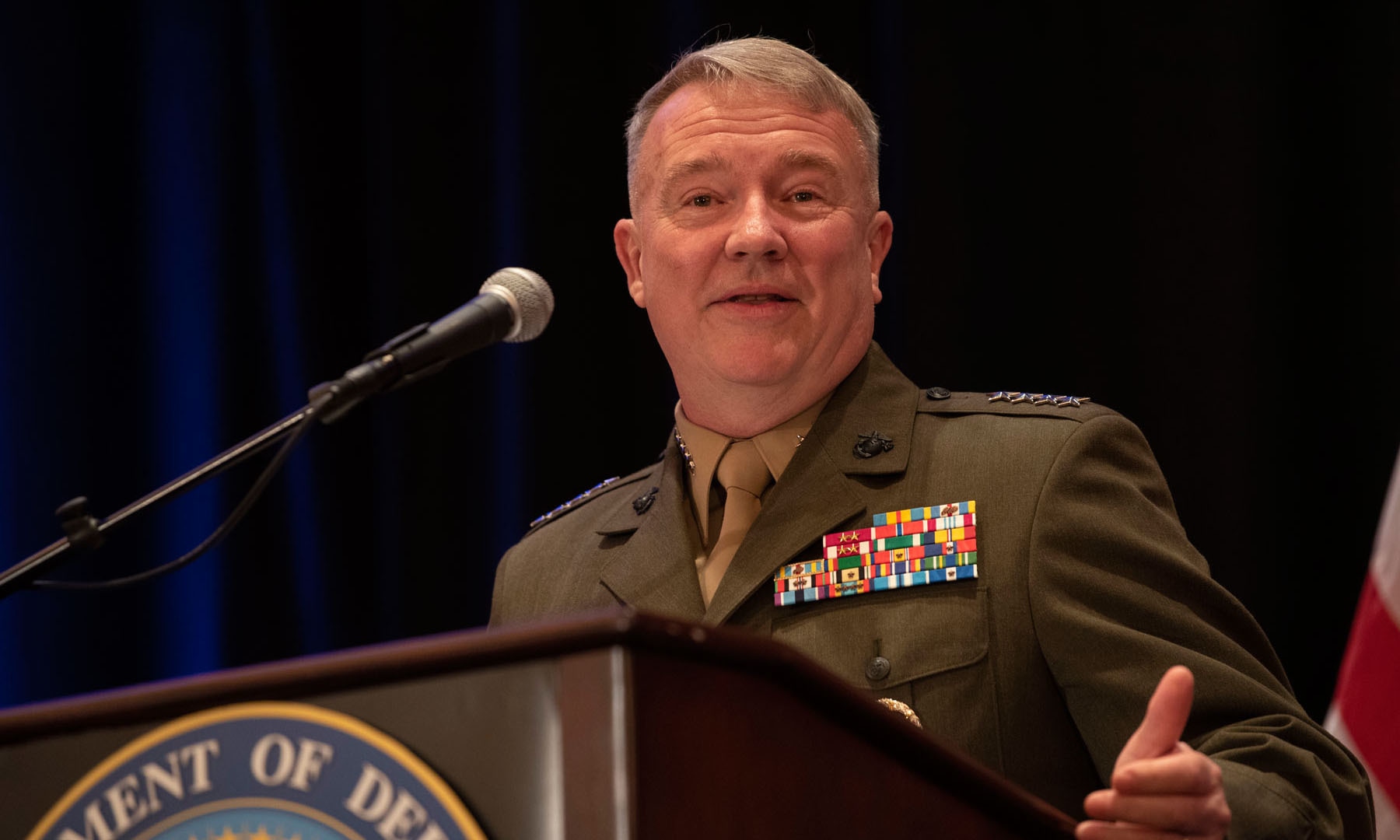 WASHINGTON: Pakistan's role in the Afghan dispute remains very important as the United States tries to assess if the Taliban will live up to the commitments they made in Doha, says a top US general.
Gen Kenneth McKenzie, who heads the US Central Command (CENTCOM), also told a Senate panel on Thursday that the American military always tried to maintain a close relationship with the Pakistani military, even when political relations between the two countries are in turmoil.
As CENTCOM head, Gen McKenzie is responsible for Afghanistan, Iraq and the Middle East. He and other key defence officials testified before the Senate Armed Services Committee this week on President Donald Trump's defence budget request for 2021, which includes funds for implementing the peace accord.
"I maintain a close relationship with Gen Bajwa, chief of the army staff. We talk frequently. I have been to visit him a couple of times in Pakistan," said Gen McKenzie when Senator Timothy Kaine, a Virginia Democrat, asked him to summarise the military-to-military relationship between the two countries.
McKenzie hopes Taliban will fulfil commitments
Asked if the United States and Pakistan could work together to implement the deal Washington signed with the Taliban on Feb 29 in Doha, Gen McKenzie said: "Their support has been very important in directing the Taliban to come to negotiations and their continued support is going to be very important as we go to this difficult period of deciding is the Taliban actually serious about this and they are going to live up to their commitments."
"How do you see the level of US and Pakistan cooperation on the mil-to-mil side … getting better, always been good?" Senator Kaine asked.
"We have always had — US Central Command and I have 10 years of experience in this organisation — we have always seen a relationship with Pakistan as critical," Gen McKenzie said.
"Whether at the political level it's turmoil, up and down, we always keep the military channel open. There are good reasons to do that, to prevent fratricide, to prevent miscalculations and things like that. So, we work very hard to keep that channel open."
Gen McKenzie said there were conditionalities in the Doha agreement that required the Taliban to fulfil their commitments and "we are going to have the opportunity to see what the Taliban do".
He was responding to a question from Senator Angus King, an independent from Maine, who wanted to know if there was a plan B for if the Taliban failed to abide by the Doha agreement.
Gen McKenzie said the Taliban would have to significantly reduce the number of attacks they were carrying out because the Doha accord required them to do so.
"I would not consider what the Taliban is doing as consistent with any path going forward to a final end state agreement with the current government of Afghanistan," he said. "Those attacks are going to have to come off considerably."
Gen McKenzie confirmed to media reports that US special operators would serve as the main security force to combat militants when foreign troops start leaving Afghanistan. The Doha deal calls for all American troops to leave within 14 months. He explained that the Pentagon's plan to use special operators to combat terrorist groups was not new as that's how the US military has been "doing business for a while now in Afghanistan".
US special operators have served as a hammer calling in strikes against Taliban and ISIS militants for several years now while military advisers train Afghan forces. Gen McKenzie said the United States would soon reduce its troop presence in Afghanistan to 8,600 but further reductions would require major progress in intra-Afghan talks and integration between the Taliban and Afghan army.
In another hearing this week, Gen McKenzie said he would advise not reducing the US footprint below 8,600 if the peace progress stalled or Afghan forces were incapable of defending themselves.
The US forces, he said, could also reduce the number of their bases in Afghanistan if Taliban stopped their attacks.
Published in Dawn, March 14th, 2020