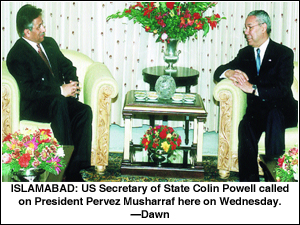 ISLAMABAD, Jan 16: A thaw seems to be emerging in the month-long stand-off between Pakistan and India as the US Secretary of State, Colin Powell, indicated on Wednesday that he was carrying some fresh ideas to New Delhi.
"I may have some fresh ideas, which I would first share with the Indian leadership before sharing them with the rest of the world," Mr Powell said at a joint press conference along with Foreign Minister Abdul Sattar after meeting President Pervez Musharraf.
He said over the past couple of weeks both President Bush and the US administration had remained in touch with both sides and they had seen some progress.
"Tomorrow when I meet Mr Singh and others we will review the outstanding issues and the progress that has been made," he added.
The US secretary of state, who would leave for New Delhi on Thursday afternoon, said that his efforts would remain on finding ways that would result in de-escalation of both rhetoric and military buildup and retracing of diplomatic steps that had been taken previously.
During question-answer session, Foreign Minister Abdul Sattar said that the government would give a prompt and positive response to Indian moves towards troop withdrawal.
He said Pakistan would immediately respond to any Indian initiative towards de-escalation of military buildup.
Lauding action against extremist and militant organizations, the US secretary of state said that these steps had given meaning to the speech of Jan 12.
He said he would also be discussing with Indian External Affairs Minister Jaswant Singh the action taken against militant outfits in Pakistan.
"I applaud not only President Musharraf's speech but also strong action, as of today over 1,900 militants have been detained, banning of groups that had been supporting terrorism, freezing of bank accounts of all these groups, clamping down on their fund-raising activity and ending there propaganda," he said.
He hoped that President Musharraf's speech and actions would go a long way towards lowering tension in the region. He said the challenge for India and Pakistan was to demonstrate that regional issues could best be resolved through dialogue.
"Even the most difficult issues can be resolved through dialogue," he said, and appreciated Pakistan's willingness for holding negotiations.
During his meeting with President Musharraf, the US secretary appreciated the president's determination to transform Pakistan into a moderate and modern state. "President has set a new direction for Pakistan," he said, adding that the United States and the world community were with him in this new path of confronting extremists.
When asked whether the steps taken so far by President Musharraf were enough, Colin Powell said he had done a great deal and he would be doing more in the coming months, to bring his vision of transforming Pakistan into a modern state to reality.
He said whatever he had heard and seen in Pakistan he would discuss it with the Indian leaders and find way and means to move towards de-escalation and resumption of dialogue.
"Important thing now is for both sides to make a political judgment that way out of this crisis is political and diplomatic and not through conflict," he added.
To a question regarding resolution of Kashmir issue through plebiscite, he said he would not be suggesting anything specific. However, he said the issue should be resolved through dialogue. He said the United States would encourage both sides to initiate dialogues and would also help in creating an atmosphere conducive for talks.
When asked whether the US would like to act as facilitator in resumption of dialogue between Pakistan and India, he said they would certainly like to see beginning of dialogue. However, he said, both the parties would find the US ready if they need any help in the peace process.
Earlier, Mr Sattar explained that the recent measures taken by the government were the part of its policy and objective enunciated in the president's first speech after taking over in 1999.
Commenting on Jaswant Singh's reaction to the president's speech, he said it was "uncharacteristically positive". He said they did not regard it as negative. The military buildup, he said, did not serve the interests of the people of both Pakistan and India.
The foreign minister said had the Agra summit been succeeded they would have a structure of dialogue to take up different issues.