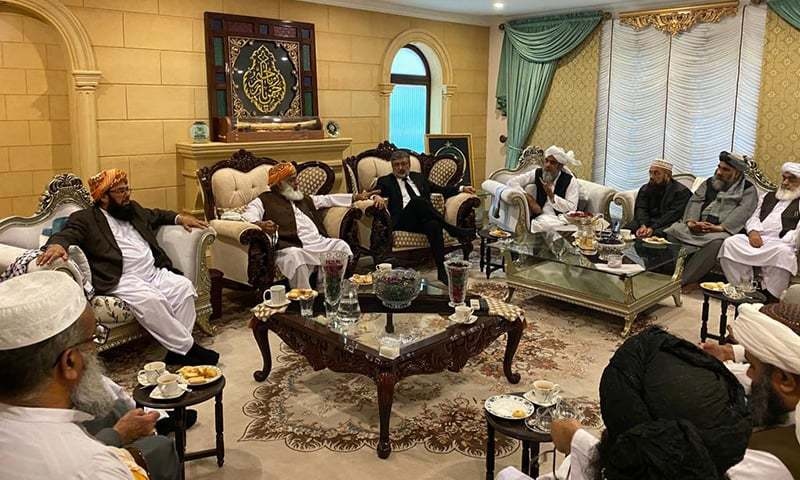 ISLAMABAD: As the Azadi march sit-in continued in the federal capital on Monday, the JUI-F's central executive committee at its meeting failed to reach a consensus over the implementation of the party's Plan B which calls for expansion of the protest to other cities as well as highways.
However, in his address at the sit-in, JUI-F chief Maulana Fazlur Rehman hinted at the implementation of his Plan B in the coming days.
"When we have said that this government is illegal, no one can dare convince us against this idea. Our war against the government will continue and we will fight till the achievement of freedom from this illegitimate government and even after leaving this place, people will spread to other cities and towns across the country to wage this war.
He compared the incumbent government with colonial rulers and highlighted the freedom movement waged by his elders.
The JUI-F chief said there was anarchy in the entire country and Azadi march was the last hope of people. He expressed sympathies with traders, doctors, teachers, clerics and all sections of society fighting for their rights and holding protest rallies because of having been badly hit by policies of the PTI government and said they were all supporting the JUI-F-led sit-in of opposition parties.
Office-bearers of party have sought time for consultation
Besides JUI-F leaders, others who addressed the Azadi march sit-in on Monday included National Party Senator Tahir Bizenjo and Pashtunkhwa Milli Awami Party (PkMAP) chief Mehmood Khan Achakzai.
Earlier, the JUI-F's Central Executive Committee (CEC) meeting held on Monday discussed the Plan B and role of other political parties in the sit-in. The meeting was presided over by Maulana Fazlur Rehman.
The meeting did not reach a consensus on the issue of expanding the protest or sit-in to other parts of the country as office-bearers of JUI-F's provincial chapters sought more time to give their input on the issue.
"Most of the provincial chiefs or senior office-bearers of JUI-F are in Islamabad and, therefore, they need time to respond to the issue of expanding the sit-in to other cities and towns," one CEC member told Dawn, adding that another meeting of the JUI-F's CEC would be held on Tuesday to discuss the matter.
"Many of our colleagues have argued that any support from the two major political parties in the sit-in should not be expected," the CEC member said.
Published in Dawn, November 12th, 2019