October 21, 2019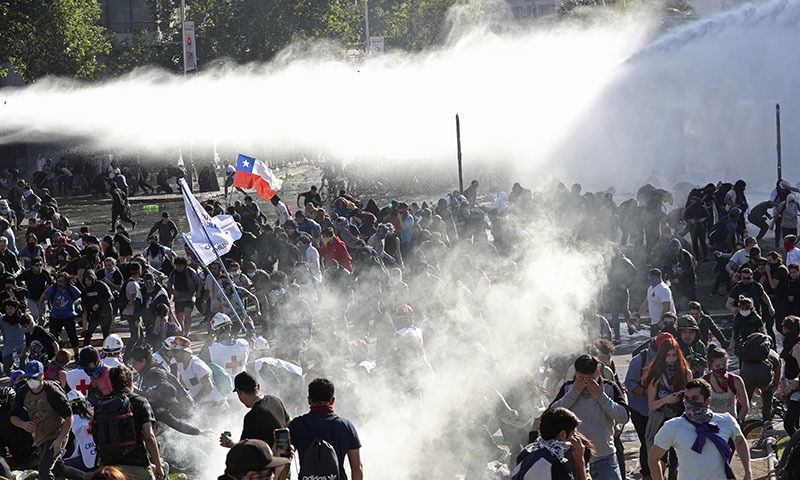 SANTIAGO: Chile was at a standstill on Sunday following two days of violent protests sparked by anger over economic conditions and social inequality that left three people dead, killed in the torching of a Santiago supermarket.
Nearly 10,000 soldiers have been deployed while an overnight curfew was imposed on Santiago and a state of emergency called in three regions.
Santiago's Mayor Karla Rubilar told reporters two people burned to death in the blaze at a store owned by US retail chain Walmart in the early hours of Sunday. The third victim died later in hospital.
They were the first deaths in the worst unrest since Chile returned to democracy in 1990, following the dictatorship of General Augusto Pinochet.
It marked the first time in the post-Pinochet era that troops have been deployed in what has otherwise been one of Latin America's most stable countries.
Protesters set fire to buses, smashed up metro stations, knocked down traffic lights, ransacked shops and clashed with riot police in Santiago and other cities.
Almost all public transport in the capital of seven million people was paralysed on Sunday even after the curfew ended at 7am, with shops shuttered and many flights in and out of Santiago's international airport cancelled.
Louis de Grange, president of the state Metro S.A. company, told Canal 13 the "brutal destruction" of Santiago's metro service had caused more than $300 million in damages.
What started earlier in the week as a protest against a hike in metro fares, escalated dramatically on Friday as demonstrators expressed anger over social inequality and the government's liberal economic system.
On Saturday, Chile President Sebastian Pinera announced he was suspending the fare increase, a day after declaring a two-week state of emergency. The appeal failed to prevent further rioting and looting, not just in Santiago but also in the cities of Valparaiso and Concepcion, where a state of emergency has also been declared.
Santiago's entire metro system — South America's largest and most modern and used by around three million people a day — was shut down on Friday as protesters burned and vandalised stations.
At least 78 stations were damaged, some of which were totally destroyed and could take months to get them operational again.
The hike in fares that set off the violence would have raised the price of peak hour travel from 800 to 830 pesos ($1.13 to $1.15). The government said the hike, which followed a 20-peso increase in January, was driven by rising oil prices and a weakening peso.
Published in Dawn, October 21st, 2019