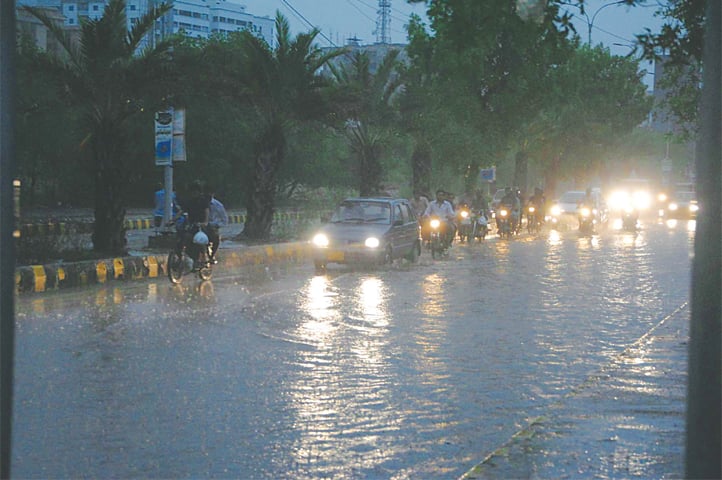 MITHI: Four people, among them two minor siblings, were killed and three men were injured in different rain-related incidents as heavy showers battered most parts of lower region of the province on the second consecutive day on Saturday.
Besides, 50 heads of cattle and hundreds of chickens also died.
In most parts of water-starved Thar, it continued to rain again heavily for several hours on Saturday, filling up almost all ponds and depressions. It sufficiently drenched the desert land after many years of dry spell and caused rivulets to flow down hills and sand dunes.
In Bhuttian-Ji-Veri village near Islamkot town, flash flood caused by hours of heavy rain carried away two sisters Chandi, 11, and Haryan, 8, when their family members were looking for shelter after their thatched house collapsed. The sisters' bodies were later taken out of a nearby pond by villagers.
In several incidents of lightning strike in Thar, a man suffered injuries and as many as 50 animals were killed in a number of villages. The heavy rainfall and strong winds also wreaked havoc with infrastructure in the desert region both on Friday and Saturday.
It was still raining heavily in Nagarparkar, Diplo, Mithi, Islamkot, Chhachhro, Kaloi and other towns and their adjoining areas when this story was filed.
UMERKOT: Like the rest of Thar, intermittent heavy rainfall and strong winds also battered Umerkot, Samaro, Pithoro, Kunri, Dhoronaro, Chhor, Meghar, Bhojrajyo and their adjoining areas on the third consecutive day, inundating low-lying areas and raising water level in canals.
BADIN: Several hundred chickens were killed in poultry farms as heavy showers lashed Badin and its adjoining towns of Tando Bago, Matli, Talhar, Kadhan, Pangrio, Khoski, Rajo Khanani, Golrachi, Seerani, Nindo Shahar, Shadi Large and their suburbs.
It started raining heavily at 3.30 pm and continued at the same pace for 10 minutes. Afterwards, it continued drizzling for 20 minutes. Again, at 5.30pm, the rain resumed and continued lashing the district for at least 20 minutes before reducing to a drizzle. The rain inundated low-lying areas and played havoc with drainage system in the district.
The irrigation department has lowered water gates of 45 distributaries and minor branches of canals fed by Akram, Phuleli and Guni canals to minimise possibilities of breaches during monsoon season.
MIRPURKHAS: An elderly woman and a youth were killed in rain-related incidents in Mirpurkhas district as heavy rainfall battered the city and its adjoining towns, flooding main roads and streets.
The heavy rain led to abrupt closure of markets across the district and caused great inconvenience in cattle market which already faced lack of facilities. Many preferred to remain indoors during heavy rainfall.
Many low-lying areas in Mirwah Gorchani, Digri, Tando Jan Moh­ammad, Jhuddo, Naokot, Kot Ghulam Mohammad, Sindhri, Hingo­rno, Phuladiyyoon, Khaan and Jhilori towns were submerged in knee-deep water.
Inmates of thatched huts and dilapidated buildings were seen moving to safe places along with their cattle to save their lives.
In Jhuddo early on Saturday, an elderly woman was killed when a wall weakened by continued rain fell down on her in Sagheer Colony. Area people said the woman had taken shelter near the wall to save herself from rain and was sleeping when the wall caved in on her.
Her body was shifted to a nearby rural health centre.
In another incident, a youth was struck by lightning in Daryakhan Kaloi village in Digri taluka when he was grazing a herd of cattle in a field and was caught up in heavy rainfall. Two other people, Mukhtiar Kaloi and Yar Mohammad Kaloi, sustained serious burns in the incident.
SANGHAR: Heavy rain lashed Sanghar district for the second consecutive day on Saturday, inundating low-lying areas and roads.
The administration failed to drain out rainwater from main areas of the city as municipal employees had gone on strike and sanitary workers had refused to work in rain.
Heavy rain and strong wind also struck Shahdadpur, Tando Adam, Khipro, Sinjhoro and their adjourning areas. Hesco shut power supply to almost all cities in the district in the wake of heavy rain.
NAWABSHAH: It rained intermittently in Nawabshah and its adjoining towns of Sakrand, Daur, Qazi Ahmed and their suburbs, inundating roads and streets and damaging cotton and other standing crops.
HYDERABAD: Rain lashed the city, Tando Mohammad Khan and their adjoining towns and villages, causing low-lying areas and streets to turn into water pools and inconveniencing motorists as well as pedestrians.
Meteorological office recorded 13mm of rainfall at airport. According to initial reports, a man is said to have been electrocuted in Hali Road area.
Published in Dawn, August 11th, 2019