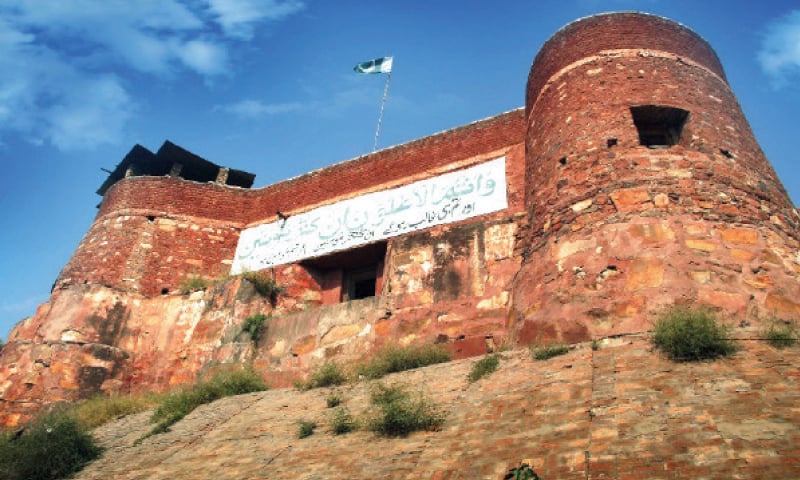 Located 17 kilometres to the west of Peshawar beside Baba-i-Khyber, an entrance to the historic Khyber Pass, Jamrud fort aka Fatehgarh is a valued heritage site.
According to historians, the fort was built by Hari Singh Nalwa (1791-1837), who was the commander-in-chief of the Sikh Khalsa Army, the army of the Sikh Empire. He was known for his role in the conquests of Kasur, Sialkot, Attock, Multan, Kashmir, Peshawar and Jamrud. He was also the founder of Haripur city in Khyber Pakhtunkhwa that was named after him.
Hari Singh Nalwa was responsible for expanding the frontier of Sikh empire beyond the Indus River right up to the entrance of Khyber Pass. At the time of his death, the western boundary of the empire was Jamrud.
History narrates that Maharaja Ranjit Singh (1780-1839) was the leader of the Sikh empire, which ruled the northwest Indian subcontinent in the early half of the 19th century. He survived small pox in infancy but lost sight in his left eye. He fought his first battle alongside his father at age 10. He occupied Punjab in 1801 and declared it an independent state.
Maharaja Ranjit Singh appointed his brave general, Hari Singh Nalwa, to defend the western frontiers and he came through Attock to establish Sikh rule on Shabqadar, Peshawar and Jamrud.
In October, 1836, the ambitious general planned a greater assault against Afghans for which he required forts at different strategic points. Jamrud was the entrance of the historic gateway to India and also an easy way leading to Kabul, so Hari Singh wrote letters to Ranjit Singh to get an approval for building a fort in Jamrud.
He thought that he could easily attack Kabul and also he would be in a position to thwart threats from local tribal Pakhtuns by establishing the fort. After approval from Maharaja Ranjit Singh, he started construction of the Jamrud fort in December, 1836, by laying foundation with his own hands. He employed around 6,000 soldiers and the construction was completed within 45 days.
The structure of the fort quite resembled the building of Qila Balahisar in Peshawar as its security walls were six yards wide and 12 yards high and also security watch towers were built with cannons installed on all of them to keep a vigilant eye on the attackers from outside. A separate tower of 12 feet in height was also built and was attributed to Hari Singh Nalwa.
The Jamrud fort was built on a high mound from where Khyber, Mohmand and Bara areas could be seen, the fort was then named as Fatehgarh (the site of victory). Two other forts, one each in Bara and Shabqadar, were also constructed to resist attack from Afghanistan through Mohmand and assault of Afridi tribes from Tirah valley through Khyber.
In December, 1837, when winter came to end, wedding celebrations of Ranjit Singh's grandson Nau Nihal Singh (1821-1840) began with great pomp and show and also it was decided that guard of honour comprising young soldiers would be presented to the couple.
Ranjit Singh directed Hari Singh Nalwa to dispatch an armoured contingent to Lahore for the guard of honour. Not enough soldiers were left behind to defend the Jamrud fort and the opponents came to know about that development.
A British officer Mr Faust, known to be well aware of the situation, met an Afghan warrior, Mohammad Akbar, on his way to Afghanistan and informed him about inside story of the Jamrud fort. On April 30, 1837, the Afghan forces made a fierce assault on the Jamrud fort in which they had also enjoyed the assistance of the local tribal.
Before the attack, Hari Singh Nalwa while sensing the threat though his secret sources had written a letter to Ranjit Singh about the entire situation and the letter was handed over to a British officer, who was said to be drunk and Maharaja Ranjit Singh could not be informed well in time.
A fierce battle was ensued and Hari Singh breathed his last in his own room still in the Jamrud fort owing to serious wounds in the fight.
On December 12, 2018, a delegation of Sikh community was allowed to take a round of the historic Jamrud fort under the directives of Peshawar corps commander and the fort now under the control of Pakistani forces was opened for the first time after independence for Sikh community living in tribal districts.
Last month, a delegation comprising 50 members of Sikh community in the leadership of Babaji Gopal Singh again visited the Jamrud fort and commemorated the 182th death anniversary of their hero Hari Singh Nalwa.
Mr Gopal Singh on the occasion said that Sikhs would remain grateful to Peshawar corps commander for allowing them to offer their rituals. He added that it was for the first time that Sikh community members were allowed to remember and pay respect to their hero and visit sacred places.
Published in Dawn, July 28th, 2019