ISLAMABAD: Challenging Leader of the Opposition in the National Assembly Shahbaz Sharif to sue The Mail in a British court for publishing a report against him, prime minister's aide Shahzad Akbar on Monday showed copies of pay orders to the media, alleging that millions of rupees had been illegally transferred to a company of Mr Sharif's son-in-law from the Earthquake Reconstruction and Rehabilitation Authority (Erra).
As a team of lawyers representing the main opposition party Pakistan Muslim League-Nawaz proceeded to London where they are expected to hold a consultative meeting on the matter today (Tuesday), PML-N leader and former premier Shahid Khaqan Abbasi and Marriyum Aurangzeb told a press conference that Mr Sharif would not only sue the UK-based paper but also file a defamation suit against Prime Minister Imran Khan and Mr Akbar in London.
Addressing a presser, the special assistant to the PM on accountability earlier reminded the opposition leader not to back out of his plan to sue him over the published report that accused Mr Sharif of embezzling money from foreign funds.
Mr Akbar said: "Sue me in a London court and I will produce evidence of every TT [telegraphic transfer], kickbacks and illegal means of money transfer like hundi and hawala."
PM's aide shows documents in support of Erra scandal; opposition party's legal team off to London to prepare lawsuit against Imran, Shahzad, newspaper
The Mail published a story alleging that the former Punjab chief minister (Shahbaz Sharif) had embezzled money from funds provided by the UK's Department for International Development (DFID) to aid victims of 2005 earthquake and floods in later years.
However, PML-N refuted the story and alleged that it was published on the behest of PM Khan and Mr Akbar.
The premier's aide then showed to the media the copies of some pay orders including the one amounting to Rs20 million that had been sent in September 2005 to a private company, Ali and Co, owned by Mr Sharif's son-in-law Ali Imran from the Erra funds.
Mr Akbar claimed that former Erra director Naveed Ikram, who had struck a plea bargain deal with the National Accountability Bureau (NAB), admitted to paying the amount as a bribe to the Sharifs. He said the Financial Monitoring Unit (FMU) that he headed had detected suspicious transactions through bank accounts of the Sharifs.
"Foreign remittances amounting to more than $26 million were transferred to the accounts of Sharif family members more than 200 times," he said, adding that 59 per cent of Hamza Shahbaz's assets were made through TTs.
Mr Akbar said those who had apparently sent remittances to the Sharif family were found to be daily wage earners such as food vendors and labourers.
In response to a question about DFID's role, he said internal audit report also pointed out irregularities in Erra.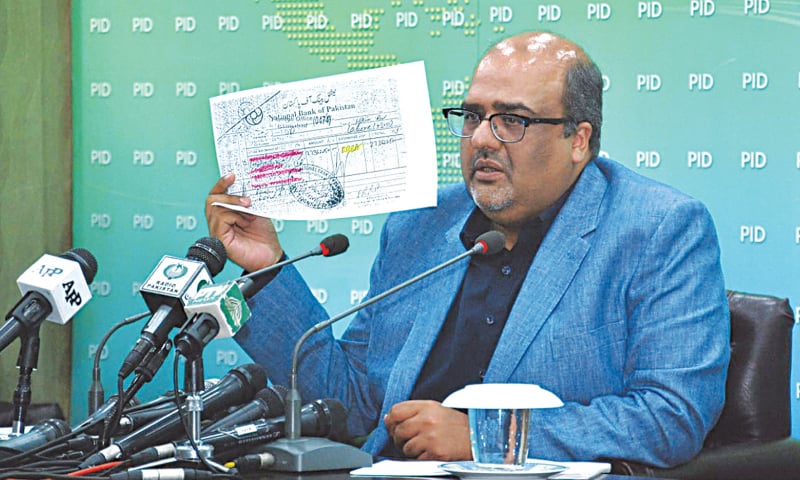 PML-N's presser
In response to the challenge and fresh allegations, the two PML-N leaders, Mr Abbasi and Ms Aurangzeb, held a press conference and confirmed to the media that their party president would definitely file a lawsuit against the newspaper, PM Khan and his aide for publishing the report against him.
Ex-PM Abbasi said that considering Mr Akbar's account the irregularities in Erra had been committed during the military regime of Gen Pervez Musharraf. If this allegation was true, then the present government must implicate Gen Musharraf in the case.
He said the PTI regime's minions should stop their whining by holding pressers despite being in the government and should take action if they had any plausible evidence for "their fake, planted stories".
The former premier asked PM Khan and his aide to "present evidence and defend yourself in Britain's courts if you have the guts, the shame and the integrity".
He said they did not have any of those traits as Mr Khan did not stand his ground in court when the PML-N president sued him over allegations regarding Multan metro, Lahore Metro and bribery.
"If Shahzad Akbar is so desperate for proofs for asset recovery and corruption, why is he blind to the proofs of corruption given by the Asian Development Bank (ADB) in the Peshawar Metro case? Why is the government turning away from the proofs given by the PML-N regarding corruption and money laundering of a sitting PTI MNA who had made assets with illegal money abroad," he added.
Mr Abbasi said the government had all the resources to file cases and punish criminals if they had any plausible evidence without doubt instead of going to the media. "The government should know that these tactics would not fool the people of Pakistan anymore," he added.
Meanwhile, a PML-N press release stated that a team of party lawyers, headed by Advocate Salman Butt, had proceeded to London to file the lawsuit. It said the legal team would also hold a meeting in London on the matter on Tuesday before filing the case.
Published in Dawn, July 16th, 2019