May 07, 2019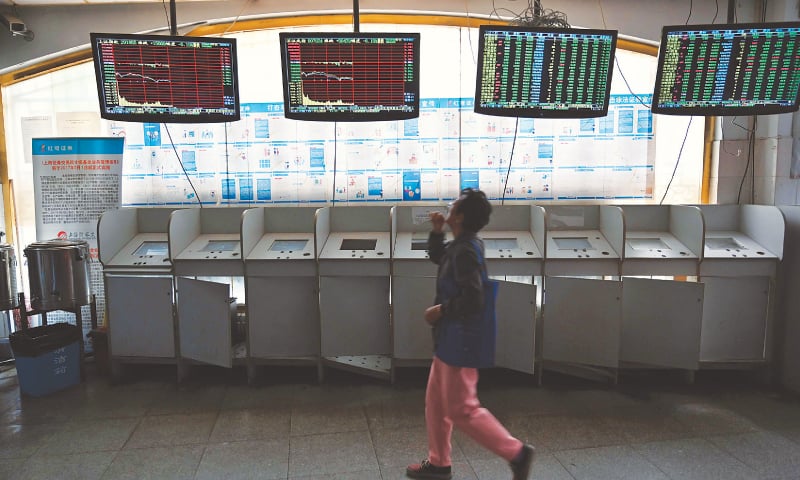 PARIS: President Donald Trump sent Asian and European markets plunging on Monday after threatening to hike tariffs on $200 billion of Chinese goods at the end of the week in a bid to speed up stuttering trade talks between the economic superpowers.
Shanghai plunged more than five per cent, with the Chinese yuan also taking a battering after the president threw a spanner into the high-level negotiations, which many observers were expecting to wrap up imminently.European equities also dived, with key eurozone exchanges Frankfurt and Paris down by around 2pc. London was closed for a public holiday.
Shanghai sank 5.6pc as investors returned for the first time since Tuesday. News that the People's Bank of China would slash the amount of cash lenders must keep in reserve, to support small businesses, had little impact in the face of Trump's warning.
Hong Kong tumbled 2.9pc, Singapore was off 3.1pc and Taipei shed 1.8pc, while Sydney dropped 0.8pc and Wellington was 1pc down.
"Trade had been put to the side by many market participants," said Andrew Tilton, chief Asia-Pacific economist at Goldman Sachs.
But Trump's threat now "raises the spectre of a significant hit to growth should these tariffs escalate and should the uncertainty associated with that weigh on investment going forward", he told Bloomberg TV.
The yuan sank 1.3pc at one point against the dollar, its heaviest fall in more than three years.
"Investors will remain bearish on the yuan, as they reprice in trade war risks because the new developments are a reversal of previous positive progress," Ken Cheung, senior foreign-exchange strategist at Mizuho Bank. "The news was unexpected." Flight to safety saw the dollar surge across the board, particularly against higher-yielding, higher-risk units.
On oil markets, both main contracts were hammered by worries that a trade war between the world's top two economies could hit demand. However, Stephen Innes at SPI Asset Management remained positive.
"We do know the president tends to retreat from more aggressive displays, so I am viewing this thinly veiled threat as political posturing or a tactical decision to apply more pressure on China to put through a trade deal that aligns with the best USA economic interest at heart.
"Despite US-China trade talks hitting an apparent impasse based on (the) tweet, I think a deal will be signed shortly."
Published in Dawn, May 7th, 2019