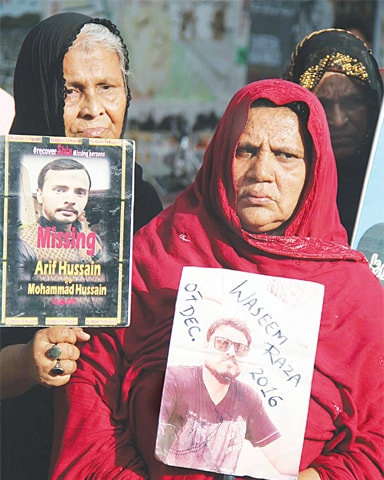 KARACHI: Religious parties, civil society groups including the Human Rights Commission of Pakistan and relatives of missing persons on Friday held a protest demonstration outside the Karachi Press Club against what they termed a new wave of "enforced disappearances" as around 23 persons have allegedly been taken away from Karachi whose whereabouts were not known.
Carrying banners and portraits of the missing persons, the protesters including women and children urged the chief justice of Pakistan to take suo motu notice and asked the provincial and federal governments and politicians to break their silence over such flagrant violation of the Constitution, laws and human rights in the country.
They said that if these persons had committed any crime, they should be presented before the courts under article 10 of the Constitution.
Addressing the protesters, the speakers claimed that around 23 persons have been taken away from the city recently; out of them five were released after lodging of "fake" cases against them.
These missing persons were in addition to 22 other persons who had been missing since the last three years from the metropolis.
Rashid Rizvi of Voice of Shia Missing Persons announced that if the missing persons were not released by Ramazan 10, they would be compelled to stage a sit-in on the main procession route on Youm-i-Ali, Ramazan 21, in the city.
Other speakers, including Hasan Raza Sohail, Agha Rahim and Khalid Rao said that once again, Shia Hazara community members have been targeted in Quetta. They added that it appeared to be the outcome of "inaction" by the authorities against banned outfits there.
Published in Dawn, April 13th, 2019