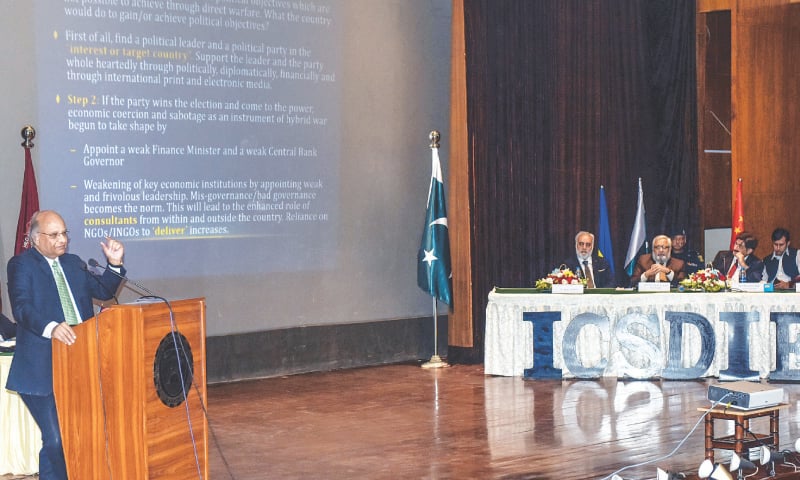 KARACHI: Pakistan is in the midst of hybrid warfare for the last one decade. The objective of such a war is generally not to destroy, but to disrupt, render ungovernable and facilitate meltdown of targeted countries. One of its major tools is economic coercion and sabotage. Pakistan must opt for other alternatives than seeking support of the International Monetary Fund.
These points were raised by seasoned economist Dr Ashfaque H. Khan on Friday during his keynote speech at the inaugural session of a two-day international conference organised at the NED University of Engineering and Technology.
The conference titled 'Conference on sustainable development through innovation in economics and management sciences' is organised by NED University's department of economics and management sciences.
Dr Khan is currently the Principal and Dean of Social Sciences and Humanities at the National University of Sciences & Technology, Islamabad.
Giving his presentation on 'Coercive economic measures in hybrid warfare,' Dr Khan said that Pakistan was facing hybrid warfare which he explained as a way of fighting that combined the regular/conventional war with irregular/non-conventional war.
"A hybrid war may combine subversion, destabilising social media influence, disruptive cyberattacks and economic coercion and sabotage. Thus hybrid warfare exploits the full-spectrum of modern warfare," he said.
A state engaging in hybrid warfare fomented instability in another state's domestic affairs by using the techniques of cyber and influence operatives in conjunction with economic pressures, support to local opposition groups, disinformation and criminal/terrorist activities, he added.
"It may involve the covert deployment of unmarked troops or irregular combatants through hybrid warfare's reliance on cyber capabilities and non-state proxies. The strategic benefit of hybrid warfare is that it obscures the involvement of an aggressor state," he noted.
In his opinion, the pace of hybrid warfare Pakistan was experiencing had accelerated during the last four to five years.
"The people haven't yet realised it, though, because the beauty of this war is that it's ambiguous and shrouded in misinformation and deception," he noted. Hybrid war was now being utilised to achieve political objectives that were not possible through direct military conflict.
Quoting the ancient Chinese military strategist Sun Tzu, Dr Khan said that indirect warfare was one of the most efficient ways of fighting an enemy as it allowed a country to defeat their adversary without directly engaging them, thereby saving their resources that would have been used for fighting war.
Instruments of such a war, he said, included using mass communication for propaganda, intervention into foreign electoral system, cyberwarfare, economic coercion and sabotage. Elaborating on the last tool, he said that economic sabotage was the practice of undermining the economy of another country as a tactic to pressure the government to achieve political objectives.
"Economic managers/economic hitmen deliberately weaken economies through bad policies, bad governance and corruption. Political objectives are hence achieved. Economic pressures and sabotage have worked successfully as instruments of hybrid warfare," he said.
As to how this warfare was affecting Pakistan, he said that the country sustained a very large budget deficit in the 1990s and during 2008-14 as a result of flawed policies and reckless borrowing.
"Pakistan's economy has been damaged to the core deliberately to weaken its security," he said, suggesting that holistic efforts from all stakeholders were required to battle effectively, adding that the concept of 'defence' needed to include not only the defence of sovereign territory, but also the defence of all sectors that affect the stability of the society.
Sharing recommendations to win this war, he urged the government to promote effective media policy not only to provide credible information to the public (both domestic and foreign), but also to counterbalance the hostile countries' media, fake news and disinformation.
In his speech, Chief Minister Syed Murad Ali Shah underscored the need for developing the country's natural resources and said that modern warfare was not about weapons, but rather of efficient use of technology.
He also highlighted the steps the government was taking to end energy crisis and expressed the hope that soon a power plant running on Thar coal would be launched.
"To be successful, we need to work together. We should make decisions through consultation and then stick to them. The Pakistan Peoples Party is looking forward to translate [its] manifesto into reality to benefit people," he said, adding that one should avoid having "hybrid war" internally within the provinces and regions.
Earlier, NED University Vice Chancellor Dr Sarosh Hashmat Lodi and Dr Noman Ahmed of the university's faculty of architecture and management sciences spoke about conference's aims and emphasised the need for research in science and technology.
Published in Dawn, March 9th, 2019