January 20, 2019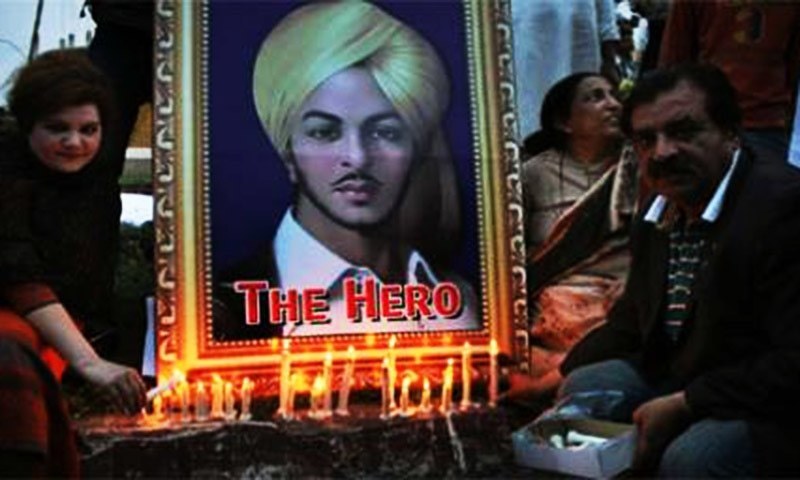 Every time I pass by the roundabout that leads to Shadman Colony, one is reminded of the long struggle by concerned citizens to get it renamed Chowk Bhagat Singh. The reason is that this is where once stood the gallows of the Lahore Jail.
When Bhagat Singh was hanged his mother claimed that he always carried in his pocket a photograph of Kartar Singh Sarabha, the freedom fighter who was hanged at this very crossing in 1915. When Bhagat Singh was arrested a photograph of Sarabha was among the items officially listed in his belongings. As I researched the numerous persons hanged at the Lahore Jail gallows, it was amazing just how much history is packed into this one single roundabout. Just why our sectarian-minded few opposed renaming of this place as Chowk Bhagat Singh is absolutely mind-boggling.
Just who was Kartar Singh Sarabha? He and Vishnu Ganesh Pingle were among two famous freedom fighters who were hanged here in 1915 for their involvement in what the British called the Lahore Conspiracy Case. But that was not the end of the matter. Their hanging was followed by those of Bakshi Singh, Surain Singh, son of Burah Singh, Surain Singh, son of Ishar Singh and Jaggat Singh. Two years later on the 16th of March, 1917, another freedom fighter Harman Singh Saini of Sialkot was also hanged at the gallows here. He was followed by the hangings of Hera Singh Bahoowal, Ranga Singh, Rur Singh and Uttam Singh (not of London shooting fame).
Then as the struggle continued on the 23rd of March 1931 at this very place Bhagat Singh, Rajguru and Sukhdev Thapar were hanged as they shouted slogans demanding freedom from British colonial rule. But also forgotten is the amazing Jatindranath Das of Calcutta who was beaten for going on a hunger strike against colonial rule in Lahore Jail and 'officially' died here on Sept 13, 1929.
Today, it seems, the over-powering influence of communal hatred has overshadowed the real history of our land. So let us recall two surges in the struggle that consumed so many young bright men all vying for a free sub-continent. The name Pakistan had not been invented in the libraries of Cambridge University by Chaudhry Rehmat Ali, who lies buried there. Permission to bury him in Pakistan has never been allowed. Imagine! But back to our freedom struggle.
These two surges in our freedom movement are known as the Ghadar Movement and the Lahore Conspiracy Movement, and Lahore was involved in both cases. Mind you the Punjab and Bengal were the main centres in the struggle for independence from colonial rule. It is amazing that both these very states were partitioned off in 1947, quite the opposite of what these brave revolutionaries stood for. My late father always said: "To discuss the 'ifs' of history is silly".
But let us concentrate on the scores of young revolutionaries who were hung in the gallows of Lahore Jail, where today stands the Shadman roundabout. In the Ghadar Movement which had its origins in the famous Kamagata Maru incident in which scores of Punjabis were shot dead on the jetties of Calcutta, we have Vishnu Ganesh Pingle, a Marathi Brahmin of Pune. In his schooldays he was influenced by the movement led by V D Savarkar. He went to Mumbai where he learned the 'art' of explosive making. The Swadeshi Movement had just started and he set up a Japanese style hand loom to be part of the symbolic struggle. Influenced by books on the American Civil War, he set off in 1911 for USA and enrolled as a student of mechanical engineering at the University of Washington.
When the First World War started he became an active member of the Ghadar Movement, which was primarily San Francisco-based. Punjabis studying there were planning an 'invasion of India'. When the First World War started the Ghadar Party members at Berkeley, California, joined hands with Kartar Singh Sarabha, Satyan Bhushan Sen, Mian Abdul Aziz and Hameed Khan and a host of other Punjabis all set off on the ship S.S. Salamin to China, where Dr Sun Yat-Sen refused to assist them. That was a major setback. So they sailed to Bangkok and then headed towards Calcutta. There the famous British police officer Charles Tegart got wind of their intended activities. These revolutionaries were reportedly seen discussing politics with Sikh soldiers posted there.
By this time about 5,000 Punjabi Ghadar members living abroad in different countries, thanks to a brilliant plan, had reached Calcutta and started heading towards Lahore and other Indian cities. In 1914 the Kamagata Maru affair had seen a massacre in Calcutta, and Pingle reached Lahore in December 1914, and after getting money left for Benares. There he got bomb-making materials and returned. He used a foundry in Lahore's Shahdara area to complete his bombs. A date was set for the 21st of February 1915 when the 23rd Cavalry stationed in Lahore's Saddar Bazaar was to kill its officers and then the nearby 26th Punjab was to rise. In Dhaka a Sikh regiment was all poised to revolt at that very moment.
But it was the Punjab CID that managed to penetrate the plot and arrested all their leaders in one brilliantly coordinated action. It later transpired that regiments in 12 Indian cantonments from Peshawar to Lahore to Delhi to Calcutta were ready to strike, only to fizzle out once their leaders had all been arrested. The effect was dramatic.
Pingle was arrested after escaping to Meerut and Kartar Singh left Lahore only to be arrested in Benares on the 23rd of March 1915. A few escaped to Bangkok while some managed to flee to Iran. So it was that Pingle and Kartar Singh Sarabha, then aged only 19, who were tried and hanged at the Lahore Jail gallows on the 16th of November, 1915.
So we have it that this roundabout at Shahman where once stood the gallows of Lahore Jail has seen hundreds of freedom fighters being hanged. To my way of thinking this is a sacred place, one to respect and hold dear to ourselves. It was 16 years later that inspired by the Ghadar Movement, and charged by the killing of Lala Lajpat Rai in Lahore, that a new set of revolutionaries went into action with the famous Bradlaugh Hall on Rattigan Road being their main base.
The story of Bhagat Singh, Sukhdev and Rajguru then unfolded. For those interested in their legal history, it makes sense that the original file that lies in the Lahore High Court Library be consulted. But that is the legal side. The revolutionary side of their actions were, in the immediate sense, triggered by the murder of the great Punjabi leader Lala Lajpat Rai who was baton-charged on 30 October 1928 at the Lahore Railways Station with James Scott, the SP Police, personally hitting him on the head. He died from the wounds on the 17th of November 1928.
His death triggered a massive movement and from that emerged the revolutionary Bhagat Singh who vowed to kill him. By mistake a group of four shot an ASP named John Saunders, in what surely was a case of mistaken identity. This took place opposite today's Islamia College, then the DAV College. One report tells the shots were fired from the G C Hostel window, while another claims it was fired from the outer wall of the DAV College.
The details of the story of Bhagat Singh we have dwelt on already. But what we have virtually forgotten is the string of hangings of young men in the Lahore Jail from 1914 to 1939. These revolutionaries need to be respected and remembered. That cursed place where once stood the gallows that consumed our lands' very best, needs to be a national monument with every lost freedom fighter shown the respect they deserve. That is the very least that we can do to remember our glorious freedom struggle.
Published in Dawn, January 20th, 2019