Japanese emperor's birthday celebrated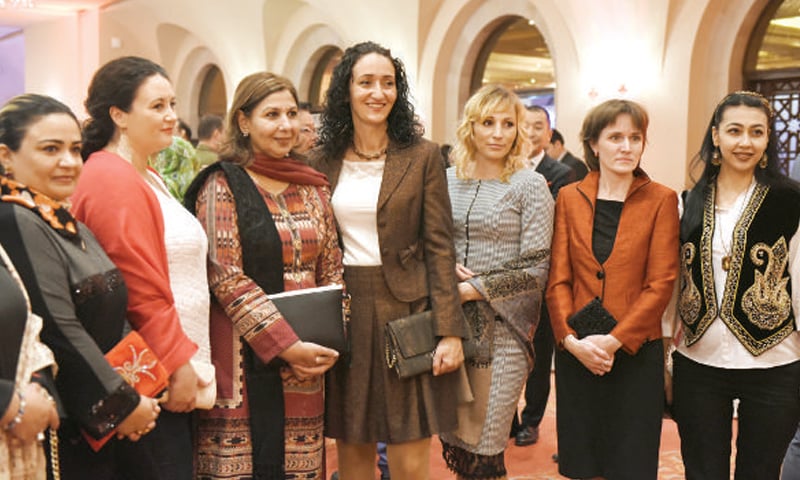 Ambassador of Japan Takashi Kurai hosted a grand reception to celebrate Emperor Akihito's 85th birthday.
Minister for Privatisation Mohammad Mian Soomro was invited to the reception as chief guest, while others in attendance included Abida Hussain, Dr Shezad Waseem, Fakhar Imam, Senator Usman Kakar, Ahsan Iqbal, Gohar Ayub, Kashmala Tariq and Sheikh Ansar Aziz, along with members of the diplomatic corps and the private sector.
Ambassador Kurai said: "This year's reception is very special to us because this is the last birthday reception of the current and 125th emperor of Japan, who will abdicate on 30th April 2019. The emperor and empress of Japan visited Pakistan in 1962 while they were the crown prince and princess."
He went on to discuss the significance of 2018 as a year when bilateral contact was marked by numerous important visits including that of the foreign minister, state minister for foreign affairs, vice ministers, the Parliamentary Friendship League and others.
Mr Soomro reiterated his good wishes for the emperor and said that the friendship between Pakistan and Japan is one that spans decades. He also pointed to the youth bulge in Pakistan and Japan's ageing population, suggesting that there may be opportunities for Pakistani youth to work in Japan.
The national anthems of Japan and Pakistan were played and a cake was cut to mark the emperor's birthday. Various Japanese companies had set up stalls outside the hall to share their current projects and products. The Imperial Household of Japan is the oldest existing lineage in the world, dating back more than 2,000 years and His Majesty Emperor Akihito's birthday, December 23, is celebrated as a national holiday in Japan.
Reception held for UN Women official
Canadian High Commissioner Wendy Gilmour and Jamshed Kazi hosted a reception to mark the visit of UN Women Executive Director Dr Phumzile Mlambo-Ngcuka, who is also the United Nations under-secretary-general.
High Commissioner Gilmour said: "This is Dr Phumzile's first visit to Pakistan. This visit comes during the 16 Days of Activism against Gender-Based Violence. This is an incredibly important campaign; it is a time to galvanise action to end violence against women around the world. In Canada, we have officially a feminist international assistance policy and it is targeting support for women and girls around the world."
Mr Kazi explained that Dr Mlambo-Ngcuka has had "a long and illustrious career in human rights, social justice and gender equality. She has served in various cabinet positions and as deputy president of South Africa."
Dr Mlambo-Ngcuka said: "When we meet in 2020 it will be to see how we could take not baby steps, not incremental steps, but giant steps so that we can address the big gaps that serve as enablers for sustained gender inequality.
"In Goal 5 of the SDGs we have some of the key elements that need to be addressed for gender equality. There is no country with gender parity across the board. All the things that we need to address in Goal 5 are doable, we just need to mobilise more intensely so we can make 2030 the year when gender inequality expires. If we don't take up the struggle now, there will never be a moment like this, and there will never be a generation like this."
Czech economic counsellor welcomed
Charge d' Affaires Jaroslava Bobkova of the Czech Embassy held a pre-Christmas reception at the ambassador's residence in Islamabad to introduce and welcome new economic counsellor Michal Bobek.
Mr Bobek said he already had worked for some years as an auditor and that he also had some other job experience at home.
It was only well into her speech that Ms Bobkova revealed that Michal is actually her husband, receiving smiles and applause from the guests and setting the tone for the pleasant evening.
Trade between the Czech Republic and Pakistan is on the increase, and the new counsellor said he would do his utmost to help seeing even better results, suggesting that a doubling would be a fine target.
"I am sure the young man with his young colleagues has lots of new ideas and energy to climb mountains. I understand that at the Czech embassy they are all below 30, except for the ambassador and the defence attaché," remarked a Pakistani private sector guest.
Published in Dawn, December 10th, 2018