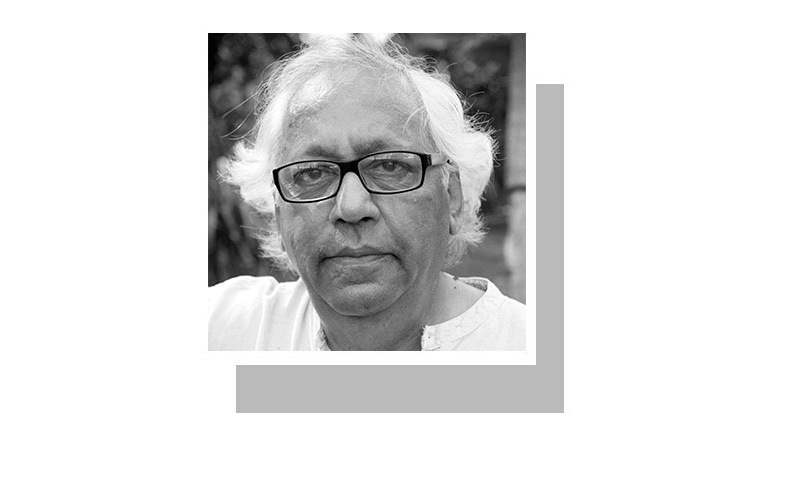 THE childish tit-for-tat exchange of tweets between the foreign ministers of Pakistan and India shows just how far diplomacy between the two countries has sunk.
There was a time when even enemies observed a degree of decorum in their exchanges. Now, in the age of Twitter, cheap cracks pass for carefully considered correspondence. When our foreign minister, Shah Mehmood Qureshi, triumphantly tweeted that Imran Khan had "bowled a googly" by opening the Kartarpur corridor for Sikh pilgrims, he seemed to be unaware that Khan was a fast bowler who probably never bowled a googly in his life.
Sushma Swaraj, his Indian counterpart, chose to respond with an acerbic tweet of her own that betrayed a singular lack of wit. In effect, she ruled out the possibility that this small step might lead to improved relations between the two neighbours. This has poured cold water on our prime minister's vow to "take two steps" if India takes one step towards peace. He now seems resigned to waiting for the Indian elections due next year before resuming his quest.
How do we break this decades-long stand-off with India?
However, the long impasse is not about which politician and party wins in 2019: there is a broad consensus in India about the pre-conditions for peace. Attacks by militants, alleged to have been launched from Pakistan, have weakened the peace movement in India, while strengthening the hawks. The savage attack in Mumbai in 2008 allegedly by the Lashkar-e-Taiba that took 166 lives galvanised India. The fact that the suspects behind this carnage have still not been sentenced in a Pakistani court after a decade is a constant obstacle in our bid for better ties.
Given India's rapid military and economic rise, it has little incentive to reciprocate our sporadic peace moves. And whenever the subject comes up, Indians respond by reminding us of the fate of the Vajpayee visit to Lahore that was followed immediately by Musharraf's misadventure in Kargil. In the eyes of the world, Pakistan is the prickly aggressor in South Asia.
In our neighbour's estimation, Pakistan has more to gain by a resolution of our problems than India does. Our economy is in the doldrums, and is barely capable of supporting our huge defence forces. Trade with India would provide a boost to our finances. This is probably the reason the establishment is supportive of this government's effort to normalise ties. This is a far cry from its attitude towards Nawaz Sharif's attempts to boost trade with India. Before ascending to his present position, Imran Khan, among others, was harsh in his criticism of Sharif for his bid to normalise relations.
On Pakistan's side, the compulsion for better ties is urgent, not just for economic reasons, but to reduce the burden of our defence spending. Year after year, the gap between our military capabilities grows wider as India imports and manufactures a vast array of modern weapons. The S-400 anti-aircraft and anti-missile system from Russia is the latest cutting edge addition to India's arsenal. At a cost of over $5 billion, this is something Pakistan cannot afford.
Kashmir remains the stumbling block in the way to normal ties. For seven decades, India and Pakistan have been unable to sort out this thorny issue, and both have painted themselves into their respective corners from which there seems to be no escape. We have gone to war over the Valley and ought to have learned that there is simply no military solution to the problem. Diplomacy, too, has failed to resolve the issue.
Today, more than ever, Pakistan is isolated as it has tried to garner support from friends. Even China recommends bilateral talks to sort out the matter. Time after time, we have looked to the UN to implement its resolutions to hold a plebiscite, but no member of the Security Council wants to offend India by questioning its claim to sovereignty. The truth is that the world is sick of the Kashmir issue. While we in Pakistan might resent this injustice, we should remember that the world is not a fair place.
So if there is no military or diplomatic solution, what remains? How do we break this decades-long logjam? We could try to take unilateral steps that might convince the Indian public and politicians of our sincerity in wanting peace. These could start with lifting restrictions on visas, and then proceed to opening our borders to Indian trucks carrying goods to Afghanistan and beyond.
The Soviet Union collapsed largely due to its effort to match American defence spending. Surely there's a lesson here for us. Given the imbalance in the power equation in our region, and our need to boost our economy, we have little to lose by being proactive. The alternative is to slide further into irrelevance as our neighbour marches on.
Published in Dawn, December 8th, 2018