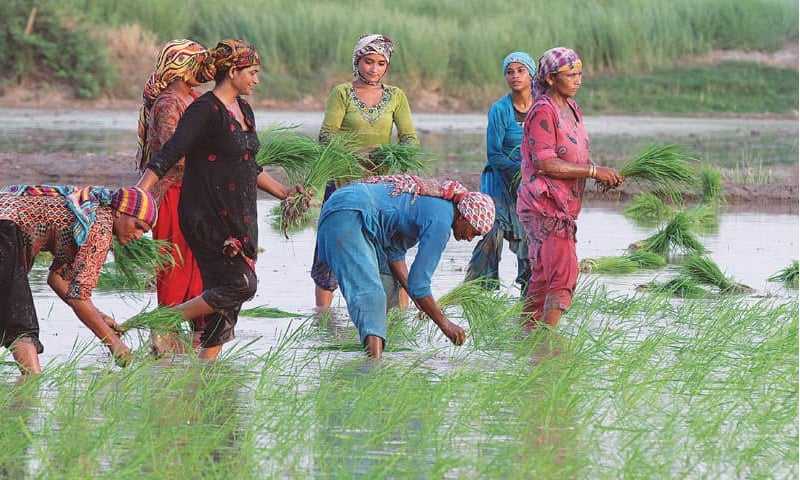 ISLAMABAD: The Ministry of National Food Security and Research (MNFSR) on Wednesday unveiled Rs82 billion plan for the agriculture sector, with the aim of enhanced crop yield, improved water efficiency, livestock and fisheries development, and creation of agro-markets with the overall objective of uplifting small farmers and reducing rural poverty.
The transformative plan – based on recommendations made to Prime Minister Imran Khan by MNFSR Task Force – follows the '100 Days Agenda' and is part of the Rs200 billion package for the agriculture sector by the federal and provincial governments.
In a press conference, Minister for National Food Security and Research Sahibzada Mehbub Sultan briefed about the comprehensive plan which will be implemented within two to three years.
Listing targets, the minister said that all goals are achievable and every effort will be made by the ministry in this regard.
In the area of crop yield, the minister said that an investment of Rs4 billion will be made through promoting mechanisation. Fifty per cent subsidy will be given to small farmers on the purchase of crops specific machinery; development of high-yielding varieties, and improved provision of certified seeds.
International experts will be engaged to set up new facilities and upgrade existing modern research institute while extension services at all level, agronomy, plant protection, marketing and crop processing methods will be reorganised in order to gain better production with less input.
The minister directed the Pakistan Agriculture Research Council (PARC) to produce better seeds for the farmers. In this regard, the prime minister has sanctioned Rs4bn for the PARC.
For the development of fisheries sector, the plan envisages promoting shrimp farming, cage fish culture and trout farming in northern areas. Costing Rs8.6bn, the project will be extended to coastal areas, he said. A cage farming project is already working at the Head Panjnad, he said.
Water efficiency will be improved under the Rs68.60bn National Programme for Improvement of Watercourses in Pakistan Phase-II. The project is aimed at water course lining, enhancing command area of small and mini dams in barani areas and water conservation in barani areas of Khyber Pakhtunkhwa. As a result, 9 million acre feet (MAF) of water will be saved and made available for irrigation.
The ministry says about 47MAF of water is lost in conveyance in canals, distributaries and watercourses.
The minister announced that laser levelling will be provided to small farmers on subsidised prices. The government will arrange 12,000 new lasers over the next two to three years. In Sindh, there are 18,000 lasers while in Punjab the total number of lasers is 12,000, he said.
The prime minister has approved the Livestock Initiative Project for small and medium farmers. Under this, the Buffalo Calf Fattening Programme, Backyard Poultry Programme, and Small and Medium Dairy Farms will be promoted.
A mega Foot-And-Mouth Disease Project will be launched with the help of UN's Food and Agriculture Organisation (FAO) at a cost of Rs763 million.
"UAE and China are major markets for Pakistan's cattle but to explore exports. The project will help ensure that animals in affected areas are disease free within one year. Rahim Yar Khan, Bahawalnagar and Bahawalpur would soon be declared disease free zones," the minister said.
The Backyard Poultry Programme will be launched in 36 districts of the country. It aims to reduce stunting and improve nutrition value as well as reduce poverty at local level. In Punjab a similar programme is already underway.
The government will develop six markets in collaboration with the private sector to facilitate consumers in purchasing agricultural produce. A state-of-the-art market is being developed in Lahore that will be replicated in other five locations, he said.
Responding to a question about the current sugarcane crisis, the minister said the issue will be resolved in a couple of days.
Published in Dawn, December 6th, 2018