You may have come across an outfit at your favourite designer's and gaped at it and then at the price, and then decided to walk away from the ornate creation with zardozi, kamdani, tilla or dabka embroidery on chiffon or silk or a melange of colours, fusion, tie-and-dye or blocked together and then worked upon in gold or silver or with stones and tassels. You could pay a hefty sum and it would be yours or else you could run through yards of fabric, and go through the pages of design catalogues to finally get the outfit of your dreams. Other than retail outlets in malls, cloth markets in any locality offer daily basic wear such as a variety of prints, handiwork and much more. But there are some markets, for instance Jamia Cloth Market in Karachi, CTC Mall or Kehkashan in Clifton, where you can make your dream outfit materialise.
In these markets sit craftsmen in small aisles, with big embroidery boards called 'adda' to embellish clothes. These boards bear samples to show the clients. The delicate handwork, such as gota-work, mukaish, marorri, kora dabka, may take months for these craftsmen to make in order to get a happy and satisfied customer.
These days, people prefer to visit malls where they shop at high-­­­end branded shops. Who would ever want to go through the hassle of buying a fabric, getting a design embroidered and then getting it stitched by the tailor. Even if one buys from the ready- embroidered stuff, one would still need to get it stitched. At the branded shops one can buy prêt off the racks. The only difference between buying from the retail outlet and at the market is that although the quality is the same or even better, the price would be more affordable at the market. Of course, you spend more time working the whole plan out with the local craftsmen.
Amidst crammed galis, sit hard-working designers, looking for clientele but, sadly, few now show up
"We normally don't get many orders on a daily basis. The order for outfits varies from season to season," says Nasir, a designer. "Only in the wedding season do we get five to six orders. In other seasons we get a client or two, and we do sampling for big labels. Besides this, we also teach fashion designing students for our survival. Most of the people you see in the market are here to look around; they don't realise our hard work and compare it to designers such as Nomi Ansari or Elan."
"We try our best to be innovative but people want us to copy designs from what they see in malls or well-known shops," he laments. "Our work and effort is put aside and until we copy designs that some celebrity was wearing. No one considers us talented."
"It's not our fault that trends are rapidly changing because of social media as it exposes people to new ideas, designs and patterns," says Nasir. "These markets are good for gota-work and antique [specific bronze work that is precise and delicate] work. But if you are looking for something modern and trendy, you will have to invest a lot of time explaining the minute details of new trends, colours and cuts. Not only is it time consuming, but the results are not guaranteed, i.e. you may or may not get what you asked for. The designers in these markets, who are aware about changing trends, demand a huge price for their up-to-date work."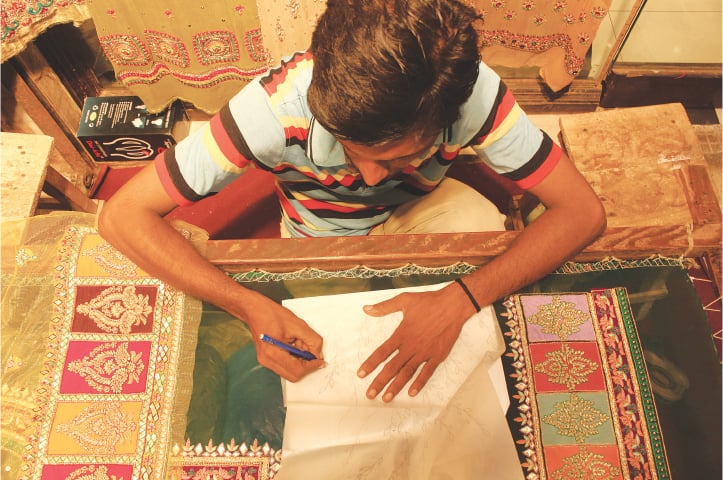 Some take orders as well as make samples for big designers who visit these markets. The shops tend to get samples so their hired crew could cater to their ideas further. Shops offer a design made for the public, with the same work, whereas these markets and designers offer a variety of designs and you can customise according to your requirement. The market offers you half the price than that of big labels and sell the product as three or two piece ensemble i.e. shirt, dupatta either with or without pants.
Once you place an order at such markets, family and friends will not hesitate from telling you that these workers secretly design for bigger designers and sell us the leftovers, concluding the argument with 'Why buy locally when one can buy under the label of branded clothes?'
When Waqas, Nasir's assistant, was asked to comment on this, he snickered and, shaking his head, said: "We get it where all these rumours come from. There were days when we used to take orders from big designers such as Tina Durrani, Sania Maskatiya, etc. However, I've only sampled a couple of designs for them. These days our market focuses on Agha Noor's orders, and prepares samples for other designers. Nevertheless as a designer I'm not open to work for someone who doesn't let me explore or be creative. Working on my own allows me to design freely."
Other designers who have been into this field do not prefer working for anyone else other than their own clients. Another designer, Shahid, says, "By God's will, I don't need to work for a big label. However I'm sure many present here along with me, accept the offer. Working under someone let's your creativity slip away and I think my creativity has led me to where I am now, and it's been 20 years since I'm into this business."
"These days we have invested our time in learning 3D cloth work which we are mostly requested for around Eid," says Waqar. "Recently, there have been several requests for traditional work such as Sindhi embroidery or Kashmiri taanka. We have recently dispatched one order of Sindhi embroidery and made various samples ranging from simple to fancy styles of embroidery."
Not many craftsmen opened up and spoke about how bargaining is a powerful quality of some customers. Waqas said, "Women come here and ask for the trendiest piece of work and impel their choice of price without considering our hard-work, the cost incurred in terms of material, etc, and how we have to learn techniques at such short notice to fulfil our customers' requirements."
Discussing the rates or the price tag, Waqar described three levels of work: one, starting from a little embroidery and embellishment, which costs around 5,000 rupees, whereas the same work might cost you thrice the amount at a designer outlet. For formal wear, the price ranges from 18,000 to 35,000 rupees. This includes an embellished dupatta and pants as you like, with fully ornamented shirt. "We offer a variety of work for women to choose from, as our range starts from party wear to wedding functions and the price depends on that," Waqas adds. "Our price may vary from other markets but our work still speaks on its own, so I don't understand when one worker is compared to another in some other market."
Waqar says that women want to get the deal done on their given price. "Considering our own expenses, we have to stick to our finalised price and there's a limit to how much we can lower the price. Sometimes we lose at least three to four customers daily because they don't agree to our prices. Customers need to keep in mind that we have to arrange the cloth, embellishments, stitching, dying and many other processes for the final product. We need customers to understand that, whatever the process of creating your outfit requires, our commitment is to fulfil your wishes at a budget."
It can be argued that it is up to us to encourage the local craftsmen to keep them in business and keep our markets flourishing, even if it is time-consuming. On the bright side, getting a unique, custom-made design for yourself lets you be the star of the night — wearing something that is not available to anyone else at all.
Published in Dawn, EOS, October 14th, 2018