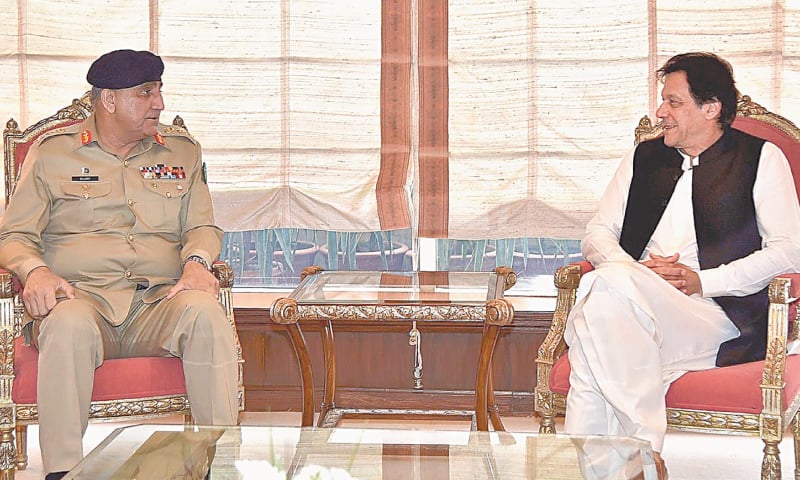 ISLAMABAD: Prime Minister Imran Khan and Chief of the Army Staff Gen Qamar Javed Bajwa on Monday pledged to work closely for establishment of peace in the country and the region.
They expressed this resolve during a meeting held after Gen Bajwa's maiden call on PM Khan.
They "expressed resolve to bring enduring peace and stability in the country while also continuing efforts for regional peace," the Prime Minister Office said in a statement.
Although it was supposed to be a courtesy call, the focus of discussion, it is said, quickly shifted to security in the country and the neighbourhood.
The statement said the army chief congratulated Mr Khan on assuming the prime minister's office.
PM, army chief agree to continue efforts for bringing stability in region
The security situation in the country has improved vastly over the past few years due to military operations, but violence during election campaign and on polling day was a reminder of the fragility of the progress made so far. The military has been in the driving seat with regards to security. The civilians, meanwhile, have in the past been accused of failing to adequately implement the National Action Plan.
PM Khan has kept the interior ministry with himself in what is being seen as an attempt to directly oversee the matters related to security and law and order.
At a separate briefing on security, PM Khan instructed officials of the interior ministry and its subordinate organisations to play their role in improving overall security situation in the country and providing a sense of security to the citizens.
Raging violence in Afghanistan is, moreover, keeping external pressure on Pakistan to act against alleged terrorist sanctuaries.
The telephonic conversation between PM Khan and US Secretary of State Mike Pompeo was followed by a spat between the two countries over the State Department's claim that the secretary had "raised the importance of Pakistan taking decisive action against all terrorists" operating in the country.
The Foreign Office strongly rejected the readout as "factually inaccurate" and demanded that it should be "immediately corrected".
A source claimed that Gen Bajwa briefed the prime minister about his meeting with Saudi Crown Prince Muhammad bin Salman at Mina.
Published in Dawn, August 28th, 2018