August 26, 2018
KARACHI: With the Railways ministry facing a debt of Rs37 to Rs40 billion and the news about new Railways Minister Sheikh Rashid Ahmed saying that they are "willing to rent out the railway tracks even", in such a situation, perhaps all that they really need to do is care for passenger comfort.
When the minister shared that 31 railway stations were being upgraded and spoke about constructing apartments there for lower-grade employees he didn't mention any new facilities on offer for travellers.
A visit to the Cantonment Railway Station on Saturday morning brought up several shortcomings on the part of Pakistan Railways that the minister needs to know and do something about. They don't even require loads of funds, just some consideration towards fellow beings in transit.
"We are simple middle-class people, we don't expect too much from Pakistan Railways anyway. We are not looking for any drastic changes, too, with the change in governments but can they at least clean the train compartments and make sure the fans and lights there work? The same goes for train bathrooms," says Faizullah Hassan waiting on platform number one with his wife and little grandson for the Pakistan Express to arrive.
"Also, is it too much to ask them to place a lota [spherical water container used for washing up] in the train bathrooms? Right now we have to travel with one, and those who don't then have to use drinking water bottles to freshen up," he adds.
Most of the travellers waiting for their trains do so by sitting or laying down on the crooked wooden benches on platform one. They don't know which platform they are to board from until the announcement at the last minute. There are very few people at the station who use the waiting rooms. "The women mostly come here to use the waiting room washrooms," says a maid in the women's waiting room. When asked why they didn't use any of the bathrooms on the platforms since they like to wait there, she smiles before shaking her head. "For women, there aren't any washrooms there, and for men too there is a shortage," she says.
That was also probably why some mothers encouraged their young to empty their bladders on the tracks ahead of their train's arrival. Some grown-ups, too, found it more convenient to look for some obscure area around the tracks to answer nature's call.
Going from one platform to another is also an issue when one is travelling with children or elderly people. A son folds up his old father's wheelchair as another first helps him to slowly climb up the pedestrian bridge from platform one and then, after a brief rest on his wheelchair on the iron bridge, down the stairs taking them to platform two from where their train is supposed to depart.
Meanwhile, a mother with a baby in her arms and a toddler ahead of her is also juggling with her big bundle of belongings as she climbs up the stairs from platform two.
Bottled water and cold drinks can be purchased from any of the many stalls on the platforms, but other than that it depends on one's luck if one can find cool water for drinking as not all of the few railway water coolers even have taps. You spot a drinking water area and hurry towards it but it feels like you are in a desert being fooled by a mirage when you only find a couple of little holes in the wall where the taps should have been.
The CCTV cameras turn out to be nothing but camera covers. There is nothing inside them to record the goings on. The metal detector gate never beeps as it is either out of order or just not plugged in.
While talking about starting new train services from Karachi to Sukkur, Rawalpindi, Lahore and Mianwali and fixing trains, there is also more that needs to be done at the stations for passengers such as including escalators, lifts, ramps, etc, (it is a place for travellers with luggage after all).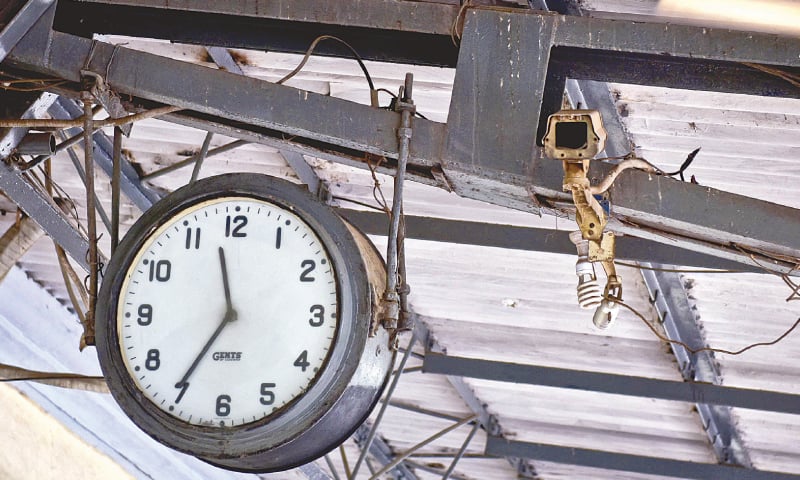 Providing trolleys, installing water-coolers, cameras and metal detectors, too, which work are important in order to avoid any suspicious activity. There is also a need for putting up a few electronic screens, which provide correct information because right now there is all kinds of wrong information being offered on the one or two electronic displays giving train arrival and departure schedules.
"Oh, it hasn't arrived as yet. The information only needs to be updated once the staff returns from lunch," says a guard by a gate when someone asks him how come they can't see the train said to have arrived at a certain platform.
Speaking about the upgrading of this particular station, the station manager said that they had provided a good parking area and some nice new plants. Another railway employee there commented that it would be nice if the station was more like the Lahore Railway Station. One wonders if the Lahore Railway Station is the standard here. A virtual trip of the big and busy railway stations of the world is in order for those with closed minds and no ideas about improvement and providing basic necessities at our railway stations. And Cantonment Railway Station is the biggest and busiest train station of the largest city of the country. It deserves much better.
Published in Dawn, August 26th, 2018