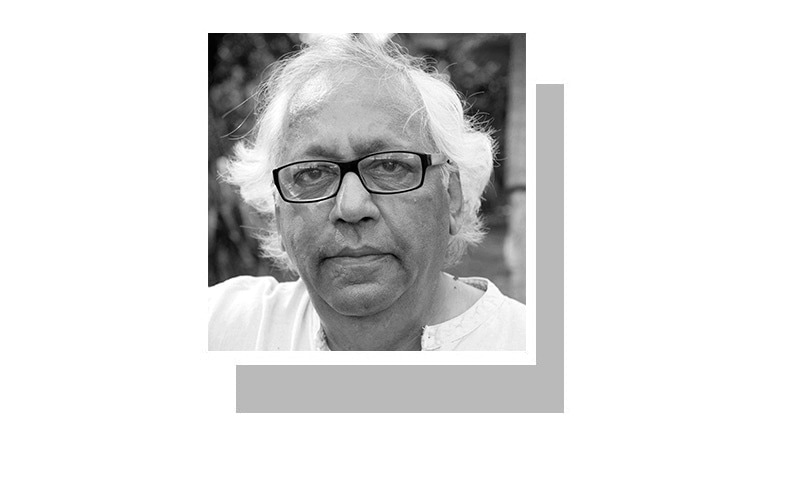 IN Benazir Bhutto's first term of office, she told my cousin, the late and much-missed poet and journalist Kaleem Omar: "Giving me advice has become a cottage industry."
It's obviously easier to give free advice to politicians in power who usually ignore it. In these early days, Imran Khan and his cabinet colleagues must be inundated by suggestions, but the PTI has come in with its own ambitious agenda, so I'll let them get on with it. However, I would beg finance minister Asad Umar not to waste his time chasing the chimera of funds stashed abroad by Pakistanis: this is a stone that will yield little water, no matter how hard he squeezes it.
But I feel the irresistible urge to advise the opposition whose role should be to hold the government to account. Currently, the fissures between the PPP and the PML-N are so deep that the grand opposition alliance some pundits saw forming in parliament seems a distant dream.
A united opposition would have given the government a much harder time.
This obviously grants the government a free hand: a strong, united opposition would have given it a much harder time. The PML-N clearly has a powerful motive to make life tough for Prime Minister Imran Khan. The PPP, with 43 seats, has done much better than it did in 2013. But the PML-N has seen its numbers pulled down — through 'alien' help, according to Nawaz Sharif' supporters — to just 64.
With these numbers, a joint opposition comprising two of our three largest parties could have been highly effective in blocking or changing PTI's initiatives. So why isn't it happening? The answer, sadly, lies mostly in the PPP's vulnerability. With several corruption charges hanging over his head, it would appear that Asif Zardari fears the National Accountability Bureau (NAB) and the Supreme Court more than he does parliamentary irrelevance.
Remember the rabbit he and Imran Khan pulled out of the hat when they jointly elected the Senate chairman earlier this year? Zardari ditched his own party member, the popular, articulate and fair-minded Raza Rabbani, and a candidate who had the support of Nawaz Sharif. And for whom? Sadiq Sanjrani, a Baloch politician few had heard of.
It was obvious to all that the strings behind this Machiavellian move led straight to the deep state. For Imran Khan, these were dues paid in advance for the promised help in the general elections. And for Zardari, his support was to help ward off future NAB enquiries.
So what does this feeble policy bode for the PPP? Obviously, supporters would prefer a more robust challenge to the PTI-led government with its cabinet of some of the seediest characters in politics. Luckily, it also has some very capable people — Shafqat Mahmood and Shireen Mazari spring to mind. Whether they get support for their policies is yet to be seen.
Both in the national and the Punjab assemblies, we saw the PPP ducking and weaving to escape joining hands with the PML-N to defeat PTI nominees to the prime's minister and chief minister's positions. It would appear that the 'aliens' had triumphed yet again.
But this is what 'aliens' do: work to their own opaque agenda that's ultimately desig­ned to further their cause. So if Shah Mahmood Qureshi, the new foreign minister, thinks he can wrest control of foreign policy towards Afghanistan, India and the US, I hope he's not holding his breath. Too many bills.
Although PM Khan's austerity measures are admirable, I fear the resultant savings won't build many bridges, give our children clean drinking water, a decent education and a fighting chance of a meaningful future. That kind of money will only ever come from a restructuring of our budget. Unfor­tu­nately, it just isn't going to happen.
Unless, of course, the three major parties confront the 'aliens'. But that, too, is highly unlikely to come about, given the rancour between the leaders. Imran Khan hates Asif Zardari and Nawaz Sharif, is too indebted to the establishment, and both politicians hate him right back. Zardari detests Sharif for setting the Rangers on his buddies and bagmen in Karachi, and is part of the reason he is refusing to cooperate with the ex-PM. Kicking a foe when he's down is what he learned early in politics. To be fair, he took his share of lumps during his years in jail.
For the PPP, Bilawal Bhutto-Zardari is one ray of hope. He turned out to be an effective campaigner, and delivered an impressive maiden speech in parliament. But although he was sent on the campaign trail despite the dangers he faced every day, he was a real crowd-puller and did much to boost the PPP's share of votes.
Unfortunately, he probably won't be given as much freedom in parliament where his father will control the PPP votes. Until Bilawal can free himself of these paternal shackles, nothing much will change on the PPP.
Over the centuries, many sons have had to fight such battles.
irfan.husain@gmail.com
Published in Dawn, August 25th, 2018