Looking straight ahead, hair flying away from her face, her hand on the bell and pedalling furiously, the woman just whizzed past me, as I caught my breath and took a quick step back on to the pavement just in time to avert collision.
People had warned me what to expect, because Amsterdammers who ride bikes, actually own the road and may not take kindly to tourists toying with the idea of crossing the biking lane!
And most residents do not even want to encourage tourists to cycle, even though there are plenty of places from where bikes can be taken on rent. At least that's what 20-year old Renske Schouwink, studying environmental policy in Amsterdam and interning at BYCS — an organisation that develops new concepts and collaborations to get more people cycling — told Eos.
Amsterdam's thriving bicycling culture has much to teach Pakistanis about city design
"The bicycle traffic can be chaotic if you don't understand the unwritten rules. The Dutch have cycled all their lives, it's their means of transport. They also have a thorough understanding of it, but it is hard to explain to newcomers," she explains. Almost 60 percent of the city residents use a bike on a daily basis, even when it snows!
"Enthusiastic tourists might, therefore, be disappointed by their cycling experience," she warns.
"Yes, the Dutch are very good and very fast on their bikes," agrees Mohammad Akbar, a Pakistani student studying in Amsterdam. "For those not used to seeing a deluge of cyclists, it can indeed be daunting," he adds. Luckily for him, he had spent a good three years in Utrecht, a smaller city close to Amsterdam, where he got enough experience to navigate his way about.
"Just stick to the simple rules — keep your eyes and ears open!" he advises, adding that once people get the hang of it, it's a "breeze" because the "biking infrastructure is brilliant" with designated bike paths even on highways which are extremely safe for cyclists. Little wonder that bike usage in Amsterdam, which has about 400 kilometres of designated bike paths, has increased by 40 per cent in the last 20 years.
But to be fair, both the weather and the topography help the biking culture. "The Netherlands has a mild climate, it's very flat and bikers don't have to pay road tax, while parking is free!" says Schouwink adding that people generally do not have to travel long distances in order to get to work or school.
But it's not just to work or to school or the grocery store that Amsterdammers bike to. Akbar says young people may turn up on bikes dressed up formally for an evening. "Women manage to pedal in their heels too!" he adds.
Today, there are more bikes (847,000) in Amsterdam than its population of 800,000, says Katelijne Boerma, the bicycle mayor of Amsterdam (a voluntary position to which she was elected last November), the "cycling face" of the city. And it is four times the number of cars! This does not include the 15,000 that are dredged out annually from the bottom of the canal, she told Eos, over an informal email exchange. Having a bicycle mayor to promote cycling has also caught on in cities such as Capetown, Sydney, Mexico City and Beirut.
Boerma is very busy running a campaign in schools called "bicycle heroes" to encourage kids to come up with new ideas around "safe cycling to school." The one with the best idea will be chosen to become Amsterdam's junior bicycle mayor!
"The aim is to have 50 percent of all city rides done by bicycles by 2030. This has many benefits related to health, environment and economics, since it will get people moving, prevent emissions from motorised vehicles and lessen congestion," points out Schouwink.
"We are always looking for new mayors in newer cities around the world," she said asking if BYCS could collaborate with someone in a city in Pakistan for this.
But Pakistani cities are "designed for cars," laments Rafay Alam Khan, one of the founders of the Critical Mass that started the cycling trend in Lahore and which has caught on in Karachi.
Before automobiles came into our lives, cities were walkable, he went on, adding that Lahore had spread horizontally but "the inner city areas in both Lahore and Multan can still be navigated through bicycles."
He blames the roads crammed with automobiles as "political decisions" that have caused undue damage to both the environment and people.
But even the weather is not too encouraging for biking, is it? Khan dismisses the weather altogether saying: "There are more days when it snows in Copenhagen than it rains in Pakistan during the monsoon!"
And the heat? "Well, if cities had been designed for pedestrians and cyclists, we would not be suffering the heat island affect!" he retorts blaming the tons of asphalt poured into roads to accommodate motorised vehicles and non-existent pedestrian tree-lined pathways that are a major cause of rising urban temperature.
In addition, with more vehicles ambling on city roads, it's made them extremely unsafe. "I cannot allow my 12-year-old daughter to bike or walk outside anymore, like I used to when I was her age, for fear of her being run-over by a car," says Khan.
He goes on to point out that cycling should not be looked at solely as a traffic issue or urban-planning one but a right-to-mobility issue and of reclaiming public space.
However, the winds of change have begun to blow.
In Karachi's Lyari area, young girls are shattering stereotypes and taking the roads on bicycles, thanks to The Lyari Girls' Café, a non-governmental organisation that facilitated this.
In Punjab, the chief minister's Strategic Reforms Unit (SRU) has started its Women-on-Wheels campaign where some of 3,500 women in Lahore, Faisalabad, Multan, Sargodha, and Rawalpindi were taught to ride motorbikes. Of them 700 (through a ballot) have been given the subsidised motorbikes that the women have to pay on installments.
However, Pakistanis have a long way to go to reach Amsterdam cyclists. Combined, Amsterdammers cycle around two million kilometres every day. Around 35 per cent of all trips within the city are by bike, compared to 22 per cent by car.
The reason, points out Akbar, could be that "city centres have narrow streets and even narrower alleys and sometimes there is not even enough space for two cars to pass each other."
And now Amsterdam is suddenly unprepared for the huge number of bikes. The city is fast running out of bike parking space!
"Since there are more bikes than people, a lot of the bridges and sidewalks are occupied with bikes and scooters," said Boerma, the bike mayor.
To keep the city tidy, the administration spends a lot of time and money removing bicycles parked illegally, but that makes little difference. "Removing all the wrongly parked bikes is impossible; there are so many," points out Schouwink.
Bike security is one's own responsibility. Usually people have two locks, an inbuilt one on the back wheel plus a chain lock to chain it to something which is usually safe enough. If bikes get stolen, people either buy a new one or get a second-hand one. In general you get better at keeping your bikes safe when you live here. You learn how to lock them up, and where to lock them up.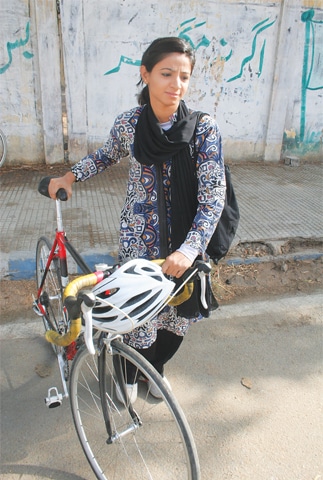 If your bike gets stolen, it is very hard to recover it and the police cannot sift through tens of thousands of bikes on the streets. And for many it is a hassle to get their bikes back from the bike depository which is 10km from the centre of Amsterdam, where they are taken. In fact, almost half (49 per cent) of the bike owners do not bother to collect their bikes once stolen and recovered. The unclaimed bikes are scrapped, recycled, sold or donated depending on what condition they are in.
Generally, bike prices depend on what kind of a bike it is. Basic ones usually start around 150 Euros and can go up based on what you want. For example, if a mother wants one with an extension where her kid can sit, it'll be more expensive. For a bike with more gears or just a better quality seat or frame, the price jumps up so you can get a new bike from anywhere between 150 to 500 euros, if not more. Second hand bikes usually range between 70-80 euros to 200 euros.
At the busy Amsterdam Central Station, there are 7,800 official bike-parking places but more than 8,200 bicycles are typically parked there. Parking is free for bikes but the bikes are registered, as every bike has a number carved in the frames unlike car number plates which are visible. This is not very helpful as these are not that visible and you have to go up close to find your bike among so many others parked.
But things are changing. In the next two years there will be new parking spaces to accommodate 38,000 bikes!
Interestingly, given that everyone owns a bike, most use old-fashioned, gearless "granny" step-through bikes.
"Most people in big city centres don't have the space to park their bikes inside; this is one reason why people prefer cheaper bikes. Left outside they rust way faster and have a good chance of getting stolen," said Boerma. According to the Amsterdam Police, each year between 50,000 and 80,000 bikes are stolen and BYCS puts it at 100,000. Majority are stolen from outside the homes and in broad daylight.
Another surprising observation is that most bikers do not wear helmets! They don't because it's neither a habit nor the rule. "Apparently people feel safe enough without it!" explains Schouwink, who doesn't sport one either. "I never wear a helmet on my bike, except when I'm abroad and it's required."
Published in Dawn, EOS, July 29th, 2018