As elections loom closer, a number of new faces are making the news for being unique, popular and controversial, or for their interesting campaigns.
Here is a list of seven such faces who may be new to the electoral process, but have already managed to create a ripple.
Sunita Parmar — Independent — PS-56 Tharparkar-III
A resident of Mithi's Parmar Colony, Sunita Bai is creating history as she is the first Hindu woman contesting on a general seat from a provincial assembly in Pakistan.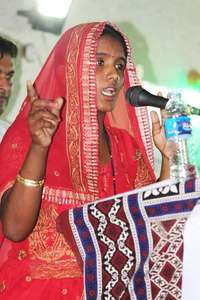 Sunita is an active social worker in the Islamkot region and her campaign — challenging the status quo — is gaining traction with support from women and other marginalised groups in her constituency.
Sunita, 31, is a mother of three children and belongs to the Meghwar community. Talking to Dawn, she said that abject poverty, a low literacy rate among Thari women, health issues and dysfunctional institutions in her heartland forced her to contest on the general seat, adding she hoped that people from all communities would vote for her.
"I will mainly focus on girls' education by setting up hostels at union council level," she said, adding that only educated Thari women could get rid of the shackles of the centuries-old traditions and taboos prevailing in Thari society, where hundreds of women die during child birth.
A Sindh University graduate, she also said that setting up a maternity home in each union council and providing safe drinking water were also among her top priorities.
Jawad Ahmad — Barabari Party Pakistan — multiple constituencies
Chief of his own party, singer-turned-politician Jawad Ahmad is looking to challenge heads of the three largest political parties in the country — Bilawal Bhutto Zardari, Shahbaz Sharif and Imran Khan.
He is contesting on NA-131 and NA-132 in Lahore against Shahbaz and Imran and on NA-246 Lyari against Bilawal.
His political journey is different from other artists who have joined mainstream political parties as he announced forming his own party, which proclaims to promote progressive values and aims to work to abolish social inequality.
His party is fielding a total of 14 candidates against political bigwigs on the symbol of 'gate', which he describes as "the gate to prosperity".
Jibran Nasir — Independent — NA-247 and PS-111 Karachi
Jibran, who received only 259 votes in the 2013 election from then NA-250 in Karachi, is now being considered a strong candidate in the NA-247 contest. Nasir is contesting independently and is facing political bigwigs, such as Farooq Sattar, Arif Alvi and Mohammad Hussain Mehanti.
Identifying himself as an activist, Jibran has espoused several causes and has come forward with concrete positions on several national and social issues. He was one of the first candidates to pay a visit to the victims of the Mastung tragedy and was also at the forefront of protests against Lal Masjid cleric Maulana Abdul Aziz when the latter refused to condemn the APS attack in 2014. Jibran also stood with the Hazaras of Quetta when members of their community were targeted and has also campaigned to support the father of Naqeebullah Mehsud in his fight for justice against Rao Anwar. It was also, in part, through his efforts that Shahrukh Jatoi was sent back to jail after being released by the Sindh High Court.
Jibran's activism over the past five years have made him stand out as a voice for the oppressed and the marginalised, helping the 31-year-old win allies across the country.
Ammar Rashid and Ismat Raza Shahjehan — Awami Workers Party (AWP) — NA-53 and NA-54 Islamabad
AWP candidates from Islamabad, Ismat Raza Shahjehan and Ammar Rashid, are running a campaign in the federal capital that is garnering interest for presenting a progressive alternative to mainstream political parties and candidates.
While they may not be the strongest AWP candidates, their campaign has gained the most traction on social media and is being largely run on donations.
While Ismat is a seasoned campaigner, having begun student politics in 1983 and been part of women rights groups, Ammar is relatively new to the scene. Nevertheless, both have been associated with the AWP since its inception in 2012.
An academic and a musician, Ammar actively participated in protests against evictions of katchi abadis in Islamabad in 2015. He is now taking on political giants like Imran Khan and former prime minister Shahid Kaqan Abbasi.
Mohsin Dawar — Independent — NA-48 North Waziristan
Formerly the chief of ANP's youth wing, Dawar rose to prominence after joining the Pashtun Tahaffuz Movement (PTM). His association with the movement meant he went out of favour with the party and when things came to choosing one of the two, he chose PTM, possibly foregoing a more certain political career.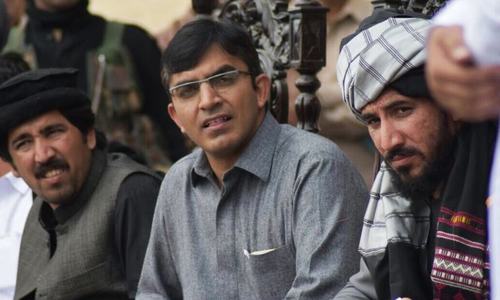 A lawyer by profession, Dawar has since remained level-headed and clear in what his politics is going to be and for whom. He has not backed off from his purpose despite being forced to pay the price for his struggle. Dawar was briefly banned from entering his own area — North Waziristan — by the region's administration. He challenged the decision in Peshawar high Court, which declared the administation's order illegal.
Dawar, who talks about the adversities faced by the residents of Fata, decided to contest the elections from North Waziristan as an independent candidate after PTM chose to stay out of electoral politics.
Liaqat Mirani — Independent — PS-13 Larkana
Liaqat Mirani, a principal at Larkana's Bahria Foundation College, is also a candidate to watch out for. Other than being an educationist, Mirani, who is also known as Ustad Mirani, is an activist and is now attempting to challenge the status quo in the area through election.
Besides traditional means, the Ustad thinks social media has created awareness among youngsters which he plans to use to his advantage.
The Ustad wants to offer the people of Sindh a viable alternative to the PPP and feudal lords. He has asked people to "vote for education, vote for health, vote for livelihood and vote for the respect of voters".
With additional input from Hanif Samoon