July 16, 2018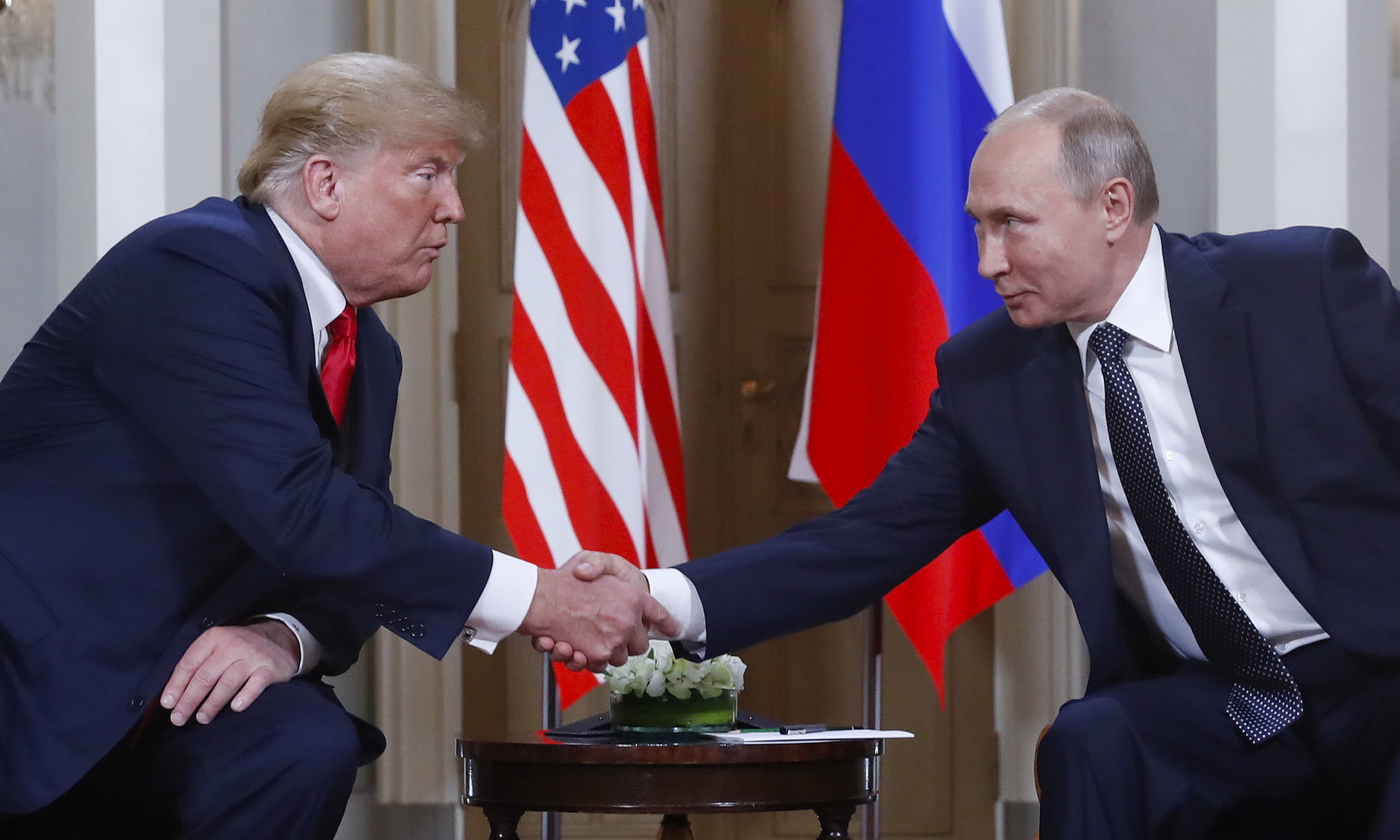 President Donald Trump appeared to accept Russian denials of any meddling in US elections at a historic summit with Vladimir Putin on Monday where the pair championed a fresh start in relations between the world's greatest nuclear powers.
The US and Russian leaders came out of their meeting in Helsinki expressing a desire to cooperate on global challenges, after discussing an array of issues from Syria, Ukraine and China to trade tariffs and the size of their nuclear arsenals.
Standing alongside Putin at a joint news conference, Trump acknowledged that his intelligence chiefs believe Russia hacked Democrats' emails and leaked them to help push him to victory over his rival Hillary Clinton in 2016.
But insisting he had won the race fair and square, the wealthy property tycoon said: "I have President Putin, he just said it is not Russia. I will say this: I don't see any reason why it would be."
Friday's US indictment of 12 Russian military intelligence agents over the meddling controversy exploded with embarrassing timing for Trump he prepared to meet Putin.
But the US leader insisted that the Kremlin chief had delivered a "powerful" denial of any Russian manipulation, and said the investigation by special counsel Robert Mueller was proving a "disaster" for the United States.
'Never interfered'
Trump again denied any collusion between his campaign and the Kremlin, while Putin insisted: "The Russian state has never interfered and is not planning to interfere in the USA's internal affairs." In fact, Trump welcomed a surprise offer by Putin to help in the investigation.
Trump's apparent disavowal of his own FBI and intelligence agencies immediately provoked a firestorm back home, even in his own party.
"I never thought I would see the day when our American president would stand on the stage with the Russian president and place blame on the United States for Russian aggression. This is shameful," Republican Senator Jeff Flake said.
The two leaders appeared relaxed at the news conference, smiling on occasion, in contrast to their sombre demeanour at the start of the day.
Putin presented Trump with a World Cup football, a day after attending the final of the much-praised tournament in Moscow. Trump said he was happy to pass the ball on to his 12-year-old son Barron.
Trump, bent on forging a personal bond with the Kremlin chief despite the election allegations, went into the summit blaming the "stupidity" of his predecessors for plunging ties to their present low.
His manner towards Putin was also a contrast to the anger Trump flashed at Nato allies at a combative summit of the alliance in Brussels last week, which critics said would only hearten Putin.
'Only the beginning'
But over breakfast with Finland's President Sauli Niinisto, Trump declared that NATO "has never been stronger" and "never been more together" thanks to his insistence on all allies paying their fair share.
A post-Nato trip to Britain, supposedly America's partner in a "special relationship", was riddled with controversy as well.
In Helsinki, however, Trump was determined to accentuate the positive, as was Putin.
"Our relationship has never been worse than it is now. However, that changed as of about four hours ago. I really believe that," Trump said, vowing the summit was "only the beginning".
Putin said: "It is obvious to everyone that bilateral ties are going through a difficult period. However there are no objective reasons for these difficulties, the current tense atmosphere." Praising a "frank and business-like atmosphere," the Russian leader said he considered the talks "very successful and useful".
The two leaders met one-on-one for more than two hours, with just their interpreters present, before they were joined by their national security teams.
Many in Washington were agog at Trump's decision to sit alone with Putin, worried about what he might give away to the former KGB spymaster, after previously cosying up to the autocratic leaders of China and North Korea.
But Trump, convinced his unique brand of diplomacy can win over Putin, pressed ahead and looked forward to "having an extraordinary relationship" as the pair sat down to discuss global hotspots.
Putin, basking in congratulations from Trump and other world leaders for the successful staging of the World Cup, said: "The time has come to talk in a substantive way about our relations and problem areas of the world."
'Foolishness and stupidity'
Trump began the day by firing a Twitter broadside at his domestic opponents, blaming the diplomatic chill on the election investigation.
"Our relationship with Russia has NEVER been worse thanks to many years of U.S. foolishness and stupidity and now, the Rigged Witch Hunt!" Trump tweeted.
Russia's foreign ministry tweeted in response: "We agree." In a weekend interview with CBS News, Trump admitted that Russia remains a foe, but he put Moscow on a par with China and the European Union as economic and diplomatic rivals.
Yet after the bad-tempered Nato summit and Trump's trip to Britain, anxious European leaders will have been relieved if not much came out of the Helsinki meeting.
Those leaders are already fuming over Trump's imposition of trade tariffs on various countries, including Russia.
Turning the tables, European Union President Donald Tusk said Trump was guilty of "spreading fake news" with his remark about foes, and warned that the trade tensions could spiral into violent "conflict and chaos".
"Europe and China, America and Russia, today in Beijing and in Helsinki, are jointly responsible for improving the world order, not for destroying it," he tweeted.
"I hope this message reaches Helsinki."