July 05, 2018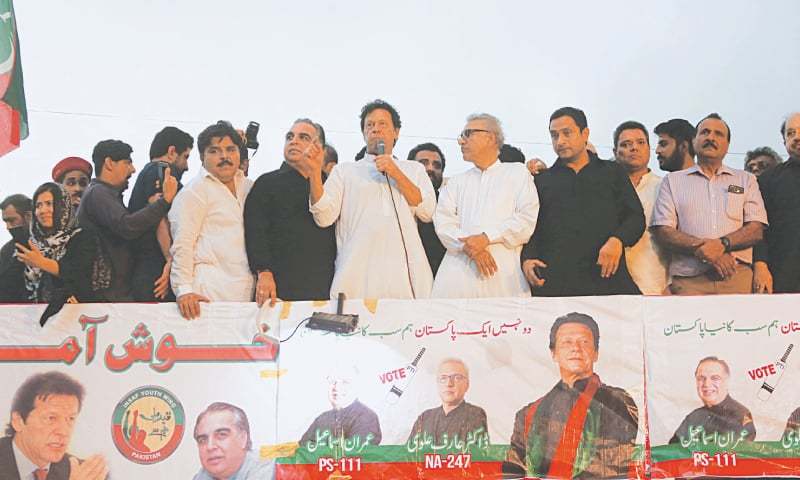 KARACHI: Pakistan Tehreek-i-Insaf chairman Imran Khan has said that after Khyber Pakhtun­khwa his party has gained enough ground in Punjab enabling them to form a government in the Centre, however, his dream of a new Pakistan cannot be materialised nor any meaningful change is possible in the country without Karachi.
The PTI chief's second day, which was the last day of his two-day whirlwind tour of Karachi, had a very busy schedule.
He had breakfast at business community leader Abdul Raheem Janu's residence where Mr Janu along with industrialist Yahya Polani announced that they had joined the PTI.
Before visiting PTI election camps in different constituencies, Imran Khan attended a reception organised by the Association of Builders and Developers of Pakistan (ABAD) at ABAD House in Gulistan-i-Jauhar where the PTI's housing policy was announced.
At the ABAD function, Mr Khan termed unemployment as the biggest problem in Pakistan.
He pledged to build five million low-cost houses in five years to solve housing problems.
"This venture will create thousands of jobs for unemployed youths and we hope that economic crisis of Pakistan will resolve."
At the ABAD function, the PTI chief said that construction of five million houses would not only boost the construction sector, but would also bring about a boom to other almost 100 allied industries.
The PTI government would introduce one-window operation for construction sector to eliminate corruption and builders and developers would be able to do business easily without any obstacle from bureaucrats, he added.
He also announced that 300,000 to 400,000 plots would be provided to poor families and Zakat money would be spent on social housing.
Speaking on the occasion ABAD chairman Arif Yusuf Jeewa said two former governments pledged to build 500,000 low-cost houses; but these turned out to be mere political slogans.
PTI Sindh president Firdaus Shamim Naqvi explained main features of PTI's national housing policy "which would provide 20 million jobs".
He said houses would be built under public-private partnership and Katchi Abadis would be converted into high-rise housing so that people residing there could get modern facilities.
Later talking to media Imran Khan said people were vying for a change after having being fed up with the two parties taking 'turns' over the past 30 years in the country.
He said his struggle was bearing fruit and the wind of change was starting to blow.
The PTI chief said he was paying special attention to Karachi for which he had prepared best development plans, including utilising garbage to generate electricity and using it for desalination of seawater to meet water needs of the metropolis.
"We will run Karachi like a metropolitan city. Those who were ruling Karachi from the last 30 years had no solution for the problems of Karachi. And if they had any solution, the metropolis would not be decaying."
He said in KP they had formed their first government and every survey indicated that things in KP were better than other provinces where police force and hospital services were delivering to the people.
He said the past rulers failed to reform the police.
"Shahbaz Sharif in Punjab used the police for killings in Model Town and indulged them in extrajudicial killings," he said.
"Rao Anwar was involved in more than 400 extrajudicial killings," he added.
He said if police were used for wrongdoings, they would be reprimanded.
Giving an example of KP police, he said there was no case against political opponents in the province while in Punjab 30 cases were registered against him on political grounds.
"We created awakening among the people in KP about global warming and mobilised them to plant trees and they planted over one billion trees."
He said the dark night was about to end and a change had come as people in large numbers were joining the PTI.
He said the reality of "turning Lahore into Paris" had been exposed on the first day of monsoon rain in Lahore.
He said Panama Leaks was an "act of God" and once one was caught, no one could come to rescue him.
Inaugurating an election office at KDA Chowrangi and attending workers' gatherings at election camps in North Nazimabad, Qayyumabad, Liaquatabad Market in Malir, Shirin Jinnah Colony and Keamari, the PTI chief said he knew that on July 25 the destiny of the country would be changed.
He said the PPP had no interest in Karachi as it was more interested in interior of Sindh.
He said two parties had been in power in Karachi and interior of Sindh and if they had spent Rs100 billion, the situation of Karachi would not be what it was today.
Mr Khan addressed gatherings of party workers and supporters in New Karachi, Malir, Safoora Goth, Golimar, Delhi Colony, Lines Area and Askari IV. In the evening he returned to Lahore.
Published in Dawn, July 5th, 2018