I AM 75 years old, and as far as I can remember, the civil-military establishment in Pakistan has always told us that the country is in danger. However, they never told us why we were in danger and how we could get out of it. Sometime later we were informed that the 1,400-year-old Islam was also in danger from the Western culture of obscenity and free thinking.
These were not just statements. Around them a whole world of suppression, violation of human rights, accusations of treason, retrogressive thinking and forced or self-imposed censorship were constructed. In spite of this, Pakistanis understood the nature of the state and the functions of its different institutions. There was also an accepted manner of dissent and one knew what its repercussions would be, including death by torture in some fort or the other, if one was a communist. But today the whole system is up in the air. No one knows anything.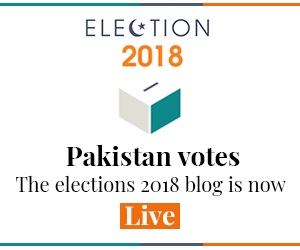 Recent Supreme Court judgements that have an impact on politics have become controversial in the minds of the people of Pakistan, and questions are being asked such as to what extent the courts can or should intervene in matters related to the public realm. Questions are also being asked about when and how suo motu should be applied and of what use is habeas corpus when an increasing number of 'bodies' are simply not being produced and the courts can do nothing about it.
There are also numerous cases where important court judgements are not being implemented. Yet judicial activism has opened a Pandora's box of corruption, nepotism and gross misuse of privileges in public office and given the recently acquired assertiveness in society, it is not going to close.
New words and concepts have entered the political discourse.
NAB is not a new institution. However, it is only now being accused publicly of selective accountability for political purposes, and according to the press the joint investigation teams are violating their own rules and regulations to the detriment of justice. From media reports, it seems that the 'establishment' has supported violent dharnas which have resulted in huge losses to the state exchequer and in large-scale destruction of public property. Meanwhile, the dharna leaders are still not under arrest.
In the last three years, new words and concepts have entered the political discourse right down to the neighbourhood level in low-income urban settlements and rural villages. These words include 'iqama', 'NRO', 'JIT', 'money trail', 'offshore companies', 'khalai makhlooq', etc. These are subjects of intense public discussion, information, disinformation and confusion which are going to play into the coming elections.
This whole process has been educative for the people of Pakistan because the semi-opaque curtains behind which the establishment functions have been removed publicly for the first time and the nature of relations between different state institutions, previously denied, have been to a great extent been exposed to public view, raising questions which have yet to be answered.
However, there is a downside to this questioning, for it has been born out of a very disturbing political culture whose basis is arrogance, hate, abuse, lies, intolerance, intimidation and shameless opportunism which has filtered down to the level of the political worker as well.
All the major parties today stand accused of corruption, lies and manipulation of the electoral system and if the media is to be believed, there is a lot of truth in these accusations. Their only public discourse is attacking each other in derogatory terms. Dem­ocracy cannot survive in such a situation which can only be salvaged by the emergence of a young and new leadership that rejects this culture of opportunism and sees the wisdom of negotiation and consensus without which reform and change cannot even be initiated. But where will this young leadership come from and where and how will it be groomed?
The coming five years can perhaps nurture this growth by permitting elected student unions at universities and colleges, and perhaps civil society and academia (sparing some time from their foreign-funded rese­arch and NGOs) can play a role by creating the necessary ambience for it. But this would also mean the coming together of like-min­ded and not-so like-minded groups (which is not easy) who are interested in discussing a future Pakistan that is not held together by dirt. Will this be possible, and how will the security establishment react to this?
For my part, for the first time in my life, I do not know if I will vote because it means voting for a culture of megalomania, paranoia, narcissism and hatred which is increasingly dividing our society and destroying the few democratic values that have survived the onslaught of military rule and political opportunism.
The writer is an architect.
Published in Dawn, June 14th, 2018