ELECTION times are rather irksome and frustrating for the minuscule minority which believes that the 'lesser of all evil' theory and the evolutionary theory of democracy, both, are a load of nonsense. Essentially, lesser evil is still evil, and empirical evidence proving evil can ever equal good is virtually nonexistent.
Conversely, available proof of democracy evolving is more frightening than encouraging; if at all democracy has evolved, tyranny has been the final product. The utopian democratic state with empowered citizens, especially the poor, remains a myth.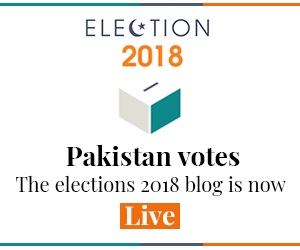 Nonetheless, if we 'non-believers' do decide to jump onto the election bandwagon and use the precious one vote, we are faced with a dilemma; who do you vote for? I have always been fascinated by educated people passionately supporting political parties purely on the basis of cult of personality, but I won't do that. Democracy, if I understand correctly, is about empowering people, flattery is for dictators who crave legitimacy. We live in strange times!
No real issue is expected to make it to the forefront of the poll debate.
To digress a bit, all this talk about empowerment is reminiscent of what our elected provincial governments did to their respective elected local governments. If I recall correctly, each provincial setup ensured that all authority reverted to the provincial government and through legislation, effectively marginalised the local governments. How is the return of the all-powerful commissioner democratic?
Worse, nobody even discusses local governments anymore and this probably won't be a contentious issue in the next election. Not that any real issues are expected to make it to the forefront of the electoral debate; considering what is presently on the table, sleazy perhaps aptly describes this electoral melee.
Nonetheless, ignoring personalities, and rhetoric, motivated by an honourable intent to focus on performance whilst casting the precious vote, the challenge is to benchmark a variety of achievements and failures of incumbents to arrive at a winner.
While it was fortunate that all the key political parties were in government, how does the common man go about comparing the short-term and long-term economic benefits of building a metro, or an orange train, with that of planting a billion trees and restructuring a police force?
Adding a few thousands units of power generation might be a mean achievement but continued load-shedding should get you negative points. And while Lahore appears to be better managed, Karachi is perhaps fast becoming a case study about how not to manage a city; and how do you score Quetta or Peshawar? GDP growth, arguably, may be a positive, but mountains of debt are a negative. And frankly most voters are broadly clueless about achievements in the smaller two provinces. Worse, beyond slogans and rhetoric, inaction on critical initiatives does not even get highlighted.
If our country rankings have stagnated or worsened vis-à-vis World Bank's governance indicators, the World Economic Forum's glo­bal competitiveness report, UNDP's hum­an development index, Freedom House's econo­mic freedom index, Transparency Interna­tio­nal's corruption perception index, the Interna­tional Country Risk guide, and Une­sco's educ­a­tion for all index, the blame is to be shared by all governments, federal and pro­vincial. But which government did comparably better or worse on these counts remains a mystery for the wanting-to-be intelligent voter.
Even beyond rankings on global indices, we the voters are clueless on democracy's achievements in the last decade in relation to education, public health, water scarcity, prevalence of corruption, poverty alleviation, justice for all and similar social and economic indicators.
Dear reader, by now I hope I have convinced you that an objective scorecard, based on agreed metrics, prepared by an independent authority, on the performance of each party in government is a prerequisite to arrive at an educated decision on who to vote for in the coming election.
Except the key word is 'educated'! The illiterate, who are in majority, will, unfortunately, be unable to understand any such scorecard and will easily be led astray by conspiracy theories about how the establishment 'gamed' the scorecard results, and hence will continue to vote for their favourite leader, irrespective.
Notwithstanding propaganda, I feel Kim Jong-un might well be the perfect choice for North Koreans in a free and fair election. Accordingly, it perhaps made sense for all political parties to focus on the electable rather than on past performance and practical manifestos.
Unfortunately, that raises a paradox, if the majority is incapable of objective assessment and the election will be decided on the strength of being electable and cult of personality, why not just lie back and relax come election day; why have the scorecard?
The writer is a chartered accountant based in Islamabad.
Published in Dawn, June 13th, 2018